My first trail ride with Montana :)
---
I went out on my first trail ride with Montana on Monday morning :) His previous owner said that he needed a western bit (high port) because he would get rather strong on the trail. I have been riding him in a myler low port comfort snaffle and things were going well, but I knew how some horses were fine in an arena, but would act up on a trail. So needless to say I was a little unsure of how he would react. He was perfect! We would canter and trot and he listened to everything!
We went out at 9am and got back around 12:30 or so.
He only spooked once, but that was because a guy on a bicycle came up from behind us. We recovered very well from that though. He was fine with people passing by, trucks, crossing roads, everything!
I took some pictures on the trail, as well as a video :)
Sorry the quality on the video is so poor. It was taken on my phone.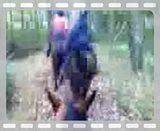 Aww I'm glad he was well behaved for you. 3 and a half hour ride! Wow, I haven't ridden for that long in years!
I love how his ears are flicking back and forth on your ride. Listening to his momma.
Cool trails! Aww, glad he behaved well- he looks really calm in the vids, & alert too.
---
Ride more, worry less.
Great pics, glad it went well!
How exciting! it looks like you guys had fun! I can't wait to take babies out on their first trail ride. Great photos!
Thanks everyone :)
Surpringsly enough, I wasn't even sore from that ride. I went on 2 trail rides the weekend before that and that was the first time going out on a trail in years and we were out there for about the same time or a bit longer. So I guess I my bum was already conditioned to it
And Montana was a lot smoother than the horse I rode on previous trails.
I'm hoping to purchase saddle bags and bring my camera to get pictures and videos, instead of using my phone.
It's great you can trail ride safely now and have fun!