Thanks Fly :)

Bareback.. baha. Firstly, getting on.. and secondly, she has fairly high withers.. I think I'll leave that one for now!

My trainer can't ride any more unfortunately.. and I don't know of anyone on my yard I could happily say go and ride Duffy for me as if anything where to happen I'd never forgive myself..

I like the idea of the lunge line attachment... I could get my dad to do it, and when I don't feel happy either get off, turn back, or have him get her attention..

We will see... eee, nerves!
Check with your horse friends to see if ANY of them has a kid-proof totally sane and REALLY safe horse that hacks. Go out with them on another horse for just a short hack, at first. If you're really nervous get off and walk part of the way, halt and mount, then walk and short way, dismount, repeat.
My older horse, "Ro Go Bar", (1982-2009, RIP) was a babysitter and I could trust him to take any nervous rider anywhere--they do exist.
Here he is at age 25~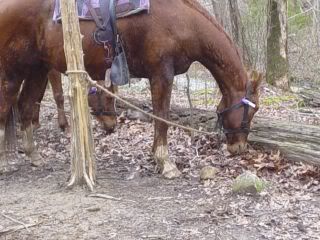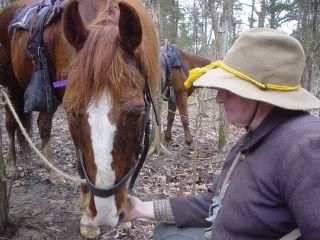 I WILL get some other photos posted of him, but if he was still alive I'd put you on and he would give you some confidence hacking. =D
I'm going to ask.. I honestly can't think of any. I don't mind a side step spook, or an excited buck in to canter (if we get there) but its the fear of tanking off and no control that gets me
Trained
Join Date: Sep 2011
Location: Hour and a Half from Town!
Posts: 6,324
• Horses:
2
Too bad we aren't closer too!
I'd have put you on Rooster or now Cowboy. As you can see, they didn't/don't have much too them, except for being bombproof excellent trail/kids horses!
Maybe go take lessons at a different facility, one especially known for teaching children?
Love the tip to take Duffy out for a walk, then move up to riding.
---
You can get a lot further with a ladder than you can with crutches!!
What do you mean what do I mean?
Awh Fly, I'd love to come trail riding with you!

I'm going to wait till Duffy is sold before I do anything, I think there is a place round here that specialises in hacking... no money or time right now!

But then again, she may not be sold for months with this market, so I'm really thinking about this leading out idea you know...

Those pictures, especially that first one, are beautiful, I love the joy on your little girls face xxx
Personally I think ny arena work is absolutely boring. If I don't have the trails, cliffs, rivers to cross and other challenges, what fun is riding a horse?
Make a decision if you really want to trail ride. There is no shame in not going if YOU don't enjoy the ride. There are too many things to do in life, Choose the ones you enjoy and avoid the others. I enjoy skiing, I even worked the Olympic Downhill races during the Salt Lake Olympics. But I don't enjoy going 80 mph on skiis, So I personally don't race. I still enjoy the sport, but from my own perspective.
If you really want to do trail rides, Then you need to learn how to deal with your fears. First of decide if you horse is safe for these endevers. You would never take a used car off a used car lot and go attempt to break a world speed record at Bonneville salt flat. With out first make some modifications to that car. Roll cage, safety harnesses, tires rated for higher speeds etc. Same with your horse. Evaluate if he will be safe to take out on a trail ride.
If you feel you can control your horse in the arena, thn it's not a big transition to controlling your horse ont he trail. We start colts in round pens for a reason. We want to control just how far they can run. But I only do 2-3-4 rides in a round pen before I head out for a trail ride. I just want to know that the colt will stop and give his head regardless of how excited. I can teach all the other controls on the trail. I don't enjoy a horse going bucking and crowhopping off thru a dense forest of trees. So I want to know that I can do a one rein stop if my horse gets spooked on the trail.
Next pick a proper trail to go learn on and choose some companions to go out with. Somebody that a calm horse that you can follow down the trail. First ride, I'd probably avoid trails with water crossings, steep up or down hill, cliffy areas. Ride someplace where you are not feeling threatened. I do like trails that are narrow and have lots of brush along side the trails. These seem to help focus the young horses attention on following the lead horse. Like the walls of a round pen they seem to constrain the young horse to stay on the trail.
My mares are so herd bound, that they would never stray away from the rest of the group. If I lead a group, and I put beginners on those mares, I know they will follow me anywhere. As suggested maybe you should go for a ride with somebody that has a babysitting horse.
The girl in the Blue Shirt is from Germany, A foreign exchange student that came and lived with us for 6 weeks. She had never been on horse in her life, We put her on the mare and she followed us up and over a pretty good sized mountain and had a wonderful story to tell her parents when she got home
I would totally use one of the calmer western horses (such horses are really valuable to have around. ) and go out with a friend who is really comfortable but knows that you need to go slow.
Wish you were here, I'd take you out on Mac and you'd feel like a champ!
Thanks for all of that Painted!!

I wish we had trails like that.. we have to go along a road then we have tractor tracks with fields.. not much woods either unless you go for miles!

I love my dressage work, and training etc, but I want to be able to say hay, today I'll go for a plod around the block, or cool off after a good work out... I don't want my horse to go round in circles the entire time- you know what I mean? Different is good, and I really really do want to enjoy it, even if it is just a walk ;)

D'aww thanks Tiny.. I should come to America and travel round and see all of you a week at a time ;)
---
Last edited by DuffyDuck; 03-07-2012 at

02:39 PM

.
That you should! I would take you out riding any day of the week. I am pretty cool with hacking out , but I am terrified to ride a huge bucking horse in an arena, such as you do on Duffy!
She doesn't buck hard.. apart from that one time I skinned her with my spur o.0 (and haven't worn them since)

She just.. tests.. part of which is if you're serious.. in all seriousness though she's a fab horse. I just don't know if I trust her enough for hacking.. but then I doubt I'd feel any different with any other horse..