These are my boys...both Quarter Horses. Biscuit is a terrific guy and becoming a really good trail horse. He isn't spooky but he sometimes will not lead - has a tendency to gallop not canter/lope but he is working on it. Sweet as pie and gentle. Sarge was really trained to team pen, work cows etc. with a little bit of trail riding thrown in. He is not a huge fan of trails unless he is leading which is rare. He thinks it is for sissies...but he has the sweetest personality and is very loving. Biscuit is my horse, Sarge is the hubby's horse. Sarge will go just about anywhere he is pointed. He is brave, take charge kind of horse and looks great doing it.
LOL can y'all tell I think my boys are the bomb?
Biscuit and Sarge look left.jpg
Sargent San Peppy.jpg
Biscuit Sepia.jpg
IMG_4732.jpg
Buck is my everything horse but we mostly ride trails together. :) He is a Missouri Foxtrotter/Arabian cross.
Yearling
Join Date: Jan 2012
Location: In the middle of NOWHERE! (seriously...)
Posts: 861
• Horses: 0
Weeeellllll, mine is technically my barrel horse, but we trail ride on a daily basis.
She is my "go to" girl and has the silliest personality.
If I ever started competitively trail riding, she would be the one I'd take.
DOODLESISBACK!!!!!! 003.jpg
---
Strength
lies within the heart
but the strength to trust
lies between the horse and his rider.
Here's Sophie, a reg. paint horse...14.2 hh...A fast walker with a sensible mind for the most part..
Sophie 010.jpg
Sophie 015.jpg
And a "spotted" picture! (What in the world happened to the camera?
) I think the lens must have got splashed.
Sophie 025.jpg
This is my little quarter mare & I a couple months ago.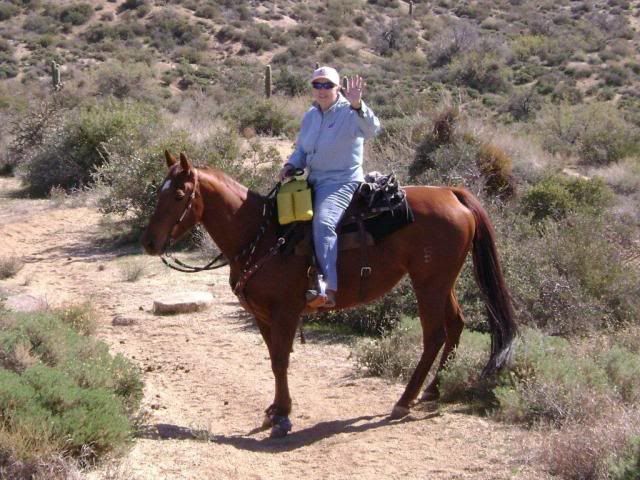 ---
Any day riding is a good day.
---
Last edited by goodhrs; 06-01-2012 at

01:19 AM

.
My show horse, trail horse, driving horse... basically she specializes in being awesome.
denny boy
relaxing before we get to the trailer
trail horse in the making : bailey (he has put on alot more weight . need update pictures)
and my personal favorite half retired trail horse : jessie
before hitting the trails around the farm
love these guys. somehow they always make a bad day into a good one :)
This is my trail buddy Phoenix
He's 11 this month and isn't the best trail horse in the world, he still needs some work. He's going to get this this summer, got him booked in with a trainer to help get him over his trail spazzys and make him even more awesome than he already is.
All ready to go :)
ready for trail.jpg
(Please ignore my idiotic face, i had no idea photos were being taken, and the fact my boy looks like he swallowed a hippo, he was a bit tubby a few months back)
_DSC0035.jpg
---
He laughs at fear, afraid of nothing; he does not shy away from the sword.