Thankfully our horses are pretty much immune to road noise. We live about 5 miles from a lake so all summer we have motorcyles, campers , cars towing boats with their tarps flappin you name it wizzing past them at 60 mph. Plus its a short cut for truckers so we get them too. They got desensitized to all motor noise just standing out in the pasture
That looks so awesome!!
---
Ride more, worry less.
Heres moo on a busy road
i shouldnt really have had the camera out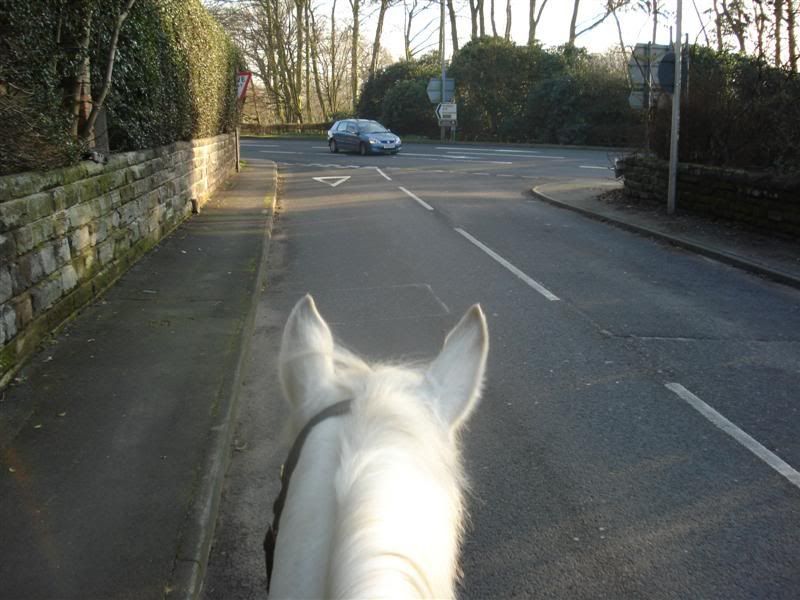 ---
A good horse can never be a bad colour...
Awww, very nice! :)
---
Ride more, worry less.
I always ride on the road. I rode from my barn to my house one time.
---
"Doing what you like is freedom, liking what you do is happiness."
Weanling
Join Date: May 2008
Location: Jersey girl in Northern California
Posts: 508
• Horses:
1
Willy and I ride on the road everytime we ride...usually end up on redwood logging trails. He loves it, because he hates the arena! I love it, because I did a lot of eventing as a kid in Jersey, and am enjoying the wilderness of northern CA...
Cool....I wish there were more of us...
You know what I like about riding on the road?
The clip-clop noise from their hooves...lol, it's relaxing.
---
Ride more, worry less.