Weanling
Join Date: May 2008
Location: Jersey girl in Northern California
Posts: 508
• Horses:
1
oo-oo yes..especially at the trot.
A friend and I road down to Walmart once. It was actually a lot of fun. If you are going to be on the roads, make sure you know all the horseback riding road regulations and you know all the signals.
I'm lucky in that my horse's pasture is right on a busy county road. She sees semis, grain trucks, tractors, motorcycles and garbage trucks. I've never had anyone be discourteous and most slow down and move to the other lane when passing me. I try to be courteous too, and stand on a road approach, if I'm able. You can see the fence, the road ditch and the road above the pasture, behind my Ming.
Quote:
Originally Posted by moomoo
Heres moo on a busy road
i shouldnt really have had the camera out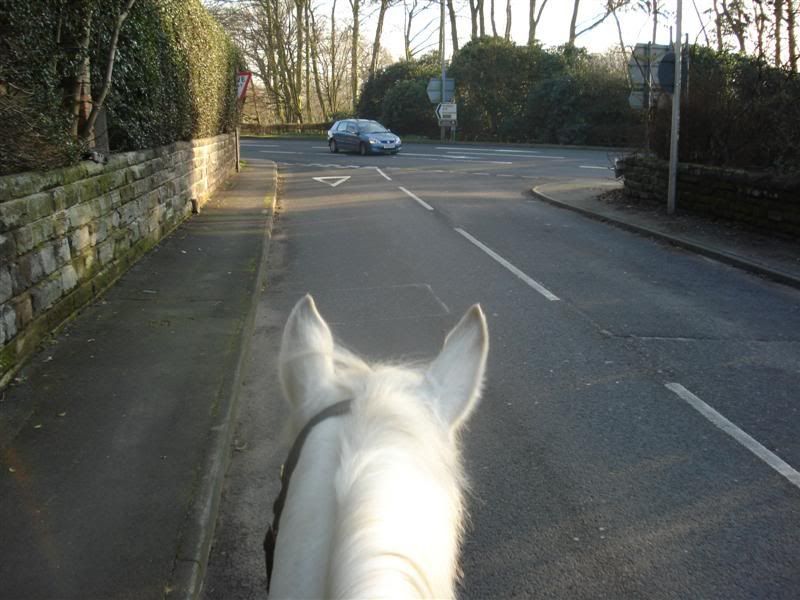 Love the photos. When i lived in Europe it was quite standard to ride on the roads there. Here tho it is horse country, we have a lot more country side than roads so there are no reasons as to why you should be riding on the roads.
I remember we used to canter on the side of country roads. Ah the good times.
I love that sound of hooves on the tar road, too. Oddly enough, my horse prefers the tar to the grass on the shoulder. My saddle is very creaky, which I also love.
Are the horseback regulations and signals different from bicycles?
Quote:
Originally Posted by Nine
Are the horseback regulations and signals different from bicycles?
Regardless of weather or not you are in a car, bike or a horse the hand and arm signals are the same.
ha ha next year my mare will be bringing me to nickolet little town a few miles from us. forgot cars! lol! the only thing that i will be afraid of is the big trucks. lol i just dont like them at
ha ha just tie them up while you go inside.
hm.. she can even bring me to the vets when we need to pick up my poodle!
Nine, where do you live? your horse looks like ive seen her before, and int he back round photo it looks alot like where i live.
hm... we may be neighbors!