The only advice I can give is to let your horse choose where to cross or go. They have a better sense of what the ground is like.

We were riding along the river and went to cross a drainage ditch for the farm field. I got across fine but my wife was having issues with getting her horse to cross where she wanted. We were at different spots but not far apart. Her horse fought with her to not go there. He ended up sinking to his belly. If we couldn't get him out, we weren't sure what we would do since we were too far from any road and in trees. He finally got himself out with us digging him out a little by hand.
Posted via Mobile Device
Quote:
Originally Posted by
its lbs not miles
View Post
Oh, to dare to dream
. Crossing a river without a bridge is a "pipe dream" down here
(something you might do in an opium induced dream
). If you're lucky you "might" find a sand bar that's shallow enough ride out on and "might" extend half way across a river before dropping off to a 12' depth for the rest of the distance with a steep bank of the opposite side.
Here, if we don't have a bridge we can't cross the river without facing a major risk of losing the horse (unless it's in the upstate where the river begins so it's narrow and shallow enough).
We're in the same boat here. If there isn't a bridge, no river crossing. The river bottom and banks are too soft and muddy. Creaks that are only a foot or two wide aren't bad.
I would love to have a few rivers like painted horse had in the pics.
Posted via Mobile Device
Crossing unknown water can be very scary and dangerous. I always try to cross water where I know it's safe. However, that is not always possible. I try to cross at areas where I see ripples in the water. Moving water will tend to "wash" the area and keep silting at a minimum.
I cross water at the hunt. I always hang back to see what problems others have before I commit myself and my horse.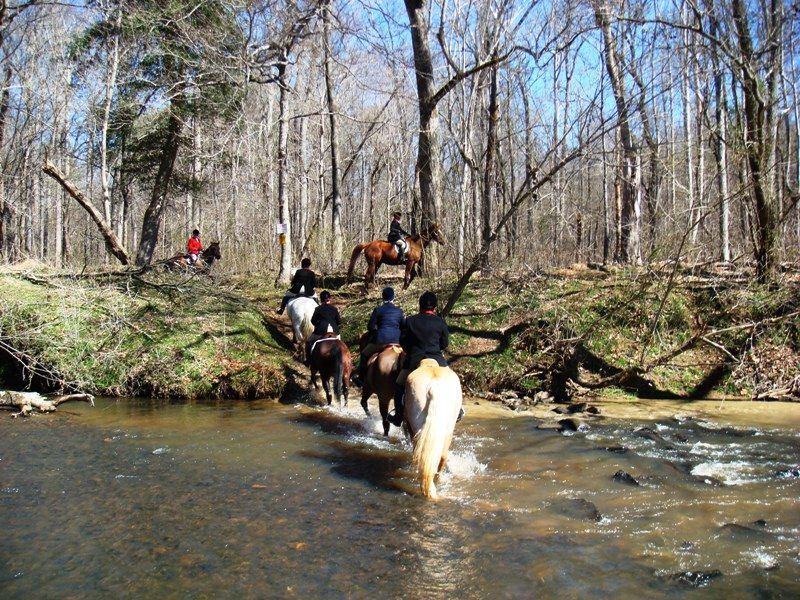 I was the third horse in line crossing a little piddly stream in the Apishapa canyon in southern Colorado. The bottom was gravel and you could almost jump across. The first two made it fine and my gelding went down to his belly following in the same tracks. My horse panicked and bucked his way out of it. But now we were on the wrong side and had to recross to get back to the trailer. We did without incident however. I talked to a rancher that had cattle in the canyon and he told me that he would haze some cows ahead of him and cross where they did because they knew where the bad spots were.
An interesting thread.
Yep, My problems have always been the little small streams, and you usually get the 1st or 2nd horse across. The horses that have problems are the ones crossing after the mud gets pumped up.
I do try to cross where I see natural fords. Places where the cattle have crossed a lot or where the trails naturally cross
On the bigger rivers, The Fords are usually very rocky and you can see the trail enter and exit on either side.
wow, you guys have some awesome riding places. *envy!*

were I am, some of the creeks look ok, but they are made of what we call 'gumbo'. i am sure you can imagine what that's like. horses get stuck enough to need a tractor pull them out. so I am leary. and I am usually riding alone, so doubly careful.

my guy will cross a creek that is nice and wide that we can both see is a nice solid bottom. my problem is those skinny one with higher banks--he won't step into them, he jumps. which isn't a bad thing, but its how high he goes is my problem. he goes up so high and lands like a truck from a cliff. it hurts!

any idea how to make him do that nice little hoppy jump some horses do instead of his massive launch?? for now, i just get off and and he does his thing, I jump on and we go.