I have already made a list, posted in my barn, and filled my saddle bags for the future.
---
Horses are scared of two things. Things that move and things that don't
I was required by my employer to carry a gun with me. It was his own property but he had miles of land and a lot of wild life. I had to shoot a coyote that came after my dog so I'm happy he made me carry one.

I gotta admit that there are more days than not where I don't use the bandana. Its just hanging from my beltloop (or on my head!). I did use it the last time I was up because my hands were filthy and there was nothing to dry them on after washing off the caked on mud. I just reached for my bandana and boom, dry hands! So handy!

There are people who have told me not to hang it from the belt loop since I could get it caught on something. I've only got it caught once in all the years I've been using it and my belt loop just tore away, so it wasn't a big deal.
---
And those who were seen dancing were thought to be insane by those who could not hear the music
I know where I live having a gun is not allowed, so research what the rules are in your area, you don't want to be paying a fine!
---
Horses are scared of two things. Things that move and things that don't
Fun thread. Thought I'd throw my list on the pile, though most if it has already been mentioned.

Two-four hour day ride:
-hat with a brim (sun protection and John Wayne feeling)
-sunglasses (protection from sun and from branches)
-collared shirt (keeps sun off neck)
-pocket knife
-hoof pick
-jacket or coat, depending on weather
-slicker, if weather warrants
-two-qt canteen
-some parachute cord in the bags for emergency repairs
-cell phone
-spurs
-dog

Most of that stuff I just keep right to hand, so it's not like packing to move every time I go out. I normally keep saddlebags attached to my saddle.

Four-eight hour day ride in the mountains:
-all of the above, plus-
-toilet paper
-compass and map (if I don't know the area well)
-matches in a waterproof container or cigarette lighter in my pocket (at the suggestion of Josh, I'm going to start carrying a matchless fire starter set).
-large sheath knife on the belt (great for making firewood if necessary)
-handgun
-heavy coat, even in warm weather
-slicker, even when dry (bright yellow or flourescent pink can help in being located from the air in case of emergency)
-snack foods and/or meal
-4 qt canteen
-halter worn under bridle with 22' lead rope attached
-flashlight
-bandana
-small First-Aid kit

Overnighter or two nights trip:
-all of the above, plus-
-sleeping bag
-trail pillow
-sleeping pad
-personal hygiene kit (tooth brush, etc)
-waterproof ground sheet
-canvas tarp for top cover
-extra change of clothes, including socks
-large steel cup, fork and spoon

For longer trips with a pack horse:
-all of the above, plus-
-extra feed (normally alfalfa pellets)
-coffee pot
-cooking pots and pans, according to menu
-propane cans and small burner
-propane lantern
-extra batteries for flashlight
-large plastic tarp (12X12 or 16X16)
-axe (26" camp axe)
-foldable shovel
-water purification tablets or pump
-a lot more food
-normal horse packing gear (feed bags, hobbles, highline, etc)
-leather repair supplies kit
-hoof knife, nippers, hammer, nails (if horses are shod)
-at least one hoof boot to fit each horse for emergencies
-equine First-Aid kit

There are differences in what I pack for a long trip if I intend to make a base camp and ride out each day, rather than a mileage trip from here to there. I'm sure I forgot some stuff.

Gets me excited just thinking about it.
gunslinger, last Fall the IL courts proved a lack of concealed carry in IL to be unconstitutional. By May we ill have the ability to take a course and have concealed carry, here, too...so we will be able to carry a gun in Shawnee National Forest...if you WANT to...in the buggy summer.
Nice thread.
We keep our 4 sets of saddlebags packed. One set is for horse 1st aid, one is for human 1st aid--they are both leather--and the other two are canvas, for anything/everything else. We also both carry a haversack. We carry a weapon which will shoot shotguns shells for killing a snake and a slug to put down a horse...if necessary.
IMHO, the MOST IMPORTANT thing to take with you on a trail ride is a buddy.
may i suggest paracord bracelets (a.k.a survival bracelets)?? :) it is a good idea to bring paracord but its is easier to wear it!! i have a very small wrist and there is about 6 feet in mine. 2 colors = 2 strands.. 1 color = one strand (6 feet total in each!)
of course i made this one for the color but you get the idea
(i put an extra black piece in for color)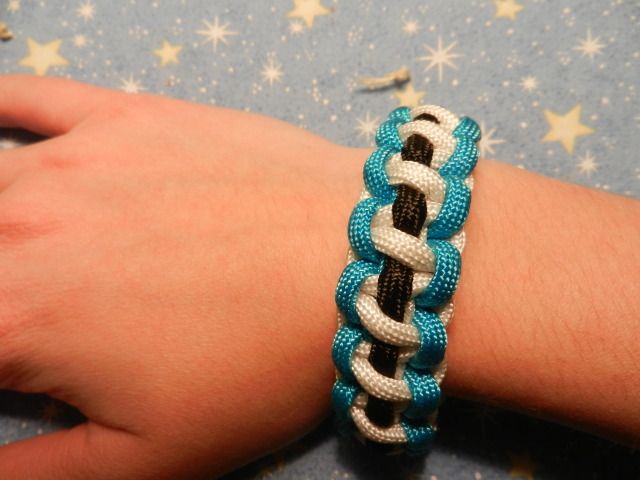 here is a helpful page to some projects!
Easy Paracord Projects
and use this technique to make a single strand bracelet
How to make a single color survival bracelet/paracord bracelet with buckle
and for you really creative people... try making the leash! (or modify it for a lead rope
maybe with thicker rope)
i made a small one for my rabbit, started with 12 feet of each color, made about a 4-4.5 foot leash
---
You may be out of my sight, but never out of my mind. ~RIP Angel
---
Last edited by ilovepets; 02-21-2013 at

06:30 PM

.
Great product, ilp!
Posted via Mobile Device
What would you use the bracelet for ilovepets?
Posted via Mobile Device
My thought on the bracelet is that at some point you can pull and it will unravel giving you a cord to repair tack, lead a horse or whatever. ???
It's a stronger solution than the leather shoelace I carry.
---
If you ever find yourself in a fair fight, it's because your tactics suck. ~ Marine 1SGT J. Reifinger
MAG1723- the bracelet is made out of [550] paracord. my dad says good paracord have 7 white strands in the middle. all you have to do is search "buy paracord". i use 3/8 clips with mine.
Dustbunny- the bracelet is simply an easier way to carry a good amount of rope. when needed you can pull it apart and used it. of course when you burn the ends. you want it burned and flattened enough that it cant come apart but can be pulled apart if needed
i get 100 feet when i buy. i haven't used with website yet, but they have the most colors (and reflective and glow in the dark!!)
550 Paracord
---
You may be out of my sight, but never out of my mind. ~RIP Angel