I have not but one of my neighbors jogs with her pony every morning. Literally - she has the pony on a leash and they run side by side down a back road!
i walk phantom a lot especially at the shows i dont want to get him tired before a pattern so instead of riding him we go for a walk.
---
~ Hope is never light years away ~
Yes. I take my horse for a walk when I'm meeting my trail riding group for our annual work party weekend. I usually get there hours before anyone else, and I won't ride without a buddy. (too unsafe) So I walk my horse all over the trails until people start showing up.
here's a crappy picture, but...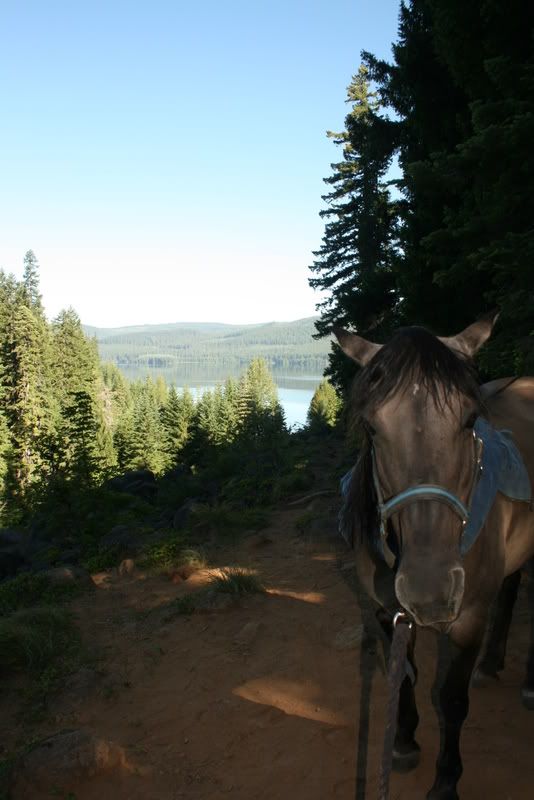 I had to loan her my jacket. the blood thirsty insects thought she was a free blood bank. (it didn't help!) ;)
Aw that is so cute! I might have to try that with one of my nonhorsey friends who wants to do something at the barn with me!
I have not read all the reponses, but yes I have taken Citrus on a walk.... it is where he was introduced to a bridge and me, my daughter and the horse had a picnic..... I think it helped him bond with us. I will do it again asap :)
Fun stories and pics everyone!!
---
"The times when you have seen only one set of footprints in the sand, is when I carried you..."
i take Pumpkin for walks down the road..... people look at me funny at the time. its like 'haven't you ever seen a horse being walked before?'
---
There is one principle that should never be abandoned, namely, that the rider must first learn to control himself before he can control his horse. This is the basic, most important principle to be preserved in equitation - Alois Podhajsky
I took my boy for a walk once. Frankly, I think I'd rather hop on him.
I have yet to do that, and I really want to. Maybe one of these days, here soon I will. I love to ride, but there are times where I'd just rather groom for a few hrs, clean stalls, clean arenas, and take my girl for a walk down the road. When I do, I'll let ya'll know how it went..
---
- If today was your last day, and tomorrow was too late, could you say goodbye to yesterday?