I would be a starter for that, and keeping the beer cold. In the creek while fishing for trout. Great place.
---
My blog
foremyhorse.org
you may enjoy the read. Its different.
I don't know, Trails...I think that trouts older brother is coming to get you for killing that minnow....!!!!

Lovely photos!
Quote:
What about your Xbox? and How did you check in with Horse Forum? Where is the internet connection? Oh, yeah, wifi.
Tiny's not kidding....I took this photo at her last campsite!!!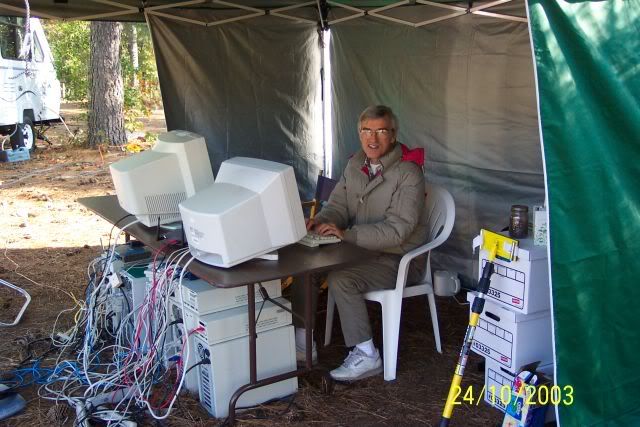 LOL that is a computer geeks heaven right there (I am talking about myself here!!)
Darrin
A friend of mine while walking through a small town on horse back was attacked by a dog. The horse held its ground for some time but while spinning to defend it's self the rider came to grief, but unhurt, the horse shot through, around the corner out of sight with the doge close in tow.

When she caught up to the horse it was standing quitely on the road and the dog, well it had been dispatched to doggy heaven. The horse in question is what we term as a bush horse, and had been trained by pig hunters/ deer hunters and was very confident in what it does. Dispatching that dog was no effort she just had to get the dog into the right position.

Who needs a gun when you have a horse. It is not uncommon for horse owners in my area to send the horse for some education with the hunters. They come back ready for anything. However you have to get them back first.

On a different vain
Great photos of the computer set up posted Allison. But what was being studied, or was it just to stay in contact with this forum.
,
---
My blog
foremyhorse.org
you may enjoy the read. Its different.
---
Last edited by Stan; 09-24-2011 at

04:53 PM

.
Showing
Join Date: Jun 2011
Location: Cariboo, British Columbia
Posts: 11,770
• Horses:
3
I hate fish, swimmy fish, yuk. My dad was a commercial fisherman, I had my share. No I don't need my iphone, or any other gadget. I just like to have a shower in the morning, so maybe when it's hot and the lake is close by, I might, maybe try a night or two. Maybe. Depends. Ok, dang it I want my satellite tv!!!
We rode up a narrow canyon today, Two riders and one pack horse.
this canyon had a severe flash flood two years ago and it still seems to be washing out during the summer thunderstorms
Beautiful Day to be out enjoying the fall colors
Lovely pictures!
---
Amanda
Horses lend us the wings we lack.
Great picts.
We went camping last year in Coconino Forest, I hope to be able to do it again this year.
The free range cattle kept getting in our hay.
My friends father in laws old as dirt nokia phone (it wasn't even a flip phone) was the only phone that got service. Our new fancy phones with the GPS were worthless.
---
So in lies the madness, the pursuit of the impossible in the face of the complete assurance that you will fail, and yet still you chase.
I can deal with cattle trying to eat our hay. I'm not afraid to haze them away. But when the moose decide they want the hay, I pretty much just let them have it.
Here is a photo of a moose eating the hay that was in the pickup truck in the trail head parking area. As I rode up the trail I kept asking other horsemen I saw, If they drove a Red Truck. When I finally found the owners, I warned him what ever hay he had when he arrived, was probably gone or at least scattered. That moose had lifted the entire bale out of the truck and dropped it on the ground and broke it open. We've occassionally had bears get into our hay pellets.
---
Last edited by Painted Horse; 09-27-2011 at

02:11 PM

.