Quote:
For a long ride, you're going to need someplace to hang certain things. I never go out on trail without a halter under the bridle and a long lead attached, which I coil around the saddle horn. I like to have a place to tie on a rain slicker and a jacket or long-sleeved shirt. You will need to hang a canteen somewhere, either on the saddle itself, or in a saddle bag. I suppose a camelback would do the trick as well, but on a long ride, that would become uncomfortable, hot, and create a sweaty spot on me. Where will you carry your hoof pick (you do take one with you, right?)?
I carry everything short of the kitchen sink with me when I ride--that is what D-rings (and saddle bags and shoelaces) are for! My reins have clip attachments, so they double as a lead rope if necessary (and the halter is already there, with the headstall attached). I agree the idea of a camelback for hours and hours sounds agonizing, which is why I carry 2 water bottles instead.
This is the saddle I use on Dream (and the one I commented about riding thousands of miles in):
And this is my catch-ride saddle, that goes on anything else I may be lucky enough to ride:
Quote:
Riding English pretty much requires constant contact with the horse's mouth. I would think that would get tiresome for horse and rider after four or five hours (although not being an English rider, I may be wrong on that). Western riding is generally done with one hand on the reins, allowing a free hand for other duties, such as towing a pack horse or handling a camera or binoculars.
Just because your butt is sitting on something that looks like an english saddle does not mean you have to be riding 2-handed or with contact! Goodness knows I take a billion pictures and videos of my rides, so I always ride one-handed (or sometimes when I get really lazy, I drop the reins altogether).
---
There is no joy equal to that found on the back of a horse.
Hahhahaha I ride one handed some of the time myself - sometimes two. I also have the halter bridle combo that for trail riding is just the bomb. His bit set comes off and he is just in a halter. Love love love that.
How new was your western saddle? I have found that the more my heavily tooled saddle is ridden (and broke in) the better it feels. I don't ride English, but I was under the impression that your legs are more bent in English? I would think the western style with a longer leg would be more comfortable.
Well in the last several days I have traded off riding both english and western. I still feel more comfortable in the english saddle, and I have a pad with pockets, so I can stash stuff in there. I think I'm going to try to go english, at least for now. I took full advantage of my d rings, and of course my daughter's saddle. LOL. I think Nibbles is more comfortable in ENglish gear. Here are pictures both ways (my daughter riding her western, and me english - the colored paper is to make sure we didn't get shot! hunting season!!) Also, hadn't gotten my english bridle yet so still using the western in both

Also question - I want to get a breastplate for my english saddle - any suggestions to type or style for trail riding?? I prefer to stick with leather, but those colors in biothane are great!!
---
Customcanines
First, it isn't the style of saddle that makes your comfortable, it is how well made it is. I don't get rid of a lot of saddles--I have 2 Western, 4 English and about 8 McClellans,
and no, I won't give a sales pitch for them.
My most comfortable saddles are either my one cheap English that is 20 years broken in--you don't have time for this!--or the comfortable McClellan's that DH and I didn't sell to somebody else.
First, keep the Western for the time being bc when you find what you like you can sell the whole rig as a matching set.
Second, you need to try the BEST name-brand Western saddles, and, if I was in market for a Western saddle, I'd be looking for a flexible tree, IMHO.
You will be in pain riding a saddle that is too small and though you can handle one a bit too large, I would suggest a perfect fit. I ride a 17 1/2" English, and I ride a 15" Western. You probably fit that range.
Have you gone to any actual tack shops? We buy SO MUCH online today, it's hard to remember that you will be able to sit on them there to really get a good feel. Remember, well made western saddles are designed for ALL DAY riding. Yours obviously doesn't fit you well, or you'd be bragging about the rides you took in it.
I agree that a good English saddle is great to trail ride in, but the rings aren't as durable to tie stuff on as a Western is. DH and I usually tie the following to our saddles while trail riding all day:
--leather saddle bags
one for extra reins, girth, punch, etc. and snake load/regular load pistol
one for first aid (people on one side, horses on the other)
--canvas saddles bags (lunch, etc.)
--gum blanket (rubber CW raincoat)
--metal picket pin (obvious)--with grazing rope
--feed bag, with grain for lunch break and one complete extra bridle
--canteen
--2 extra canteens, with hand-made leather swing that snaps to rings on saddles
Here is my good mare on the last trail ride trip in SD 3 years ago.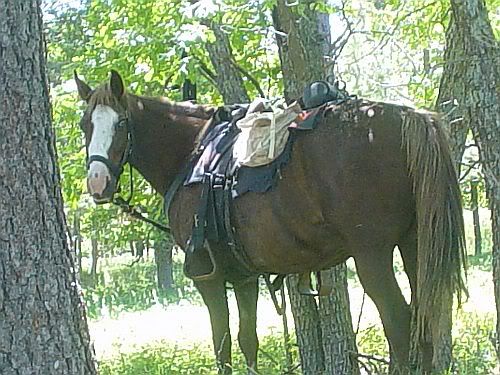 Have you considered a Steele saddle?
Steele Trail Saddles by Custom Tree and Saddle
The people I have run across (while trail ride camping) swear by them, and they are very much like an Aussie/Western cross. They make models withOUT the horn, but with many places to tie to. I am considering buying one very soon.
Quote:
How new was your western saddle? I have found that the more my heavily tooled saddle is ridden (and broke in) the better it feels. I don't ride English, but I was under the impression that your legs are more bent in English? I would think the western style with a longer leg would be more comfortable.
Depends what you are doing in english. If I'm doing arena work my stirrups are shorter, if I'm running trails they are one notch lower and if I am just walking a trail they are 4 notches lower. Western saddles pretty much fix my leg in the wrong position. I doesn't matter what saddle as both knees have had injuries and therefore nothing normal will keep them from hurting. With the english leathers there is more freedom of movement to keep my knees from locking.
Western saddles to me feel like they are trying to tear my hips apart. I can't get my butt down in them and therefore lose my stirrups constantly with western.
Those Steele saddle look gorgeous, but they are WAY out of my price range. I don't think my western type endurance saddle really fits me. It LOOKS like it is the right size - plenty of room, but it FEELS a little smal, and it just isn't comfortable. The english saddle is one my huband picked up. It is definitely too big for me. I am looking for my own saddle now, but I have a problem with him thinking "Cheap is best". I know I can get a good buy somewhere, and i don't mind looking for a bargain, but it's hard with his mind set to buy real quality, which I want. Also, the places he insists we look (Garage sales, flea markets, etc. won't lwt you try them to see if they fit your horse, so if I pick one that doesn't fit, I'll never hear the end of it. He thinks I'm being too picky anyway. He said that when he rode when he was young, no one paid any atention to saddle fit. No, I don't think they did as much, but there were probably a lot of unhappy horses! Sorry for the rant, just frustrated.
---
Customcanines
I sat on 3 western saddles last week in a store and 2 were miserably uncomfortable. My friend found only 1 saddle uncomfortable I don't think all saddles are made equally. It really sounds like you bought a bad saddle. I hope you find one that is more comfy.
My cousin just bought a Steele saddle. It is nice!
I'm an English-only rider and I do a lot of trail riding too. However, we don't have trails that huge as some of you in the USA do, so my rides are rarely longer than 3-4 hours and I either don't take anything with me, or I pack a couple of things in a smallish backpack. I have a Kieffer A/P saddle, so nothing designed specially for trails. Regarding stirrups, I make them as long or short as I will need in the trails - if I plan on lazy plodding, I make them long, if I want to do a lot of active trotting, cantering, galloping and jumping over some logs, I make them much shorter. As for contact, "proper" riding, etc. - heck, I often ride one-handed in the trails, and sometimes even bridleless.
---
I have come a long way, to surrender my shadow to the shadow of my horse.
/James Wright/