Weanling
Join Date: Apr 2011
Location: Thunder Bay, Ontario Canada
Posts: 492
• Horses:
4
What to Take??
---
I have several 4 day weekend trail riding trips planned this summer and I am not sure what to take wth me. I have never ever hauled a horse anywhere to trail ride, so this will be a new experience. I know that i will need corral panels, a vet kit, insurance and all health paperwork necessary to cross the border from canada to the United states, extra tack in case something breaks and food for myself and my horse. I am planning on getting my horse shod for the trip and will try to get some easy boots in case he throws a shoe or something. What else do all you trail riders take when you go away to ride for several days?? I am afraid of forgetting something really important
Passport?

And need ICE so if something does happen, those numbers are at hand quick.

Might also want to include a Permission for Treatment, in case you are out of it, and life saving procedures are required? All contact numbers need to be easily found too.

Make sure your horse is used to all of this too.

Will give some thought to this, as am tired and not on top of it.
---
Horses make me a better person.
your cinch. I have done this before got everything for a pack trip got up there and found out someone had borrowed my cinch for her horse show because it is neoprene and cleans easily.

Seriously though you'll probably forget something so put in a little extra cash to buy something you forget or just use your ingenuity to make something you forget, like your back cinch wrapped in a towel.
food/ water for u and horse, soem way to cook said food for you. sleeping arrangements for both. I use step in posts and electric rope, water and food buckets, Tack, extra tack. Awning. chair,
Has your horse worn shoes before? If not, and your horse has good feet, don't even worry about it. If your horse wears shoes all the time then ignore what I just said :)

Always have decent size saddle bags, and make sure your horse is used to the weight. Carry plenty of water and non-perishable food like granola bars, beef jerky, things like that. I always like to carry a baggy of my horses favorite grain, or a couple apples, and some horse pain reliever, just in case your horse gets sore or gets a nasty cut. I always have my horse wear a full set of splint boots and bell boots to protect her legs. Carry a flashlight, a hunting knife or pocket knife, and lots of different sized zip ties! If a bridle or something breaks on a trail, zip ties can save your butt!

Always keep a halter on your horse and a lead rope or two in your bags, in case you need to stop. Keep a phone handy, and on YOU not in your horses saddle bags. If you get thrown and your horse takes off, you will need to contact someone if you are hurt. If you are with a group make sure everyone has a way to communicate with each other in case someone gets split up.

Figure out ahead of time what you will be sleeping in, tent, camper, cabin, ect. Make sure you have plenty of food, and a way to cook it! Check ahead of time if camp fires are allowed, and if you are allowed to bring fire wood or not. Some camp sites do not allow wood to be brought in from outside. Bring an extra sleeping bag and rain gear! Keep a poncho or rain coat or duster in you saddle bags if room allows. Dress in layers so you're prepared for all kinds of weather. Bring a hat, and sunscreen. Avoid wearing breakable sunglasses in case you fall. Wear a helmet with a visor. Look into water proofing your saddle.

Bring an extra saddle pad and cinch in case it gets wet and you don't have time to dry out before the next day of riding. Bring lots of socks and clothes for you, as well as a spare pair of boots. Nothing is worse then waking up the next day and having to ride in wet boots. Check all your equipment at every break stop. Check your trailer and vehicle as well. Check tire pressure on your trailer before you leave anywhere.

Don't push your horse the first day! If you over work your horse the first or second day, they're going to be sore and cranky the rest of the trip. Condition your horse well before you go on your trip.

Bring the biggest water bucket/tub you can pack for your horse so they can have water at all times at camp. I like to bring a high calorie supplement, like Bounce Back, to put in the water. Make sure you have enough hay, plus extra just in case. Pack extra things for whoever is coming with. It's a pain to have to hear them complain the entire weekend if they forgot something important. Don't forget grooming supplies as well as a good detangler in case your horse encounters burr bushes or such. A small tube of baby oil works as well. You already know you need first aid for you and your horse.

Practice your mounting and dismounting on both sides. Make sure your horse will leave the group in case someone needs to run back to the camp. I had a case where a friend was thrown, and her horse took off like a bronco through the woods. My horse was the only one that would take off away from the group and chase her down.

This is everything I can think of at the moment, but I probably forgot something. I do lots of camping trips, so feel free to ask any questions.
 
What to take? That's easy; ME! I wanna go, pretty please.
I agree with tinyliny, if you just bring me along you wont have to worry about what to bring!
I also forgot to mention to bring a rake along to clean out your horses pasture, it get nasty after a couple days. I also prefer to use an electric fence and a small solar fencer as opposed to pannels. Much easier to haul. Here is a picture of how we like to set up camp, with the horses in the center so they feel more secure.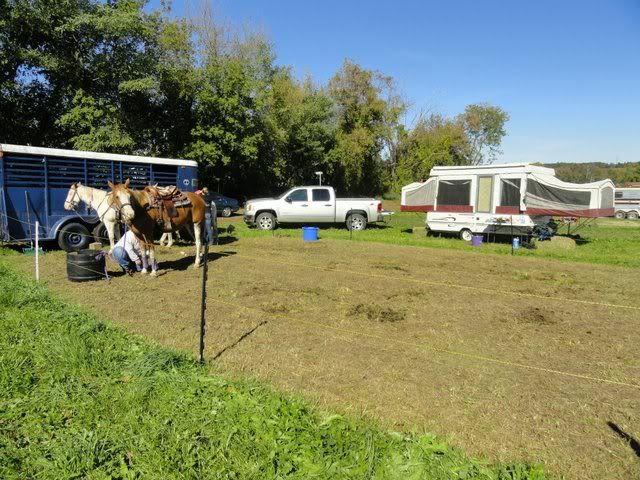 Weanling
Join Date: Apr 2011
Location: Thunder Bay, Ontario Canada
Posts: 492
• Horses:
4
wow thanks for all the great advice so many things i never would have thought of. I have never even heard of step posts and the electric fencing is much easier to take than my heavy corral panels. Thank goodness I am not going on this adventure until June so I have a lot of time to check into things like the campsites and if they allow firewood and whatnot. So much great advice I thank you all again.
Most of the people I know that camp use a high line to tie to or rent stalls. I want to do some camping this yr, too. I got a LQ trailer last yr. and because of health reasons, never got to use it. Some friends that camp alot are coming this wkend, I'm going to pick their brains to see what they take. If they suggest something that hasn't been posted, I'll let you know. One of my friends, does take her own fire wood and fire ring but coming from Canada, you may not be able to bring wood. Some of the counties around here won't let you bring wood in because of somekind of bug.
GPS, Compass
---
The best thing for the inside of a man is the outside of a horse