What's the strangest/oddest place you've ever gone with your horse?
---
I'm too lazy to look and see if there's a thread like this out there... but I'm just curious as to your answers.
**
My strangest is I've brought my horse to my house in my residential community and tied him to my backyard tree as I went to grab lunch. :) After that we went to the mall and went shopping.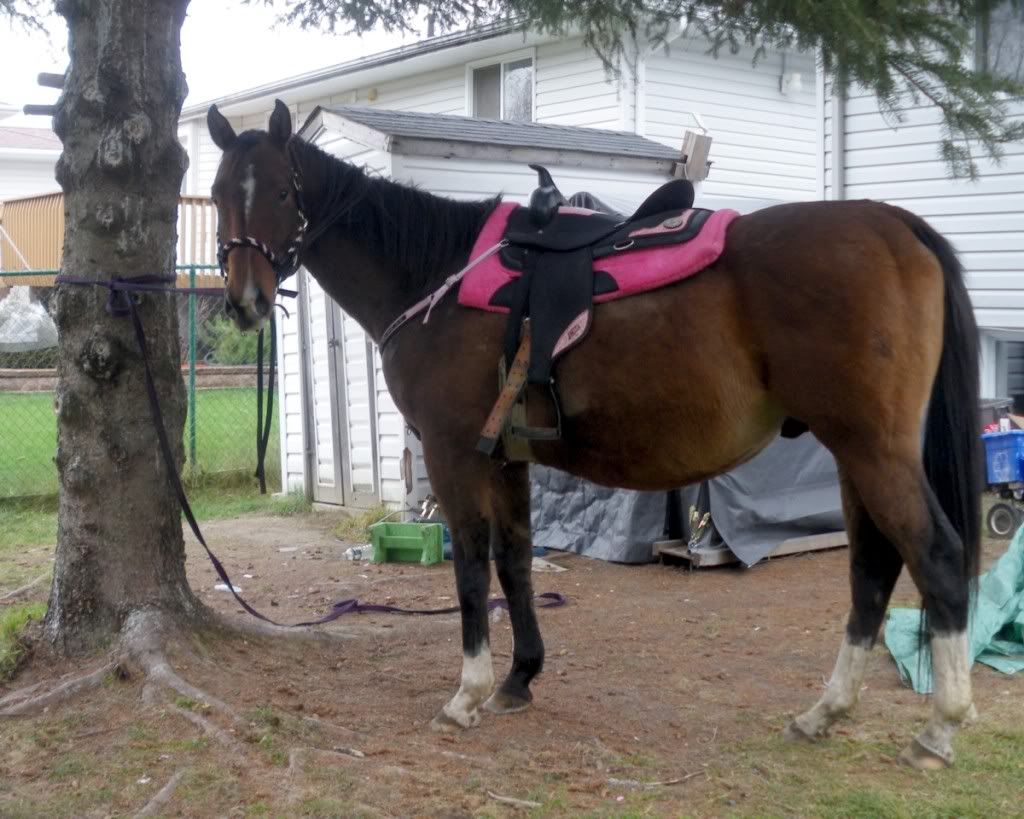 Post photos if you have them!! :)
---
A canter is a cure for every evil. ~Benjamin Disraeli
Well... We don't have a trailer. So my trails are the neighborhood because we live right on the edge of the city. So while I was riding I went to the park that has a pond to show Annalie the ducks. There is a nursing home there. One of the nurses asked if her residents could see the horse. I thought she meant the other nurses and doctors. Well she meant the patients. So I lead Annalie into their tiny little courtyard with a gazebo, running air conditioners, a little pond with a water fountain and everything while they wheeled out people in wheelchairs and beds to see her. Thank goodness she stood there like a champ. : )
---
100% Anti-Slaughter and PROUD of it!

I think the strangest place I have ridden a horse would be into our walk-in basement... <- don't ask

And once when I was little, I was riding with my dad and we went through the McDonnolds(I think that's how it's spelled) drive-thru =)
Posted via Mobile Device
Wild Horse Canyon, Central Utah
The drive-thru at Dairy Queen (when I lived in the city) and those tunnels that go under freeways that look like giant culverts (you know, round with the spiral texture to them?). Kind of weird when there are cars driving above you!
I also brought my foal in the house when he was about 3 months old, just to see if he would do it. He did.
Painted Horse, Wow! Love those pics!
Walk-in basement?? XD lol.. and agreed, very nice pics Painted! And the patients must have been so pleased to see Annalie. I can just imagine being in that confined tunnel with all those cars! must have been echo-y.

I've tried Timmy's drive thru's with my horse, but he's not heavy enough to triggger the sensor. :(
---
A canter is a cure for every evil. ~Benjamin Disraeli
Gas station. We were out trail riding & stopped to grab a couple sodas.
Posted via Mobile Device
When I was in high school my friends and I would ride 8 miles to town to the doghnut shop and then across the street to the convenience store for diet sodas.
---
The trail is the thing....Louis L'Amour
To get ICE CREAM! Sherman even got his own cone(no ice cream just the cone) Every year we ride 8 miles into town to get Ice Cream and then 8 miles back. My cousins go to. My aunt, 3 cousins, me, our horses, the little dog, and the great dane.