Showing
Join Date: Jun 2011
Location: Cariboo, British Columbia
Posts: 11,954
• Horses:
3
Since you insist on discussing winter (it is not coming here, cancelled due to lack of support), I wear my cast off ski gear. Since the styles change pretty quick on the slopes, I wear the old gear around the dirty nags and sport the new togs on the mountain. Works very well, insulated, lightweight, wicks away moisture and the gloves are second to none for precise control on reins, doing up buckles, etc. Just won't recommend the boots though, unless your stirrups are equipped with bindings.
Posted via Mobile Device
Mississippi, southeast Texas? Do they even have winter?

It was snowing here the other day. Isn't sticking yet except on the high peaks but it's coming.

I raid my daughters and husbands ski gear. Under Armour seems to be the long johns of choice for the last few years. Toe and hand warmers. North face and spyder ski parkas. Layers and layers.

My husband has a nice parka in the attic he quit using. Way too big on me but the way I keep adding layers it may be just the thing come January.
Hahahahaahahahahha sometimes we have winter. Last year not so much...the year before - we had some weather in the teens. The worst thing about SE Texas winter that catches some folks off guard is it is a wet cold that goes to your bones. A dry cold is easy to manage...the wet sodden cold is the pits.

I still laugh about a cold spell we had in freaking APRIL. It was snowing in Lubbock which is across the state but it was blowing like 30 and 40 mph winds in the high 30's and low 40's. A friend was coming in from Manistee, MI and she lives right on the lake...she asked what to wear and I said "well, we are having a cold spell" and she laughed and said "I'm from Michigan!! It is COLD here". I said "ok sister, just telling you it is a little cold here...bring a coat."

She got here and nearly froze her little butt off. She said "oh my God, Denise, I didn't realize it would be this COLD here."

This is also the woman that declared on the Ultimate Cake Off Challenge we did that "I don't know how to light a lighter - I am from Michigan - we use matches!!" LOL that was pretty dang funny...she denies saying it but we still raze her about it!
The cold coming off the water does get to you.
Winter is wet here. I don't ride lots because of ice and then the snow is usually too deep. It's a heavy wet snow too.
Last winter was really mild and would have been perfect. New horse was too skinny to bother her yet. I did get a pair of Mountain Horse Rimfrost boots for Christmas. Only wore them around the yard a few times. Feet did stay warm. It's my feet that get so cold and then jumping down kills!!!
Yeah..the wet cold is the pits. Sometimes in the winter the walls will be dripping wet with moisture - everything is slippery to boot. You add in a little wind and it is not fun. When it is a dry cold it is actually very nice out!
I think QOS said it best with wet cold is the pits. I think that staying dry is the key, but then I'm in the rainy Pacific Northwest where the rains just started and will stick around till next June. Temps aren't too bad on the west side of mountains only a few days of below zero (those I spend inside
) each winter.
We generally layer with a good slicker that hangs over the saddle and the tops of your legs.
And then put oilskin chaps on to keep the rest of our legs dry.
Tapaderos really help to keep our feet warm - oops no pics!
I wrote a magazine article on the subject two years ago that goes into more detail.
Here it is.
Heck it can get cold in Mississippi! Just not too often but it does get wet cold like others were saying, I think some northerners would find our weather is a little different feeling with our climate being more humid and damp, 20 degrees in Mississippi is cold!
Posted via Mobile Device
As everyone else has said, layers are the way to go. I tend to get very hot when I ride, so I start out wearing a lot of clothing and then peel it off as the ride goes on. I love my under armour. I love my mountain horse rimfrost boots (had a lot of trouble with my feet freezing before them). I also love having the outermost layer be windproof, as that helps a lot with maintaining body temp for me.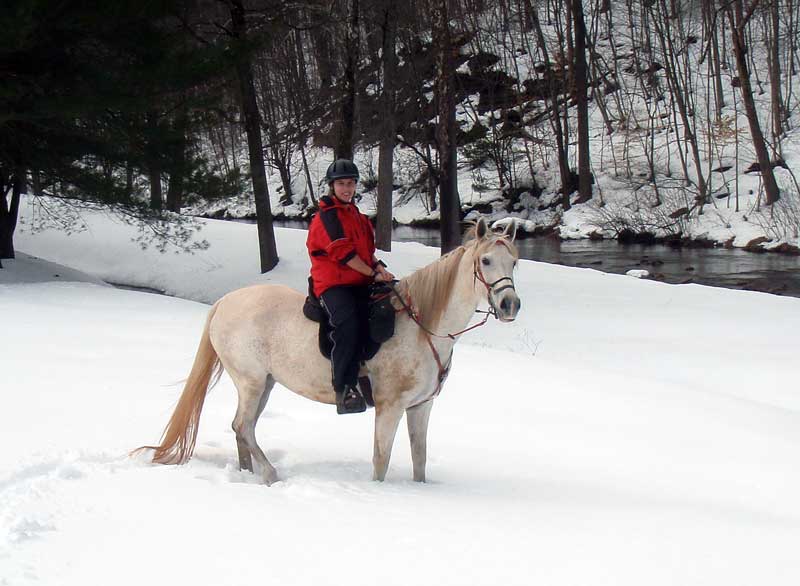 ---
There is no joy equal to that found on the back of a horse.
awwww....Dawn...Dreams looks like a dream in the snow. What a pretty picture! I love pictures of snow/frost and love the frozen look. Don't want to live in it but it is gorgeous!

We layer too....but dang, sometimes it is hot one day here in the winter - like way up in the 70's or even the 80's and the next day it is down in the 30's and wet. It is often the yo yo of temperatures that really gets to you. Biscuit had a huge fuzzy coat last year. I rode him on New Years Eve at a walk and it was 80 dang degrees. Poor fellow was sweating to beat the band and finally laid down. I think he wanted to roll but thank God he did not!! The week prior to that on Christmas Eve it was 43 degrees, drizzling rain with an average of 12 mph breeze blowing. I rode that day too. What a difference. We always say "if you don't like the weather, hang around 15 minutes...it just might change!"
UNDER ARMOUR!

Best stuff ever.. It's a little pricey but so worth it. I use the compression suit as my base layer and then layer on top of it. I don't have to layer much because my suit is so awesome..I swear by Under Armour now and I literally wear at least my compression pants. I also have the Under Armour gloves, suit, jacket.. I'm an UA addict and I admit I have a problem.

Other than my UA I wear waterproof/windproof bibs..I love the ScentLok brand too, great stuff..Gortex is also awesome..

Yes, have to agree that 20* here is cold..I mean really cold.. It's a different cold because we are so humid in the south, so it's a wet cold and literally seeps into your clothes and your skin.
---
I am Sparkly Meanie Doodie Head and I approve this message!