Quote:
Here's our WP outfit, made by H&K Designs (my barn owner and trainer).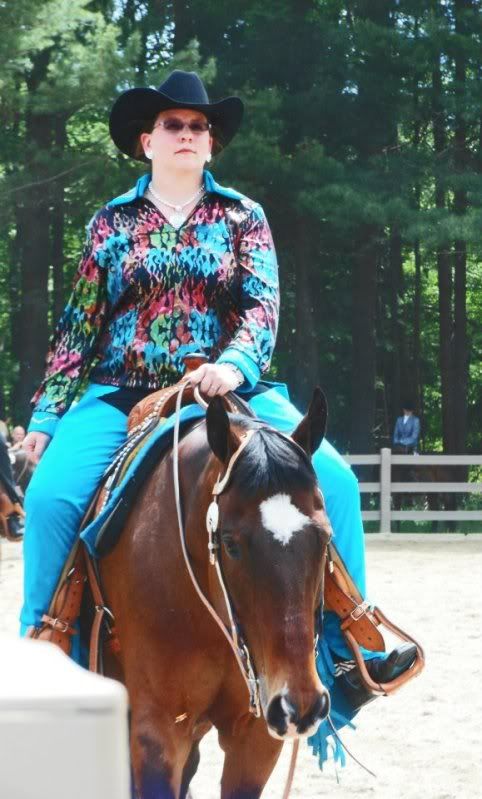 I have to complement you on your awesome LOUD chaps! Way to go breaking away from boring and black! Second, your horse is freaking adorable. I just love his or her face!
Now, in relation to the op. The only wp I ever did was super tiny and local....my outfit was not very wp like (neither was my barrel saddle and braided barrel reins!) but hey, I won wp and horsemanship!
Ok, I can't get my pic to work.
---
Last edited by RhinestoneCowgirl03; 07-16-2012 at

01:41 AM

.
Green Broke
Join Date: Jan 2010
Location: south of nowhere, north of nothing
Posts: 4,644
• Horses:
6
oooh dear god...um well i dont have the pics of all my slinkys but heres what i wore with charlie when i showed (its my senior pic haha)
Me n Charles.jpg
but when i first started showing my mom made me vests and they were ubber cute haha ill have to ask her if she has any pictures
Resurrecting this thread from a few weeks ago to post my outfit for fair this year. This is Eq and Pleasure with my gaited horse, but I'll use the same one for WP
. I know the sleeves are short, but it's not a big deal for 4-H.
---
Last edited by equiniphile; 07-30-2012 at

10:26 PM

.
Lovely - cant wait till i get my own outfit.
Showing
Join Date: Jun 2011
Location: Cariboo, British Columbia
Posts: 11,954
• Horses:
3
I ran to the closet when I saw this thread, grabbed a random show shirt, tried to take a picture in the mirror for yu guys...Butttt it's 11pm and the lighting just isn't cooperating.

So subbing so I can remember to take a picture tomorrow. <3
---
Pssh.I didn't pick up the wrong lead
It's called a counter canter...
...A very advanced maneuver.
Here are a couple of mine... I know - kind of boring...
---
"Be a best friend, tell the truth, and overuse I love you
Go to work, do your best, don't outsmart your common sense
Never let your prayin knees get lazy
And love like crazy"
Here is my outfit:
---
passion is when you put more energy into something than is required to do it. it is more than just enthusiasm or excitement, passion is ambition that is materialized into action to put as much heart, mind, body and soul into something as is possible. // <3 starlite - dream - lady - georgia