anybody have pics of them barrel racing or doing poles?
---
I wanna see them! I've started becoming interested in barrels and poles. I've always rode english. I wanna see if anybody has pics.
---
Bailey's Mountain
6 year old tb
Weanling
Join Date: Nov 2008
Location: I live in that card board box you pass by every day on your way to work.
Posts: 520
• Horses: 0
I think these are all I have on my computer...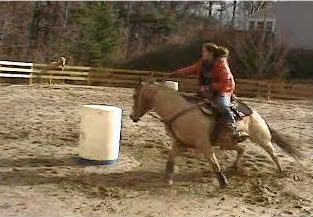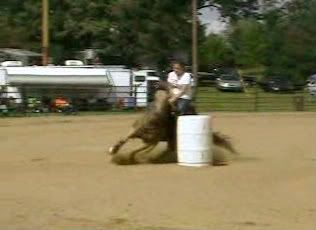 thank you =] I love the last pic.
---
Bailey's Mountain
6 year old tb
Heres some pics of me and Stitch or of my best friend at our county fair
I have a couple of my daughter barrel racing and 1 of me bending.
I don't get to ride too often because I am always on the ground looking after my brood of pony club kids (I'm their instructor).

However, on this occasion I dragged my 20 year old mare out of the paddock (after a 6 month break) for our last comp together - she is now retired.
We didn't win anything, we just had fun at a pace she was comfortable with which was great for me because it wasn't real fast.
---
Only As Old As You Feel - Sometimes I Feel VERY Old
This is me and my horse Banjo :)
This is me on my pony Wildey doing a race called postmans chase. But its includes poles, so I guess it counts! I have an awesoem video of him doing poles at home, not sure where it is though. He's a legend, has the fastest time of the day at our zone championships for poles numerous times! I just sit there nowadays and he does it all.
---
Please excuse my racing face :p
---
These pictures are of my (and my horse's) first time barrel racing.