anyone know anything about this mare?
---
hello all i was wondering if anyone knew much about this mare. her name is IMA DIXIE HUSTLER shes a palomeno and i was told she had 5 years of reining training but now shes out of place and not moving right i just picked her up today and haven had a chance to see much for myself but was going to ask if anyone knew her 5 years is a long time im gusing she has been shown in that time but dont know for sure. heres a picture of her and a pedigree.
Ima Dixie Hustler Quarter Horse
shes about 14hh and built like a taink.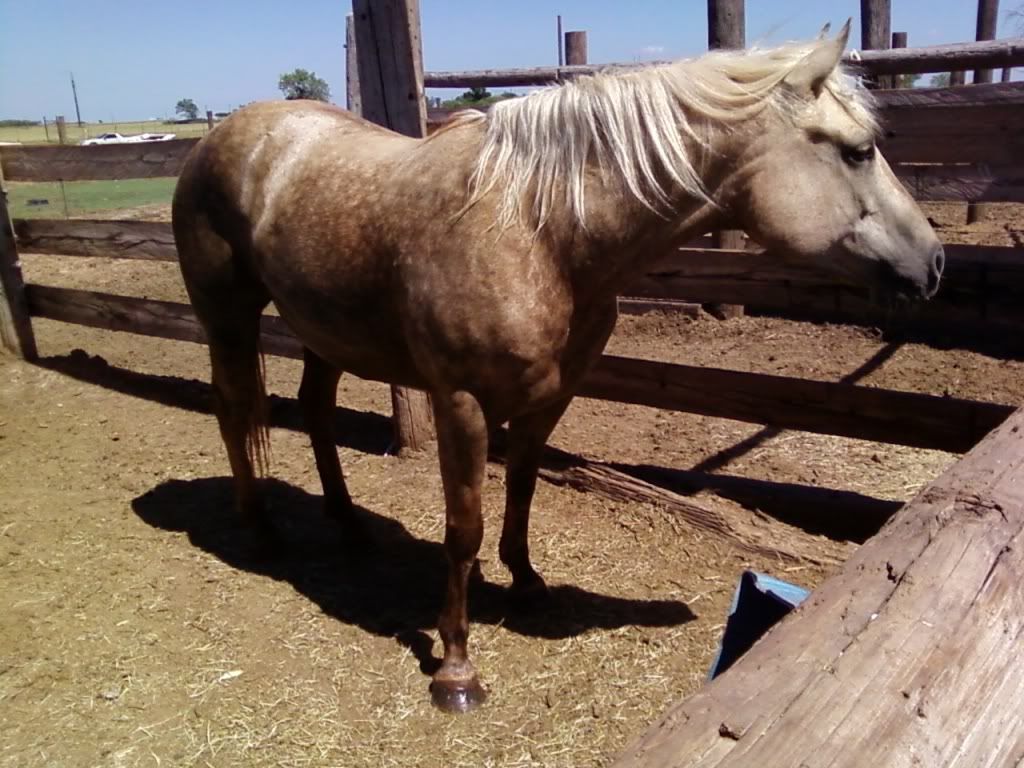 She has some decent horses in her pedigree. Unfortunately, I haven't had any personal experience with them. I don't know this mare but from what I've hear if her bloodlines she should serve you well....I wish I could be a little more help, buy I don't know enough to give any professional opinions. Just wait.....someone smarter than me will reply ;)
Posted via Mobile Device
thx i did hop on her for 5 min today and wow is she in need of a chiropractor got one coming up this evening :P got lucky :) but it looked and felt like she was wanting to do what i asked it just hurt too much. i asked her for a step in a spin and she did one step then said ouch that realy hurt so i didnt ask for more and we called it quits mostly got on her to make shur she was broke. and she is yay. still looking for info thx everyone :)
If she has been is reining training for 5 yrs, be careful that her hocks and back are not all screwed up.......too much too soon is not a good thing. You don't say how old she is......but those tend to be what fails first in well trained reiners, IMO
She is a 6yo with 5 yeas of reining training?? Something sounds fishy.
---
-I'm so busy... I don't know if I found a rope or lost my horse.
-An Armed Man is a Citizen an unarmed man is a subject.
-Where ever free speech is stifled Tyranny will reign.
Haha. Ya think? Didn't know the 6 yo part.
Posted via Mobile Device
Quote:
She is a 6yo with 5 yeas of reining training?? Something sounds fishy.
I wouldn't necessarily go by what that pedigree thing says her age is. They had my horse's dam all mixed up until I corrected it. That thing is inaccurate as all get out. I have found mistakes on horses on more than one occasion.
got her checked out today and we looked at her teeth thay say shes about 6 so yea im thining maby only 1 to 3 years of training but shes a sound mare has a few things out of place but should be fine with a few adgustments. i will be geting her papers later this week. and will know for sure on her age then. and will be riding her more now so can better guess how much training she has had. and yea i was thinking it was kinda fishy myself i mean im no math major but that just didnt add up to me lol.