Quote: "I pretty much have an english position in a western saddle"

Well what's wrong with that??? It will enable you to ride most horses.
Green Broke
Join Date: Aug 2011
Location: Middle of Nowhere, Saskatchewan
Posts: 2,641
• Horses:
5
You have a point, and I mean... I don't show other than rodeo events, so my western equitation doesn't really matter. It's just not typical western riding.
I've found some more pics: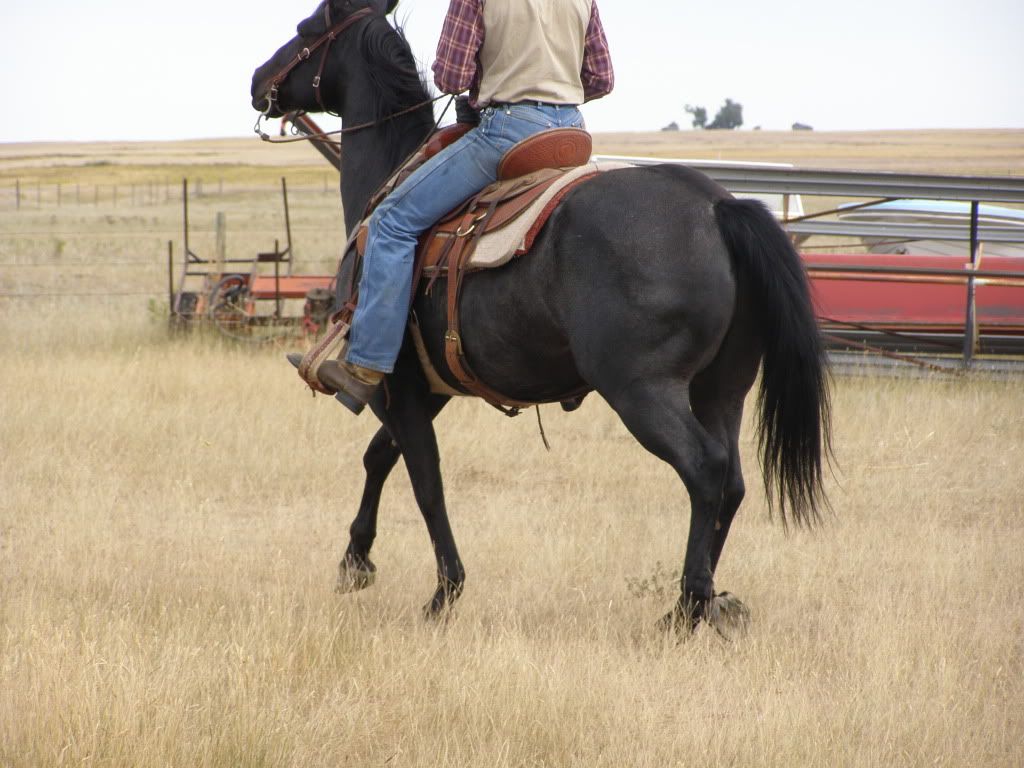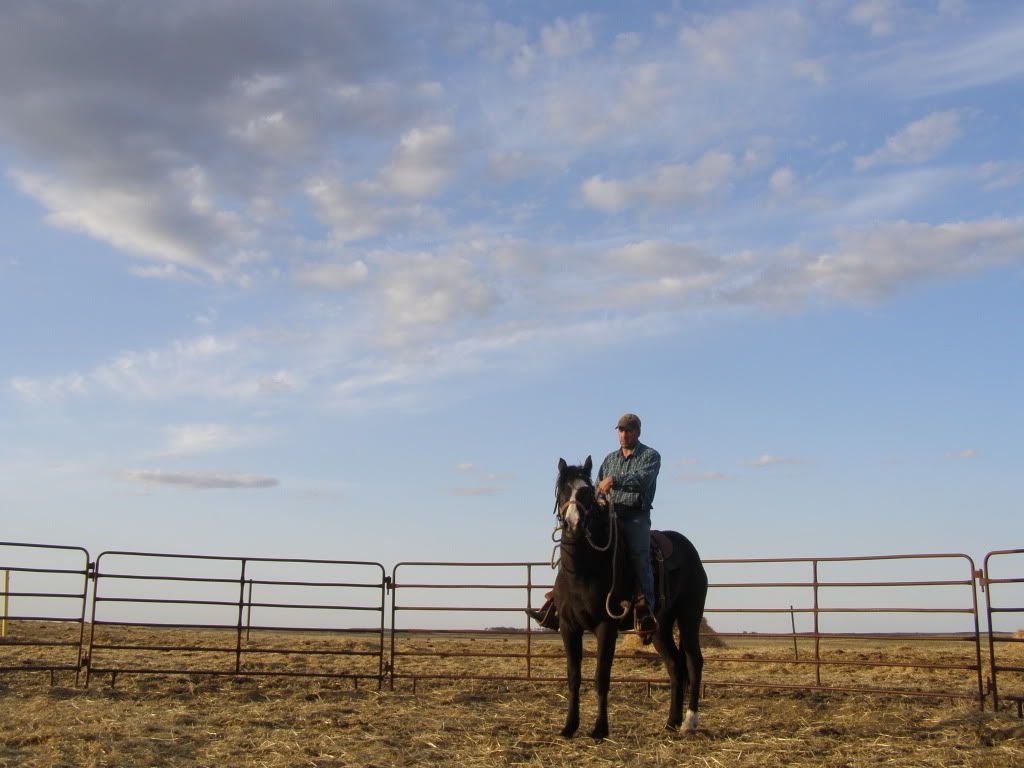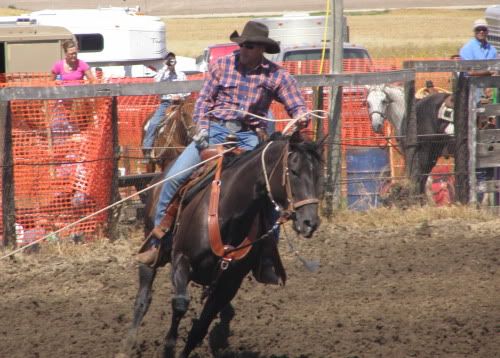 I ride totally different than my dad. He likes his stirrups longer, heels waaaaay down and feet waaaay forward.
---
I also tend to ride a forward position in a western saddle. When I took lessons, it resulted in my hearing "Get on your pockets!" a lot. So I also learned to ride on my pockets...but a forwards seat just feels good to me. My horses all have short backs, and I think they respond well to a forward seat.

Still, nrhareiner is right about the effect of a saddle. I tend to ride forward in my Circle Y Arabian saddle, but I'm fighting the saddle to do so. That may be why 90% of my riding is now in my Aussie-style saddle...the saddle is designed to do what I like to do. Why fight it?

The forward leg seen in many of the cowboy pictures isn't used much now, but the saddles were designed with that in mind at the time. I still use it sometimes. If I want my mare to relax a little, I can shove my feet forward, settle on my pockets, and she usually responds by taking a notch off the pace.

If my horses get wound up, their heads come up. Then I usually raise my hands with them, settle into the seat, feet forward - and I start to look a LOT like the old-time cowboy pictures.

Something V.S. Littauer's book taught me - and it probably is obvious to everyone else - is that your seat is fluid. We look at pictures, frozen in time, with no momentum, and judge a position. But the horse is moving, what you want to do next is changing, and thus your seat, legs, and hands need to be changing to match your horse and your goal.

On rocky trails, surrounded by cactus, I ride with a long leg. I'm not jumping ANYTHING! If I'm in a place where a gallop might make sense, my stirrups may come up some, and I'll be ready to ride forward. But if I want a tight turn, my shoulders go back, my pockets are under me, and my horse will dig in and turn faster with better balance.

V.S. Littauer also makes the point that certain individuals, because of how their body is put together, may find they have better balance when they are doing something 'wrong'. I have very tight hips, and I'm sure some of what I do is in response.

With regard to the thread, the saddles of the day had cantles up to 8 inches, IIRC. I also believe their stirrups were further forward. The horses were built more like my little Appy - 14.3 hands, 840 lbs. The work was dangerous, no hope of medical help if things went wrong, and done by men in their late teens or early 20s, on horses that were barely broke at the beginning of the season. 12 hours in the saddle was an easy day. I'm willing to bet they rode the way they did because it made sense for what they were doing.
---
"Make the right thing easy and the wrong thing...well, ignore it mostly."
QH, your Dad is not thinking to jump his horse, so he can take the shock of uneven ground easily enough with a straight leg but by adopting the straight leg he loses the shock absorbing capability of the rider's knee and the ankles.

To jump, at take off he must rise off the seat of the saddle and lean forwards
whilst the horse is in flight. He needs a bent knee to do that. Likewise when the horse lands, if the rider's leg can bend at the knee, it will reduce the shock of landing.
In Europe the rider must be able to jump the hedges but there are no hedges in
the broad expanses of the prairies.

It is all a matter of horses for courses.
BSMS, Another book you might enjoy is:

The Schooling of the Western Horse by John Richard Young
ISBN 85131 182 2 (1973)

He comes at western riding from the American point of view.
Where's the stye all gone?
---
This photo shows me racing along a lagoon down by Cape Trafalgar.
Look carefully and you'll see the ears and nose of the other horse.

My horse is an Andalucian. The saddle is English.
We are at full gallop but we can't see what holes are coming up because the water is disturbed. Spray was everywhere

I am leaning forwards - naughty boy - the locals ride in 'DOma Vaquera' ( 'countrystyle) and sit upright at the gallop.
The horse has full use of its head.

I am on my fork - legs straight down , toes are pointed outwards. I am trying not to disturb the action of the horse - I must have done so because I won the race.


PS There was an old lady all dressed in black, sitting on ther beach by the edge of the lagoon. She was sewing. I was aiming straight for her.
She sat where she was, calm as a cucumber - expecting me to stop in time. Talk about a one rein stop -luckily my the horse knew how to do it. We stopped so close in front of her that she was soaked by the spray.
The reasoning behind riding with a bent knee
---
This is my DiDI practising jumping.
You can see why her rider needs shortened stirrups
If you look in the right places you can always find good horsemanship. When George Washington was crossing the Delaware on one side of the continent the spanish vaqueros in california were using the bosal and spade to create some of the lightest horses to ever be ridden. That tradition continues even today. There are fabulous horsemen all over the country that are putting our horses that will never gape a mouth or throw thier head. You probably won't see them on a movie screen and only rarely will you see them in an arena but when you do you'll notice them and it won't be because they have teh flashiest colored horse or the fanciest truck and trailer. You'll notice because that horse will be moving like the man has grown down into it and taken control of the legs. It's poetry and it will not be forgotten and if you happen to be so luck as to feel it for one second you'll strive to get it for the rest of your life.
---
There's nothing like the Rockies in the springtime... Nothing like the freedom in the air... And there ain't nothing better than draggin calves to the fire and there's nothing like the smell of burning hair. -Brenn Hill
There is a dog trainer I know who has a magic way with dogs. He was once a trainer of both police dogs and handlers. He could calm, soothe and instruct dogs within a few minutes of their meeting him. Magic to watch

Thinking back I only remember one horseman with that degree of ability with horses. Even so called professional trainers have come up short in comparison. That one man was Lord Loch deceased. Interestingly he was a self declared and recovering alcoholic but he had a way with horses.
That one man was Lord Loch deceased.
Here is how i see it. Back in the day they didnt have this natural horsemanship. Round penning. You hop on and let her buck. There horses were not all broke when they were using them. They would get on the horses and some would buck and be hot all day. There horses werent for pleasure, or show. They didnt care where there head was as long as the job got done.
You mentioned height and weight and build. They wanted as strong and big of a horse to be able to hold them big wild cattle. And they didnt care about blood as much as breeding the best ones that could do the job.