Yearling
Join Date: Jan 2009
Location: Tri-State (IA, WI, IL) area
Posts: 788
• Horses:
7
Barrel Racing question
---
I'm thinking of starting to run barrels. I have both Tanner and Magic who've both run barrels before -- Tanner has even been a grand champion -- but I've only played around with running barrels before.
Is there any particular equipment I should get? And which one should I use to learn off? I was thinking Magic, since she's younger (10, versus Tanner, who is 15.) but Tanner would be more experienced. And at what age should a horse be 'retired' from barrel racing?
I have two friends who run barrels, and both of them are willing to help me learn, but I'd like other suggestions on equipment, if anyone has 'em.
barrel saddle, dont have to have one but i mean thats what they were made for. i would use the 15 year old, he has more experience and is gonna be a good teacher for you. It depends on the horse, some horses can still barrel race into there 20's, the horse will tell you when its ready to be done, 15 he is in his prime. What was he ran in before? If it is a big bit i would sugest not using it since you are gonna be new at barrel racing, i would use a snaffle, but it depends on the horse. Hope this helps
---
quarter horses.....simply the best
Any western saddle will do. I would try an english bridle first, until you get used to the idea, then get a western one. I'd use Tanner first until you have masrtered the trick. You should probably retire at about 20 years, or when you seem they can't take it anymore!

Good luck

-Tally
---
I have 2 horses right now: Tosca my TBxWB black mare, out of Grand Prix stallion, Figaro. I have my Bay Arabian broodmare, Triana. I jump about 4 feet.
Barrel saddle, boots for when you are actually running and turning hard. Helmet :), breast collar if he needs it. Snaffle bridle.

It depends on the horse, but most have no problem running in their 20's so I would use the more solid, experienced horse.
Yearling
Join Date: Jan 2009
Location: Tri-State (IA, WI, IL) area
Posts: 788
• Horses:
7
I don't have the money for a barrel saddle just yet, with the upcoming vet, farrier, and college bills I have, but I'm planning to buy one, soon -- so far, I've just been riding her in Ruby or 2-Pak's Western saddles, which both have breast collars and back cinches. Her previous owners couldn't remember what bit she was ridden in (Tanner and Magic were their daughter's horses, and she'd gone off to college.), but I've been riding her in a snaffle with out an issue.
For boots... is there a particular type of boots to use?
And since the farrier is coming out soon, is it preferential that a barrel horse be shod? We haven't had any issues with her feet so far, but I've heard of barrel horses having all four feet shod.
None of my barrel horses have ever been shod.
I use no-turn bellboots and splint boots. You can also use SMBs.
I do plenty of work without boots to build up their legs, but I like them for when I am actually running. I don't use a back cinch while running barrels.
I cant think of what those saddle's look like off the top of my head. You just want something light weight and easy to get up and out of.
As long as she is running fine in a snaffle, that is best. I ride in a snaffle normally and then maybe once a month or at a jackpot, I run in a gag. I like full-cheek or D ring snaffles best.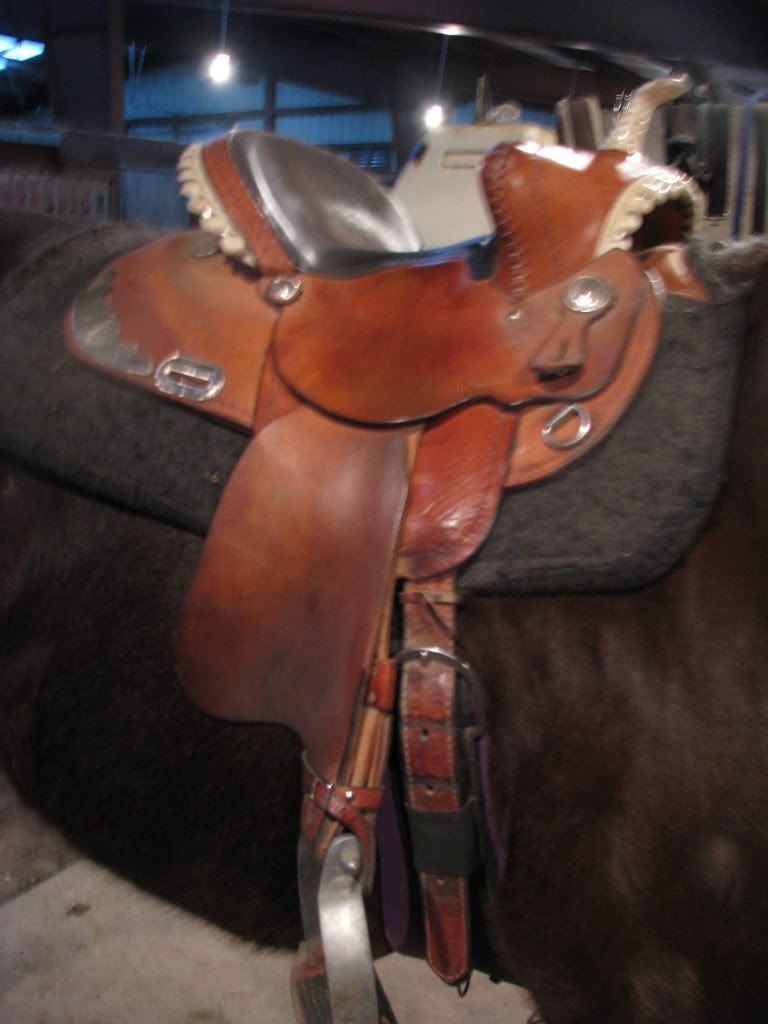 This is the saddle I use and is like the best saddle ever lol. It's a silver royal which I've never really heard of before getting it but it's awesome for barrels.
---
Last edited by Spastic_Dove; 04-02-2009 at

01:19 PM

.
i would just use Tanner to begin with, but if you get to where you need a faster horse after your into it, then i would start then on trying to train magic.
Banned
Join Date: Dec 2008
Location: At my house, or stable, duh!(Michigan)
Posts: 2,479
• Horses:
3
If you plan on going into actual serious comp. then you will need a proper barrel saddle. I use a mechanical Hackamore that works like magic!