YEAHHHH PICTURES
no pictures of me riding except when I first got on!
Awwww she is a cutie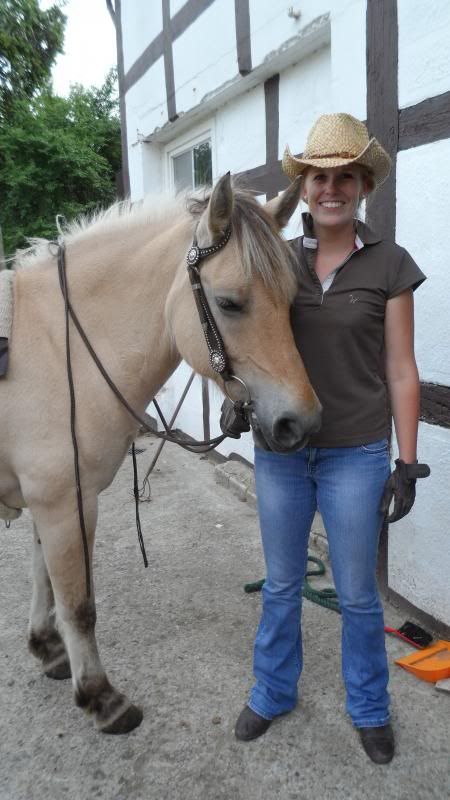 And you are not so shabby yourself
Hahahaha GH, you're making me blush! Will tell Thora she has the start of a fan club!

She nearly lost one member today. Working amazingly well, best I have felt yet. Came round by A and then all of a sudden we were by C. Tell you what, she can move! Not overly impressed, took her back up admits snorting and carrying on but persuaded her nothing would eat her before it ate me, and we got on. Little baggage!
Not brain dead. Good!
Hahaha quite the opposite.. My stomach felt rearranged!
I had something similar happen with my TB......one of those silage piles, covered with a huge white plastic tarp next to the arena. No problem, right, it was always there. A little windgust blew the tarp about 8-10 meters in the air and we found ourselves on the opposite side of the arena, both going "WOW!!!..... thank heavens for the western saddle.....
I rode her Wednesday and yesterday.

Wednesday was absolutely AMAZING. I probably wasn't doing it right, but she was relaxed, flexible and comfortable.

Yesterday wasn't so great, I think she was a bit stiff from the day before. Found it hard to keep a good rhythm in the trot, and not so relaxed so we just worked on big bogen? What the heck is a bogen in English?

Y'know, circles, figures of eight, change through school, 3 loop serpentines etc.

I can officially say my butt feels (and quite possibly is) bruised. Cycling to work this morning was painful!

I do love that Western saddle, but I think it is too big for my bum, and it isn't as comfortable as my English.

I do have some questions, however.

The guy who I know from work rides her, has had a few lessons, but its more fun for him. His wife has the partial paralysis and has a very weak left side. She rides with one hand, in her right.

On the left rein, the mare is VERY relaxed and comfortable. I ride with my reins in both hands. I ask her to drop her head, and then relax. So long as she doesn't hang there or bring her face up that is fine.

On the right rein, she is tense, will flex to the outside, and is more 'jumpy' at things.

I have made sure I am sat straight, little bit to the inside etc... but how do I encourage her to flex to the inside, rather than outside, or pretty much straight?? If I put leg on (as with dressage) she decides to knock it up a pace (my poor bum!).

Any hints and tips welcome!
Bogen......biegen maybe? Bending it is
Lots of it, never straight. Just like in dressage, gotta bend first before you get the straight.
The one- sidedness....might have to do with her handicapped owner, might be just normal for her.
She can learn the leg conctact. Just keep checking her with tiny check-and release tugs until she's where you want her, accepting the leg.
Im pretty sure others have better ideas lol
Bend bend bend, just like you know.

A lot of elements are similar to dressage, don't totally think that everything you do is wrong. If your green dressage horse would respond to your leg that way when you press it, deal with it as you have always done.

Just remember what I was saying in PM- It's almost necessary for a western horse to work on a loose rein. Be releasing your reins all the time and when she raises her head, pick them up again. Don't be afraid to let her go and free her up a little while she's finding that soft spot.
---
Pssh.I didn't pick up the wrong lead
It's called a counter canter...
...A very advanced maneuver.