Bloodlines.. HELP!
---
Okay soo, I've never been too good with the bloodlines but I'm trying to figure out what my potential buy has in her. Her reg'd name is 'Are and Are' out of 'Tonka Zip Cash' by 'Rebbel Cannonaide'.
Here's a like to her sire's pedigree
Rebbel Cannonaide Quarter Horse
But I can't seem to find her dam.
I keep thinking I've heard 'Tonka' somewhere and I've been searching my brain ( and the internet) like CRAZY but can't find anything.
Zip and cash are both well known names but I'll never really know until they let me get a hold of her papers I guess.
Anyways, any ideas of what she was bred for? (If anything).
She was tested N/N for HYPP which is a relief. I'm hoping she may have some potential as a reiner but I'm no good at this kinda thing.
ALso, conformation wise, what do you think she'd be good for?
She was started in western pleasure and is a fantastic ride. Super responsive but not too touchy. Here's some Pics!!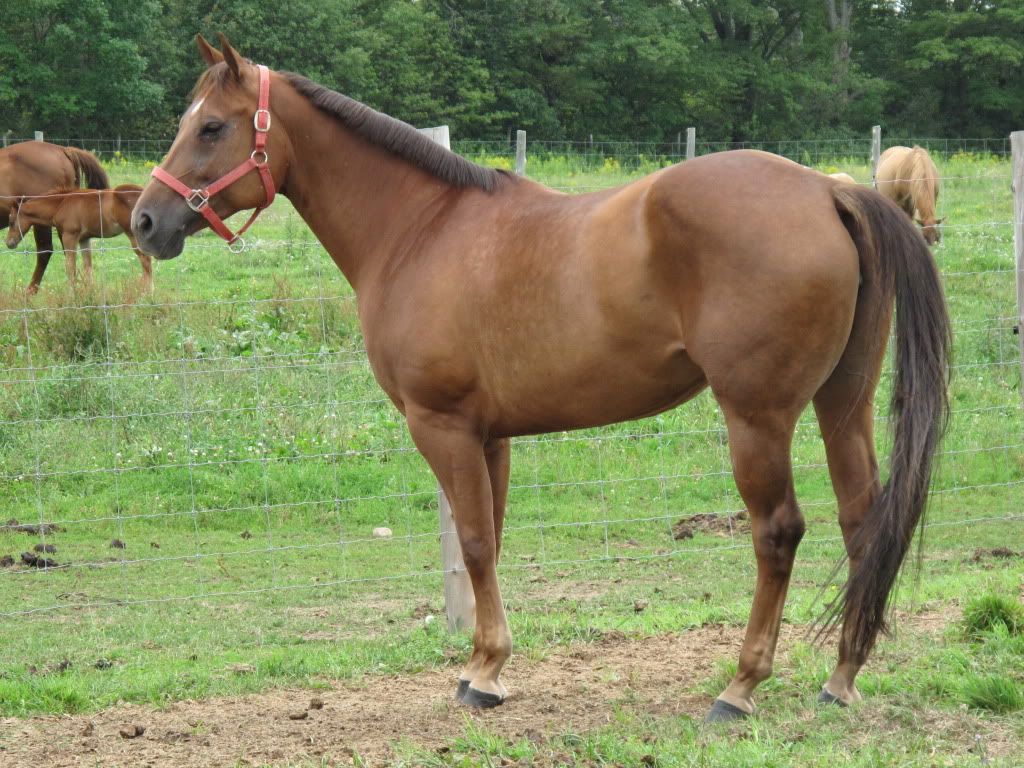 I know they aren't the greatest pics, and my thread was ALL over the place. I'm just going a little crazy looking for this stuff! My BO scored her from an auction for a lot less than she is worth, right from the trainer! So far there's been nothing wrong with her! Thanks in advance. Hopefully you guys 'n' gals can help me out!
---
I'm sure the experts will give you plenty of feedback, but as a stock horse owner, I really like her build.
---
On the sixth day, God created the Quarter Horse.
On the seventh day, he Painted the good ones.
Well going from her sire's bloodlines, on his dam's side he's runing bred (barrel racing and such) on his sire's side he's pleasure bred. I'd be interesting to see how her dam is bred, seeing as how theres alot of pleasure bred horses with the name "zip" in there names and theres alot of running horses with the word "cash" in their names. either way she's pretty much built for pleasure and halter. Her shoulder looks to be pretty straight which limits her some. And she's kind've butt high (least going by these pictures) but that can change depending on how old she is. She looks like a good pleasure prospect.
Top side is mostly halter. She looks like a halter horse who needs fitting. She is very straight shoulder pasty legged. Very straight through the hocks and stifles. Not something you want in a reiner. I like her head and neck. Looks like they tie in well.
---
-I'm so busy... I don't know if I found a rope or lost my horse.
-An Armed Man is a Citizen an unarmed man is a subject.
-Where ever free speech is stifled Tyranny will reign.
Our horses hav alot of the same blood lines my horse is breed for barrel racing herer check it out :
All Breed Pedigree Query
=
---
~Jackie
Pssh.I didn't pick up the wrong lead.It's called a counter canter...A very advanced maneuver.
Thanks so much,
I'm a little disappointed about her build. I'm thinking that her straighter hocks were due to the odd trimming that she was getting, where they really stood her up so she has no heel at all, it's all sole built up... strange. Wonder how she would look with a different trimming style. :S
She isn't really butt-high, just the way she's standing in the pictures. I think she's really pretty. A flashy little mare! I just wish she was built for what I wanted to do lol.
I'm not really into pleasure.. or halter. :(
---