going by his build, will he suit reining
---
i have a 4 year old stally who is going to the trainer soon. he has a strong reining and halter background and by all accounts should be built ok for reining but i want some other peoples opinions. western is a new thing to me and im not sure exactly what to look for when determining whether or not a horse is built for...anything western :) if you dont think he is built for reining, what would you suggest? im not keen on western pleasure or cutting or anything like that.
he does still have some more growing and muscle to put on but you can get an idea of his build by the pics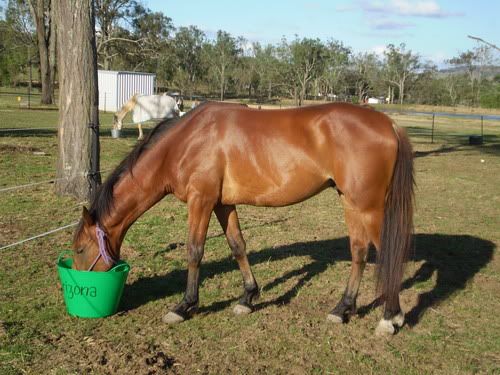 these last two are all i have of his rump at the moment. i know they arent great shots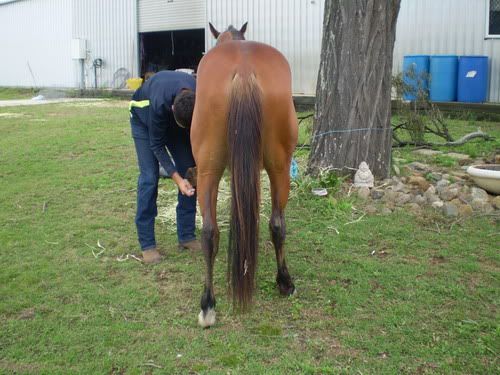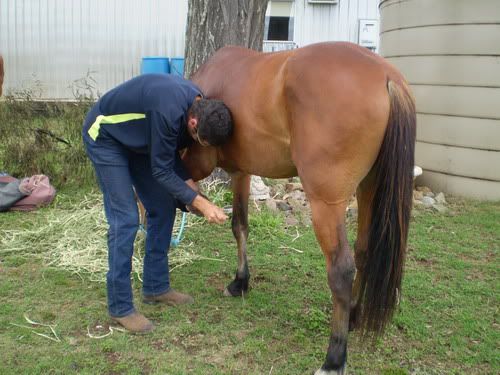 ---
"I whisper but my horse doesnt listen...So I yell!!...He still doesnt listen"
he looks really tall, idk about reining, maybe more an english horse... he has uber long legs most reiners ive seen are pretty compact horses... but i am no expert just sharin my opinion...
---
Ω Horses are a projection of peoples dreams Ω
I agree, I'm not pro either, but most reining horses I have seen have been quite stocky. Not sure if it matters at all, just what I've seen. He's beautiful btw, and the yard hes in is gorgeous!
Weanling
Join Date: Nov 2008
Location: I live in that card board box you pass by every day on your way to work.
Posts: 520
• Horses: 0
In all honesty... I don't like his build. He's got a shallow heart girth. His neck ties in too low to his shoulders and is quite ewe necked. I prefer a lower set tail than he has. I like it to be further down the POB. And his end legs seem to be post legged. Not sure what he could do well in.

Why are you keeping him a stallion? Just out of curiousity...how is he bred?
Although any horse can be taught to rein at a lower level and any horse can benefit from the training. To justify the expense of training and to be competitive you need not only a horse bred to rein which helps a lot but you must have a horse built to rein or they have a hard time doing the maneuvers and even more so staying sound.
Nothing about this horse scrams reiner to me. I would not give him a second look when looking for a reining prospect.
His hip is seek his stifles and hocks are too straight. His pastures on long and his shoulder and neck tie in wrong. His dose not look well balanced. Could be his age lack if muscling the angle of the picture or all of the above.
Again if you are looking for a lower level reiner he could work OK but you are going to have a hard time being competitive on him and you will have a hard time recouping your cost.
Here are a couple of good examples of what a reiners build should look like.
---
-I'm so busy... I don't know if I found a rope or lost my horse.
-An Armed Man is a Citizen an unarmed man is a subject.
-Where ever free speech is stifled Tyranny will reign.
I agree, he doesnt realy look like a reiner. to be honest he doesnt even look like a quarter horse lol. Looks more like a paso fino or something. I wouldnt keep him a stud.
---
quarter horses.....simply the best
buckoff - i see your point about the neck but my opinion on that is that he needs exercise and muscle on his neck. that didnt pop up until he started putting on all the weight. he is still growing and stuff at the moment and he has already changed so much since we got him that there are some things that arent worrying about me at the moment. i probably should have waited until he stops growing and fills out more before i posted pics

i dont want to sound rude but i hate it when people ask why you are keeping a horse a stallion. and while it is something that i think is my business and no one elses i will explain myself. firstly, hes nearly 4. i got him 2 weeks after his 3rd birthday. he was so undernourished and his growth had been very stunted and through all that his boy bits hadnt dropped. its only been the last 6 weeks or so, since it warmed up funnily enough, that they have dropped and hes started to really bulk up. so lack of having anything to cut means i cant cut him. secondly, he is very well bred. his dam was a champ halter horse and his father was a good reiner. not the best but did very well for himself. going back about 2 generations there is nothing but reining and halter horse blood. the two generations behind that are all U.S. horses apart from two australian horses. ive looked into the horses i can find information on and while he doesnt carry all champion lines, he is for all intents and purposes, well bred. i do want to find out more information on his IMP lines though. and thirdly, thats just the choice ive made...at the moment. it may well change but if he isnt gelded by his 5th birthday i likely wont ever geld him.

honeysuga & dynamite - hes not really that tall. he is a tad under 14.2hh at the moment

and i know he doesnt look much like what americans are used to with their qh horses but i can guarantee hes a qh. he is registered and i have his papers.

i still think i will go ahead with the breaking/training. i dont want to go high level with it anyways. mostly i enjoy the discipline and level of training that reiners have. thanks for everyones comments
---
"I whisper but my horse doesnt listen...So I yell!!...He still doesnt listen"
---
Last edited by jazzyrider; 11-14-2009 at

06:11 PM

.
so you want to keep him a stud so he will get musclyier and bigger??? I dont think thats a bad idea, especially since he was a rescue and he will be developing later, the testoterome might help him bulk up alot.
---
quarter horses.....simply the best
yes thats the main reason exactly :)
---
"I whisper but my horse doesnt listen...So I yell!!...He still doesnt listen"
First of all reining is 10% confo and 90% skill he doesn't look like a reiner to me but once he grows some muscle that might change and second reining is a ton of work for anyone without expierence. I would try some trail or games.
---
Live to ride. Ride to live.