Little Man learning to ride
---
So, I've been training horses, and teaching riding lessons for a while now... in the meantime, my little guy is finally old enough to try more than just a pony ride.
*super proud mom moment*. We got him a 20 something shetland pony for his birthday last year, and he's been doing pony rides, grooming, etc to get him used to being around him. The past few months, he's been taking more and more off line rides. Well, last night, he rode alone - in the round pen, of course. He got the old man to walk, turn both ways, stop and back up. I got pics on the cell phone, so I'll have to figure out how to get them on. Just had to share a little
Thanks for listening!!
---
Ask Often, Demand Nothing, and Reward Generously.
Oh thats so exciting! Congrats for both of you!
Congrats! Before you know it he will be trotting too :0
Yay, congrats to the little guy and to proud mama. LOL.
---
Always remember that feeling of looking at a big, open country over the ears of a good horse, seeing a new trail unwind ahead of you, and that ever-spectacular view from the top of the ridge!!! Follow my training blog:
http://robertsontraining.blogspot.com/
Sounds great, how about some pics


.
---
May all your Trails be happy and safe ones
Kevin
Aww! Thats so great! Watchhing kids learn is a great feeling :):).
cant wait to see some footage.
How old is your young fellow?
He just turned 7 on the 25th. He's a very timid boy, but ... for the first time in a long time, he stuck around and watched me ride my best trained horse - just wanted an easy ride that eve. (usually just sees groundwork on colts, driving, and once they're started well - don't want him seeing any colts getting silly yet) and we did some transitions & side passes, turn on the haunches, etc... he LOVED it. He got excited every time we'd do something else for him to watch and started jumping up asking 'what was that! what was that! I want to do THAT!!' lol. Says he wants to lope on her now. BIG switch from a shetland to my biggest QH lol. I told him he needs to be a little taller first. :P
---
Ask Often, Demand Nothing, and Reward Generously.
Now, these were taken with the cell - sorry. Also, he decided he needed a different blanket than normal, so - yep. It's too big. lol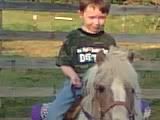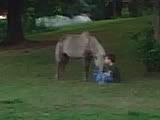 ---
Ask Often, Demand Nothing, and Reward Generously.
How gorgeous!!
What's his pony called?
I bet riding will be great for him and will give him confidence.
They look so sweet. My son who is 9yrs has started riding. on the first lesson he told the instructor he wanted to rope cows and gallop. She laughed at him. He is now jogging around. He is really confident. At the end of each lesson he is able to do his own thing for ten mins. He told the instructor (lesson 3) he was gonna just go and jog over the jumps, LOL she said no. On a serious note I find he is a differant kid after he has been riding really polite, relaxed and happy (ear to ear grin).