Weanling
Join Date: Oct 2011
Location: Illinois www.saddleonline.com
Posts: 509
• Horses:
1
As long as she is healthy and you keep her in good physical condition (get her in shape and keep her there) there is no reason why you wouldn't have a decade or more of good riding years left with her.

Ride her until the vet or your trainer tells you it is no longer a good idea (chances are you'll know its coming well in advance).
---
"Riding: the art of keeping the horse between you and the ground."
~Author Unknown
just wanted to post you a message from my gelding ;)
Im 22 in the top pic and 26 in the others (both this year) :) :) x 27 early 2012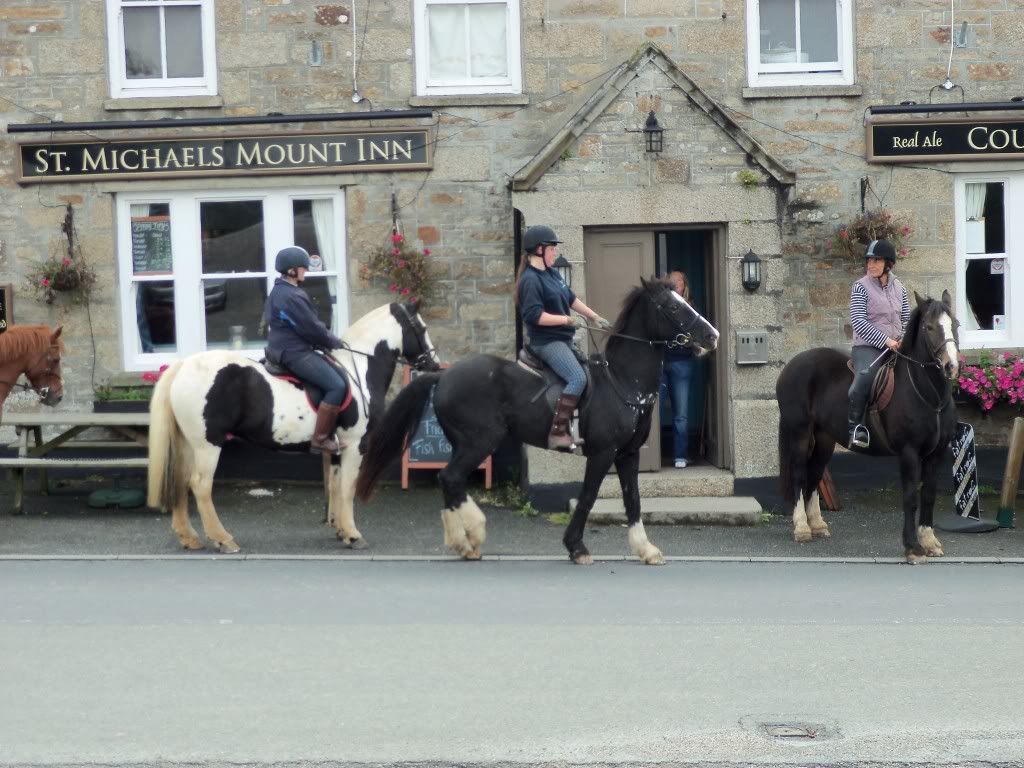 apologise for dreadful riding in bottom pic he's crazy strong x
My event horse is 21 and went round our last cross country course like a complete maniac. The comentator thought at one point that he had the wrong horse because a jump got broken and we got stopped on course - Ringo was rearing and spinning and when we were told that we could go...we WENT, three fences at a full pelt gallop.
I also have a 26 year old who is still ridden, and my shetland was put down at 35.
All horses are different, and it entirely depends on their treatment throughout life.
My instructor told me that 'your horse is you calender' she was saying about training them (they will tell you when they are ready to learn something new) but the same would apply here, your horse will tell you when she needs to retire although horses do go down hill once they do retire.
It's just about assessing your horses needs, she could have loads of years left, but you will have to realise that at some point, you will need to start decreasing her work.
Thank you so much for your post. Kay Cee is a great mare i am getting her body back in shape now. She has been fun for the past couple weeks, she really works hard for me, someone has done her rite her training has definitely paid off. Some of you had asked for a picture, in my album on my profile she is the solid black mare with me in the arena. Also she is the daughter of Kay cee leaguer by ima big leaguer. Top and bottom. Thank you soooo much for the encouragement. I will post new pictures soon.
Posted via Mobile Device
---
Last edited by Kimberly; 10-25-2011 at

10:45 AM

.
thats not old! i trained my TWH at age 16 to do barrels and we beat my trainer and her 7 year old many times and she kept telling me he wont beable to he wont get it, but he was really good and loved it. he was my first horse and i was 10 when i tought him to barrel race. he did it for 2 years and i got my horse now. if he was still alive and i hadnt gave him back to my aunt i would still be gaming off of him until he couldnt or didnt want to.

good luck with your horse.
We just rode our 26 year old on a 2 hour trail yesterday cantering and galloping! 17 is not too old =)
---
RIP Minnie, 1981-January 15, 2010
RIP Maggie Mae I miss you
that sounds fun! i rode a TB last year that we got they said he was 17-19 years old i though perfect!! great trail horse maybe a show horse if he can handle it! we had the dentist come an dcheck his teeth he pulled two and told us he was older then 25 he guessed about 30 years old. and before that i rode him bareback and i had a bit in and he wouldnt take any streing so i took it out and put a hack on and he rode like a pro he troted a bit and would let me on bareback and just walked around where ever he wanted to and i just sat there and thats all he wanted. saddly he passed last january. but he proves any horse is never to old to be ridding.
My mare is 16 years old, but don't tell her that! Very often, I arrive at the barn to see her leading the other horses in a race through the field. They're loping and she's pacing away, looking happier than anything. Granted, she was bred to pace and she can pace a mile in just under 1:58... but her age is not a factor. She goes just as well as a younger horse, but without the crazy spooks. If she sees something that could potentially eat her, like a flag blowing in the wind, she's more apt to stare at it and slowly creep up behind it than she is to bolt away. Her brain is settled, she's outgrown her crazy baby stage and she's ready to work.

I prefer the older horses. Take care of them, and they will give you many years.
OMG thaTS not old at allll!!! my mare is 23 and still does barrel racing..poles..keyhole ETC!!!!! keep her in good shape and ride often if your worried!!! my mare still kicks BIG BUTT when we run barrels!!!!! LOVE MY OLDIE!!!!
---
No hour of life is wasted that is spent in the saddle