Green Broke
Join Date: Aug 2011
Location: Middle of Nowhere, Saskatchewan
Posts: 2,655
• Horses:
5
I just love the feel i have with a pair of heavy leather split reins. Its weird and probably completely unique to me. LOL
I just love them lol
I have become an expert with them in my opinion - I can slide or take up rein in a heartbeat. Or slide my hands "open" to ask for stuffs. I like having a lot of rein around if i need it for some reason lol
I cannot describe my love for them good enough,
I also loooove it when a horse does something cool and catty and the ends of the reins are swinging out sideways lol
My dad likes these cotton ones... which i personally detest.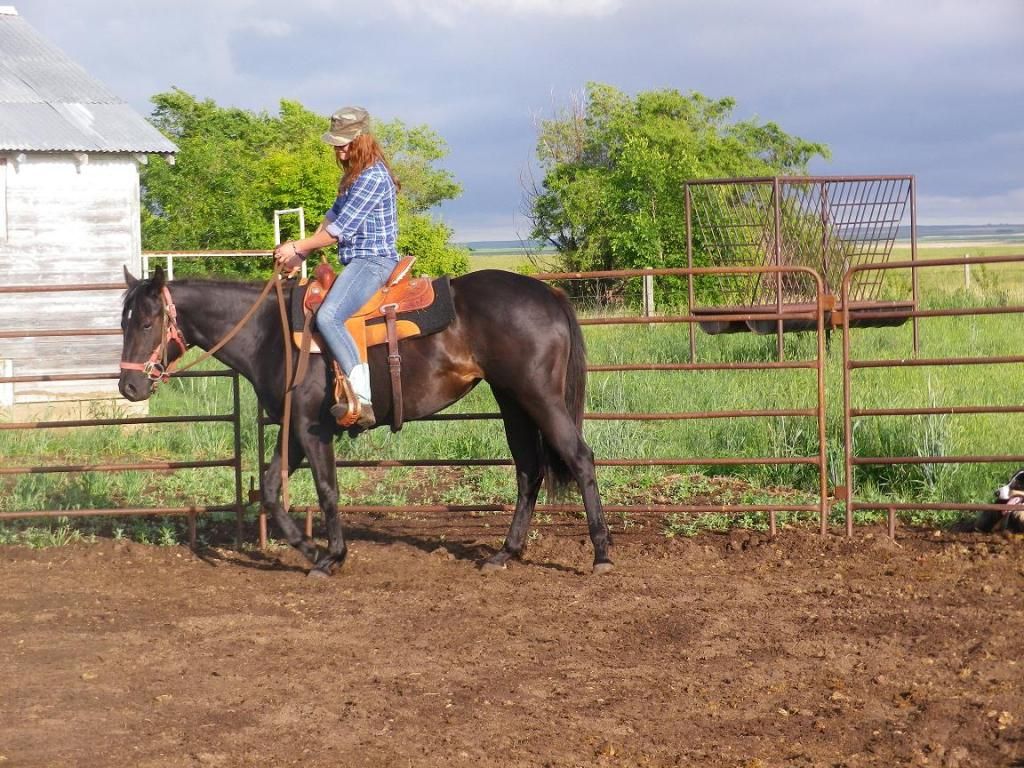 Theeeese are my favorites and i love them a whole lot. XD
---
I like split reins or mecate reins. I cross my split reins over, one on each side, and I can hold them in one hand or two, I like that you can adjust the length of your reins on the fly, whereas you can't with rope or mecate reins. I also like that I can use the end of the rein as a little over and under for motivation. Mecate reins are also adjustable, but not on the fly, have a lead, can be tied in such a way as to make it safe to tie the horse in the bridle, and can be used to lunge the horse if need be. I like split reins for more of a finished horse, mecate reins for a greener horse. Not a fan of reins that can't be adjusted.
I used to like them, and the last bridle, no, the one before that, I made with long heavy double thickness split reins, about 2 meters long and about an inch across of two layers of harness leather. By the time I got round to using it I didnít like it much. When I two rein a horse into a snaffle bridle thereís just too much stuff flapping about, they were a good weight, but too long and more to worry about than Iíd like. Not so bad to just ride in but for what I made it for totally irritating.
Iím planning to make another with much shorter reins and a little buckle to connect them, and maybe run some nylon cord between the leather strips of the reins to give it a bit more body.
Other than that smrobs made a few really good points about them too, like you can use it as a quirt. And tying horses with the reins is standard practice in most places I have worked (though I wonít even lead them by the reins myself). Some people punch a hole in the end to hook a bit of wire through the rein and make a little wire hook and hang it on a rail or a tree higher than the horseís head. That way if the horse pulls away it will just pull the wire out or break the little bit on the end of the rein with hole rather than snap the rein.
Depending on how you are handling the reins they can be good or bad, like I mentioned above I find them a little unwieldy if I have a mecate in hand too. Though, come to think of it, training a horse straight into a snaffle they would probably be preferable in some ways, less to mess about with to widen or narrow a bridge when direct reining I guess.
Huge ditto to smrobs.

I have always ridden in split reins. The only time I ride in something else is when barrel racing, and I use my short barrel reins.

90% of my riding I do with the reins crossed over the horse's neck in "training" fashion.(Like the 3rd picture smrobs posted). It's just more convenient. Obviously for showing, you would need to ride with both rein ends on the same side and proper hand position.

Split reins have so many advantages. I think the biggest advantage is if you get into a spill where you fall off (or are bucked off, LOL) is that you can often still hang onto one of those 8' reins and not lose your horse. With a single loop rein, that doesn't work so well.

Also, if I need to jump off my horse, quickly tie him to something, to go open a gate for a cow (for example), I can quickly and easily tie him to something with one of the reins. Or if I need to quickly lead him with me somewhere, I can jump off and go and not have to fiddle with flipping the loop over his head.

And yes, split reins double as a whip when needed.

I've always ridden in split reins and won't ride in anything else.
---
∞ē*˚ Βгįťţαňγ ˚*ē∞
It is not enough to know how to ride; one must know how to fall.
I have been using a single English rein on my very mellow and green mare.
I have cotton split reins with the poppers on the end. I don't find the added weight comfortable. In all honesty, if I could find a set of nice soft split leather reins I would prefer to use them...crossed over with a tail on each side. Maybe I could just go buy a pair, throw them in the road and drive over them a few hundred times to sort of soften them up. : )
---
If you ever find yourself in a fair fight, it's because your tactics suck. ~ Marine 1SGT J. Reifinger
Another ditto to Smrobs!

I always ride in 5/8" wide, 8' long, heavy harness leather split reins with water ties. I've never lost a rein in my 15+ years of riding with them, whether riding a harsh trail, riding a colt two handed (reins crossed over the neck,) or riding one handed in the show ring (both rein tails on same side as the hand holding them, which is the only legal way to show in a shanked bit aside from romel reins.)

The feel is my first draw - it's a good weight to feel my horses' mouth and to let him know if a cue is coming before I actually put pressure on the bit. The weight and heft make it easy to walk my fingers up/down the reins to adjust length, and I have all the length I could possibly want or need. It's a built in lead rope on the ground, the only reins you can use to ground tie out on a trail, and it's a built in whip in the saddle (or just hold it out to the side to encourage that young reiner to spin cleaner.) If I were to get tossed, I have a good chance of maintaining my hold on at least one rein so my horse doesn't take off. I could also use split reins to bit a horse up or tie him around.
I tie them in a single knot. I like them on trail because if I need to cross deeper water, I can untie them. I like the braided leather ones with the small snap clips that attach to the bit.
I like split reins more, the leather ones give me more of a "feel". The weight of the rein is usually enough to get a very sensitive horse to respond. With the split reins, they are handy because you can push them in to get a very close contact, and then push them out to get a very long draped rein. You can also use them to do ground control when you don't have a lead or a halter.
You can see my reins are gathered for a little more contact, what's between my hands can either be pushed together for more contact, or pushed out for more of a drape.
Of course, you can do the same thing with attached reins, I just find split reins to be more functional - like having a built-in swatter, or a lead rope if I need it. I also like the weight of them more than single reins, especially nylon ones.
It takes more direct contact with these reins because they are much lighter.
I don't like split reins. I suspect its because I've never ridden in a very good pair, but I really have no use for them. so I guess:

PRO

-They look cool,
-they wouldn't snag on the horses legs if you were thrown,
-you don't have to take them over the horses head to lead them when you get off.

CON
-the cheap ones are light weight, too short, and tend to fall through you fingers if you are on a long ride and you are not paying attention(trip, etc)
-they are slippery as soon as they get wet.(try holding back a crow hopping green thoroughbred in the rain. I'll stick with my braided reins)
My issue with split reins are that its easy to lose a rein. Mostly in turns. Otherwise I like them.