western saddle question
---
I know nothing about western saddles really, but I would like to get my QH mare one. She is built more TB like, really narrow, but with pretty low withers. I think I am going to need semi-quarter horse bars. Anybody know any brands that will fit this kind of back better?
I also don't know which brands are better than others. I like circle y, and I know about tex tan, are there any kinds I should steer clear of, and ones that I should keep a look out for?
Here are some pictures of her back type: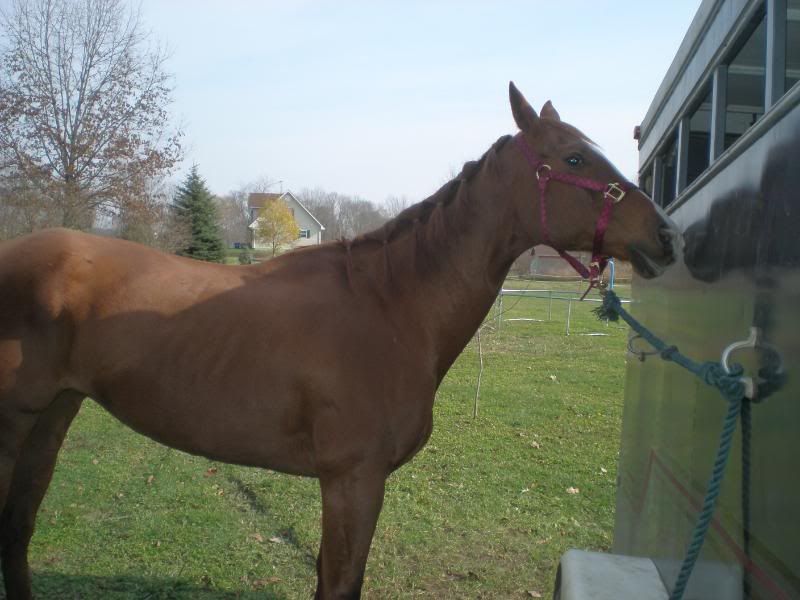 how tall is she? How old? We need those before we can really say. I suggest trying out other peoples saddle, and whichever one(s) fit her best, measure the gullet, and buy one of that size. My pony wore a 6 inch, but yours may need a 61/2 cause she's narrow. I dont like King Series saddles(synthetic ones). I like circle Y and have heard good things about Abbeta. What seat size do you need? What kind of material do you want; leather, cordura, half leather, synthetic? What discipline: barrel racing, cutting,roping,all around, pleasure, trail,etc.?

All in all, try some of your friends' saddles first. :) Good Luck!
stay away from saddles that are not American made. Circle Y, Billy Cook, and Big Horn are great saddles.
All of my friends saddles are too wide! That's why I think I need semi-quarter horses, all of theirs are more cow-bred and go in full quarter horses, mine is race bred and the tall and lean type of QH.

She is 17 years old, she is a rescue and has no muscling along her top line, but that will come with time, but I don't think she will fill in enough to be a full quarter horse bars.

I know that I need a 16 inch seat, and I would like to stick to leather if I can. I plan on doing everything in this saddle, trail riding, showing, maybe try some speed stuff too.

How are the big horn saddles? I see a bunch of those on ebay for pretty reasonable.
Quote:
stay away from saddles that are not American made. Circle Y, Billy Cook, and Big Horn are great saddles.
I somehow missed seeing your post! I am actually watching a couple of big horns on ebay right now, they seem pretty reasonable, and the used ones look like they have held up well. Any other input on these saddles?
so I am not sure if you are a western rider but western and engish saddles are much different in size so you may already know this BUT you aren't the same size in both saddles ... i use a 15 inch in western and a 16.5 in english (i am a size 6 pants if that helps).

I agree with the American made saddles only. I have a Victor (amazingly made saddles) and an Ozarka from days ago and both of those saddles will last forever. If you can find a good older made saddles i would go that route b/c they tend to be better made. Can you look on craigslist?
---
:: Karley ::
Tucker WB/TB- 11 yr
Speedy QH/TB- 22 yr
I'm kinda doubting it
Just the way its worded, maybe trying to make it seem like a Big Horn brand when its something else.
Here's a nice used Circle Y
15" Used Circle Y Park and Trail Saddle
This one is really pretty too-
http://www.horsesaddleshop.com/circl...d-saddle1.html
The free shipping really got my attention, saddles are so expensive to ship
---

"Until one has loved an animal, part of one's soul remains unawakened..."
- Anatole France
---
Last edited by Vidaloco; 11-10-2009 at

07:28 PM

.
whats your price range?
---
:: Karley ::
Tucker WB/TB- 11 yr
Speedy QH/TB- 22 yr
I agree with Vida, I don't think the one that you posted is worth looking at (even if there is a real saddle on the other end). I have a Simco roping saddle that I got several years ago that is incredibly good quality. Be cautious when buying Billy Cook, as some of them are good quality and others I have seen are total crap.

Also, unless you are planning on doing any roping, I would not get a roping saddle. They tend to be more expensive and are very heavy (mine is about 40 pounds). I would keep my eyes peeled for a nice trail saddle cause they would work for almost anything and I have heard that barrel saddles are not very comfortable when ridden for very long.
---
Always remember that feeling of looking at a big, open country over the ears of a good horse, seeing a new trail unwind ahead of you, and that ever-spectacular view from the top of the ridge!!! Follow my training blog:
http://robertsontraining.blogspot.com/