Weanling
Join Date: Aug 2008
Location: On the banks of the Red Cedar...
Posts: 495
• Horses: 0
I have to do WHAT?
---
I honestly questioned my trainer's sanity for a bit today...I jumped blindly hahaha!
so half of my barn is at a show this weekend, meaning that the barn owner taught lessons since my trainer was with the show kids.
Anyways. I rode Frenchie. This wouldn't have been a big deal but we've been redoing the jumps in the indoor arena and this was the first time he'd ever seen them.
Frenchie is a wimp on the best of days...I think he just about had a mental breakdown when I asked him to go over the first jump. He stopped and spun and started bucking (stuff I haven't had to deal with with him in months). Finally we ended up following one of the ponies over, which worked hahaha.
But anyways. Frenchie was being a brat and I was pleasantly surprised at how unaffected I was by his antics - I had no problem staying tall and balanced in the saddle, even when he spun. :p I'm making progress!!
After we got over the first few jumps Tim (trainer for the day) had us doing an exercise where we'd canter to a little vertical. He'd stand off to the side, and when we saw our distance we had to look at him and weren't allowed to look back at the jump until after we were over it. I was kind of terrified to do it just because the idea of jumping blindly like that didn't seem like it could end well...but I stand corrected!
It turns out that I can consistently see my distance from about 4 strides away. When I look at the jump, I tend to override or look down and get left behind, but none of that happened when I was looking at Tim. I was committed to a distance and so I rode for that and it was fantastic - I didn't miss a single distance AND I didn't get left behind, either! I guess maybe I should just stop looking at my fences, hahaha.
This is why I love having the occasional lesson with Tim - he always pushes me past where I would have wanted to go and focuses on completely different things than my normal trainer. It's a nice change (though I still loooove my trainer)
ALSO, and I think MIEventer will be pleased about this, I've kind of got a new saddle! My friend and I swapped because we could so I've been riding in her old Collegiate for about a month now. It took some getting used to but I LOVE it! My stirrups are a little longer than in the past and my leg doesn't get scrunched up/super chair-seaty now! It's also 1/2" smaller but a flatter seat so it fits me nicely (not a crotchbuster, yay!) Not sure whether this switch is permanent yet or not but I really love this saddle! My knees hang a couple inches past the edge of the flap but there's no padding so it doesn't really matter, right?
Here are the new "scary" jumps (the far left one has like...autumn leaves garland on it haha it's so weird!) and believe me - our jumps were set to like 2' today lol
And Fry :)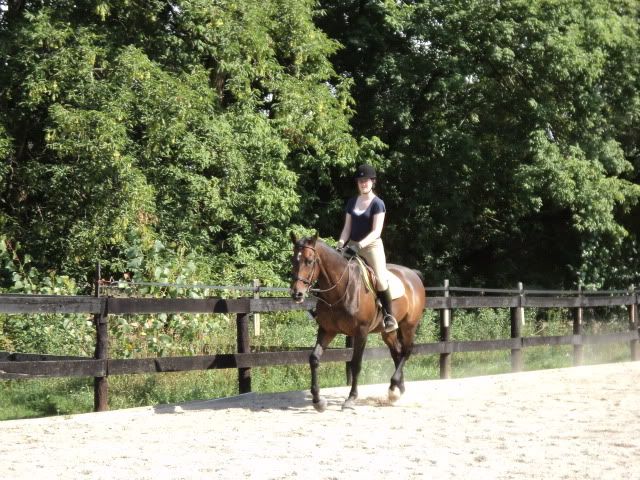 Let's see if I can ride like this again on Monday, hehe
---
A dream you dream alone is only a dream. A dream you dream together is reality.
John Lennon