Training Elanor
---
Hi all! I figured I should start a thread in case I needed questions or advice, and also just to update with Elanor's process. Training her has been fun but different than training a horse.
This is Elanor, aka "Ellie". She's a yearling (since October 10th) Dexter calf. She's not registered but she's purebred. She is the only heifer that was born last year. Her cousins/half brothers are all steers now. (Excuse the bad pictures, my camera is horrible)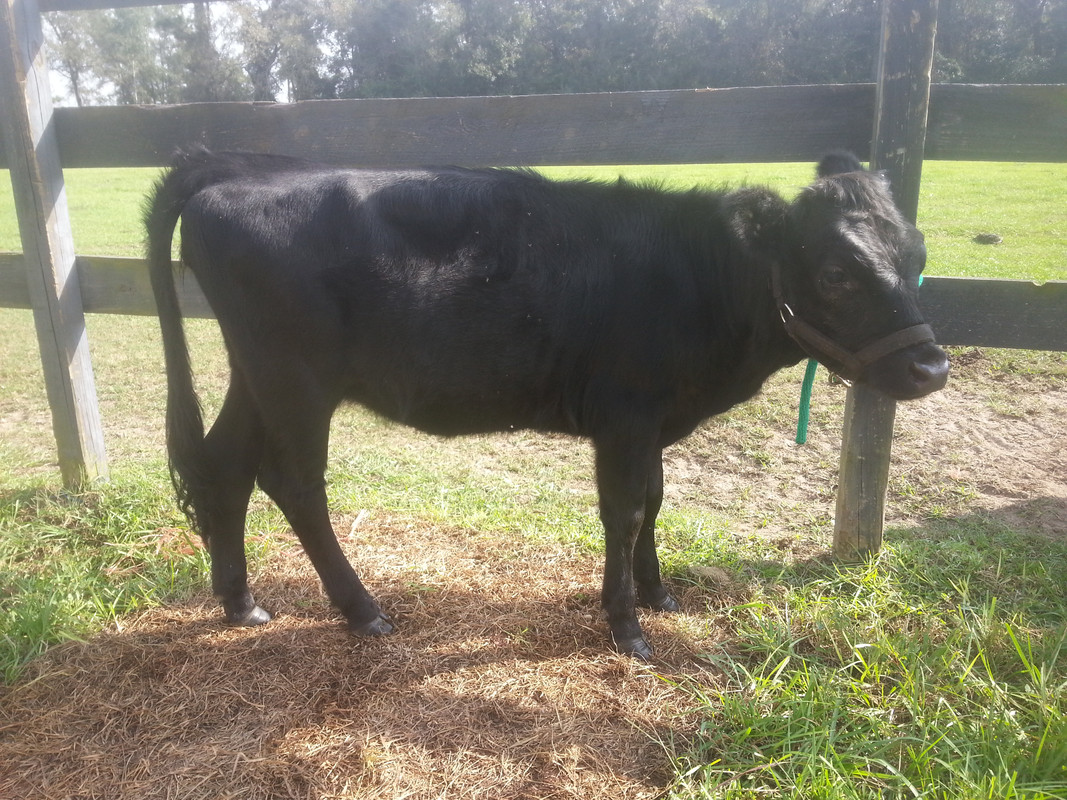 For size, here's her and Red (aka the fat one) for comparison.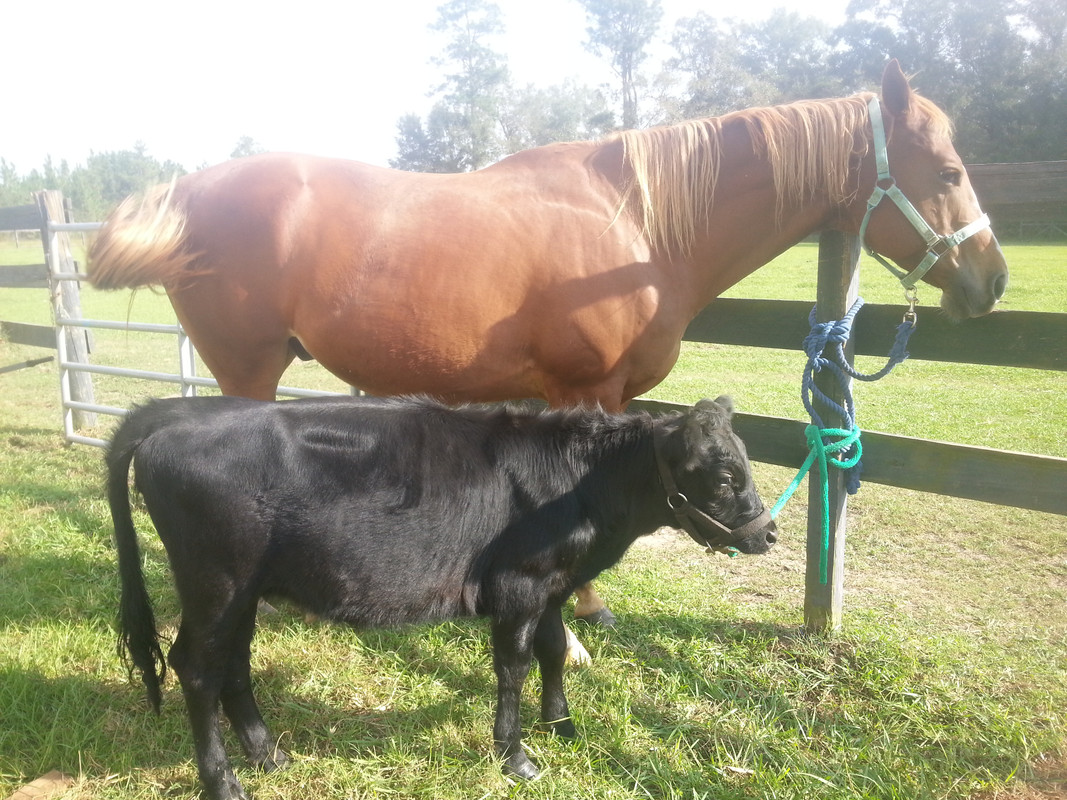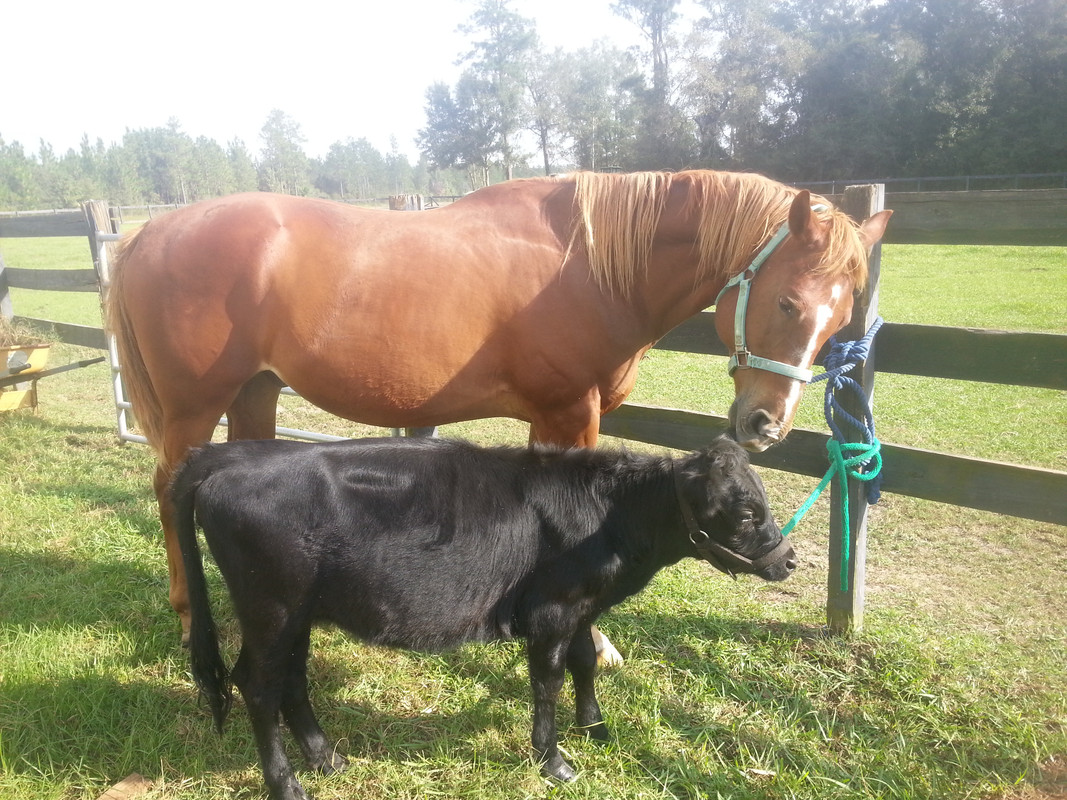 I've been handling her since she was 6 months old and now she comes and halters fairly well (if I have feed) and lets me brush her. She is still very spooky at everything and is stubborn to lead, but is getting better at learning the "come" commands and gets rewarded with some alfalfa pellets (she won't really eat anything else, she's extremely suspicious of literally everything). Currently, we're working on "sacking out". She'll let me lay a towel over her and she'll walk on it. She still hates fly spray with a passion. When I go to spray it on I rub the bottle on her (she doesn't really mind that) and then give her a treat. Then I spray a tiny bit and give her some more treats. The flies are absolutely nasty so I try to spray her off as often as I can. She will trailer with hardly any issues and tie though. She'll also stay on a picket line and not get tangled. I want to train her to hobble eventually.
School has made it hard for me to be out there with her every day. You'd think I'd get more done in 6 months. But at least I can catch her with pretty much no issues. That's the biggest thing. I feel she wouldn't have been as spooky if I'd got my hands on her earlier, but her mom was untouchable. I was originally going to train her mom instead of her, but she was too big and too strong to get a halter on. I did once and got dragged into the side of the barn. That was kind of enough.
Does anyone have suggestions on how to deal with warts on calves? Ellie's got them in her ears. From what I read they go away in a few months and they don't seem to be irritating her, but they're pretty big.
---
No matter how much you think you know about horses, there will always be one that'll come along and teach you something new.