Colour Enhancers for Light Bays... red or black enhancer?
---
So I've got a light bay gelding and I'm looking into colour enhancers. From what I can tell there are two kinds, feed supplements and shampoos that behave more like dyes.
I like the idea of the feed supplements I've seen, however these supplements are all sold outside of Canada and would be darn expensive to import.
The shampoos I'm not certain about, but if nothing else I think it'd be fun to try and see what, if any result, I get.
However for both types of enhancers they have two types of enhancers. They have red, and they have black. My horse is light bay... so which would be the best option? Red enhancer or black?
This is him: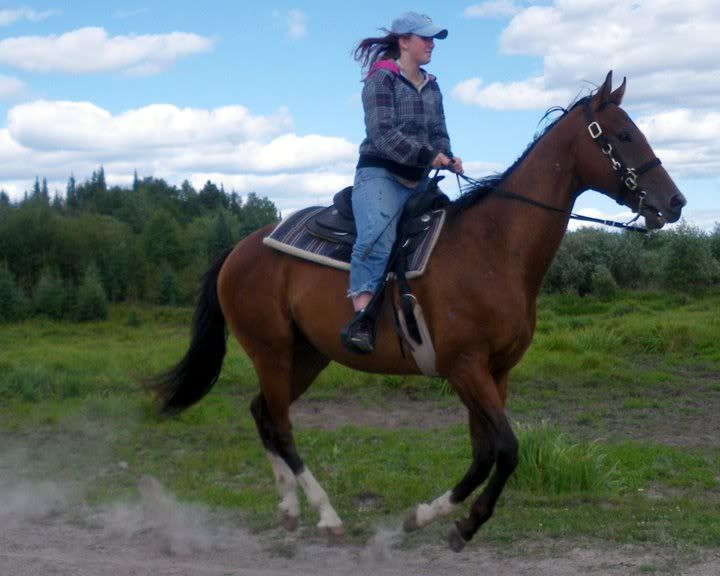 ---
A canter is a cure for every evil. ~Benjamin Disraeli
You could always feed a little paprika, which is one of the ingredients in color enhancing supplements. But if you show, it can test. It's a pepper and contains capsaicin, which is a forbidden substance. And some horses don't like paprika. There are some other threads around here that talk a lot about this.
---
Learning never stops
best way to enhance color is to have a good diet for the horse. If your horse has a good diet and is eating all the right stuff it will naturally look good and shiny. Dyes are not a permanent solution, and while it may be fun to experiment, should never be substituted for a good diet.
As far as color, if you're just experimenting just try the one you want. Red will make him either lighter or darker, depending on the tone. Personally, i like your horses color as is, especially his light color. However the decision is up to you! Have fun, and if you do decide to color, post some pics!