You may want to check and see if part of the tailbone is missing. That tail closely resembles Mudpie's, and he is missing half of his tailbone, probably due someone leaving a braid in for a long period of time, which resulted in the hair getting wrapped around the tail bone and then cutting of blood supply. That's mine and my vet's best guess, anyways. When I first discovered it, I was a little concerned, but it causes him no pain, it just makes it so his tail will never be as full as most horses's can be.
I went on a mad mission to make it longer, and it's been going pretty well! It's longer now than it's ever been before. What I do is I wash the tail, condition it, and then keep it in a tail bag. I'll repeat this every weekend. Keeping it up all the time definitely helps!
Here it is about a month after I started this:
Here it is last weekend... I actually didn't have a tail bag in at all for about two months, but it didn't do too much. This is right after I washed, conditioned, and then put detangler in it:
This is his tail in one of his tail bags: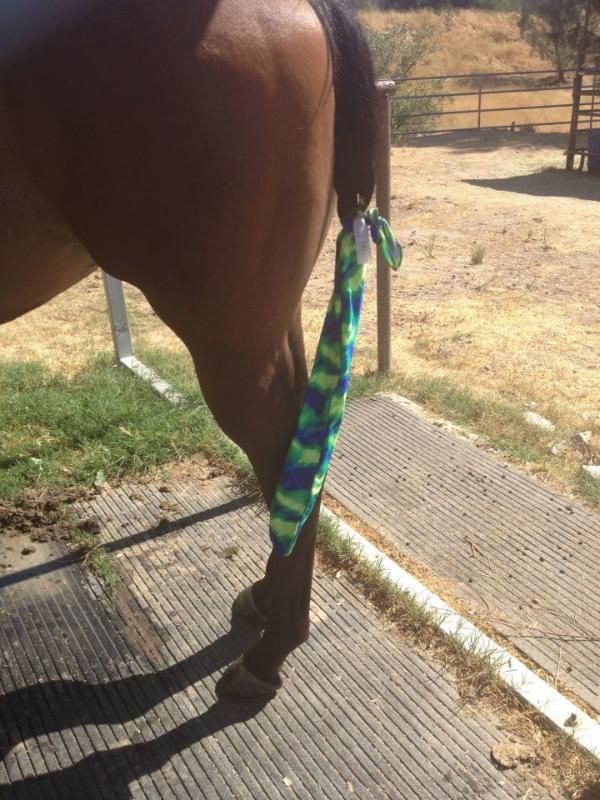 He's also on SmartOmega 3, which has made his hair healthier, shinier, and faster-growing. :)
EDIT – You can't really see it too well. Here's another picture of it. It was dirty and unbrushed, but you can kinda see the length a little better: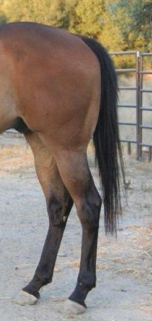 ---
The hills were bathed in moonlight, the shadows not so stark;
Silver light reflected off his brown hide as he held me in the dark
– I love you, Mudpie!
---
Last edited by mudpie; 09-14-2012 at

05:29 PM

.
My horse's tails look exactly like that, and there has never been damage to the tail. they are part arabian, so I was getting ready to ask if that was the reason. I'm going to start wrapping them this winter, along with their manes. It doesnt help that there are four horses all four years old and under living together... I think they are the reason for the broken hairs...
---
Angels are people who can see and feel the pain in all creatures... -myself