Driving Equipment - prices??
---
Driving
I have no idea about anything to do with this discipline so I was hoping there'd be some people online who could help me out.

1. What would be the approximate price for a harness? (For a 16hh warmblood). It wouldn't have to be incredibly high end just something that would be safe and comfortable for him to use.

2. General price for a cart? (I know this ones hard. Maybe you could post a pic and what price that type of cart costs?).

3. What types of competitions are there?
---
The essential joy of being with horses is that it brings us in contact with the rare elements of grace, beauty, spirit, and fire. ~Sharon Ralls Lemon
REALLY depends on what type of driving you want to do :)
I do combined driving (it's driving's version of eventing). My fave harness is Camptown's with the freedom collar:
www.camptownharness.com
That's what I have for my CDE Mini. For my Fell gelding I have a Smuckers delux I believe (I bought it with him). And for the other minis I have a harness from Zimmermans (which is more affordable) and their number is 717-354-5667
For carts, again, varies! I have a couple Frontier easy entry carts, and they're about $450 brand new (not sure if it's more for horse size vs mini size though).
Frontier Trading Post Inc.
(yup, looks like $500 for horse). Hubby and I have Eazy Ryder carts for CDE, which are also an easy entry that looks similar but is MUCH more of a smooth ride... but they were more than double the cost and no longer made. My Fell has a Pacific Carriage Dartmoor for CDEs:
Pacific Carriage Company manufacturer of horse carriages, carts and buggies.
As to types of driving... well, there's pleasure driving, driving in the breed ring which consists of different classes (such as single pleasure, country pleasure, roadster, ect in minis), CDE (combined driving), ect.
Here's some websites to check out:
American Driving Society
American Driving Society
Carriage Driving Essentials
Carriage Driving Essentials, supplies
Driving Essentials, Inc.- Carriages, Harness, Bits, Whips & Gloves
Driving Essentials, supplies
The following two sites are geared toward CDEs with minis, but you can learn about CDEs from them regardles :) And the first one has a link page where you'll find a lot of great links!
CDE 4 VSE- The #1 online resource for combined driving miniatures!
CDE 4 VSE (and the top right photo is me and my Chili Pepper!)
index
Mini Horse CDE
And for fun, here are some photos of my horses with their harnesses/carriages
Chili wearing his Camptown Harness with Freedom Collar, using our Eazy Ryder cart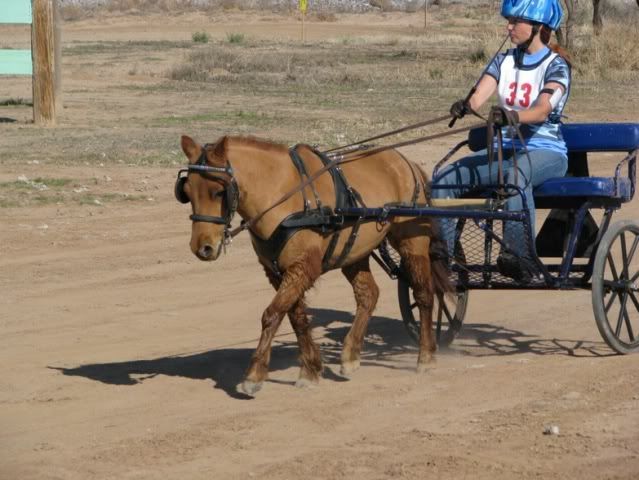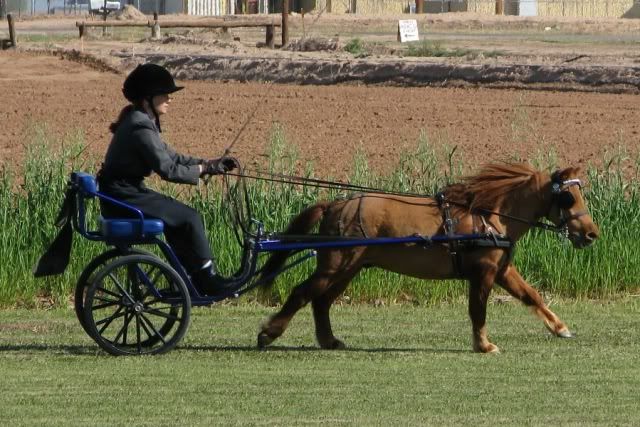 My husband and his mini Cruiser. Not as nice of a harness, I'm not sure what "maker" it is, I bought it at my friend's tack shop and it might have been on consignment, I forget. Eazy Ryder cart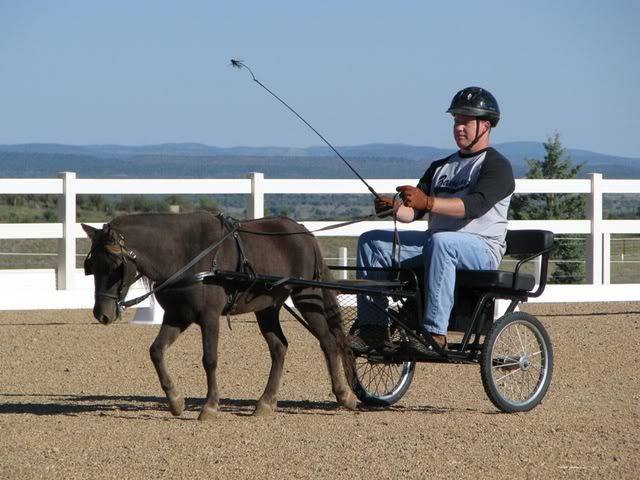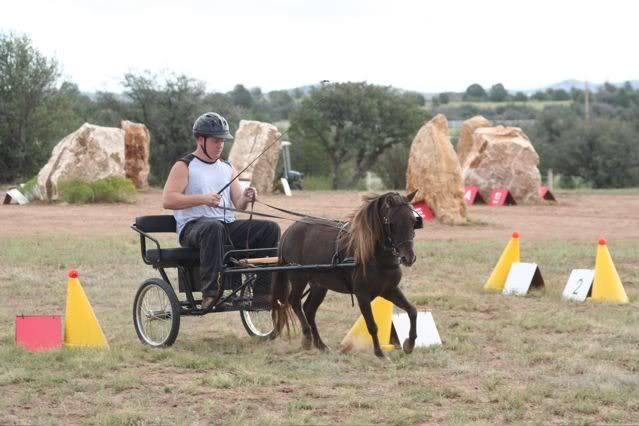 My gelding Midnight. Parts of his harness are Smuckers and parts are Zimmermans. Custom browband by someone from the drill team. Frontier Easy Entry cart (Midnight is my drill team horse
www.minimystique.org
)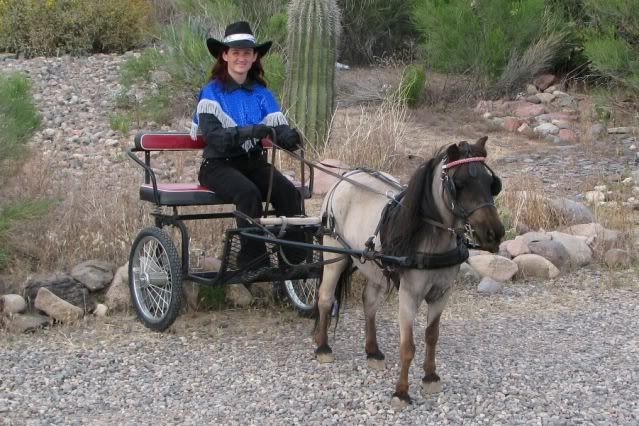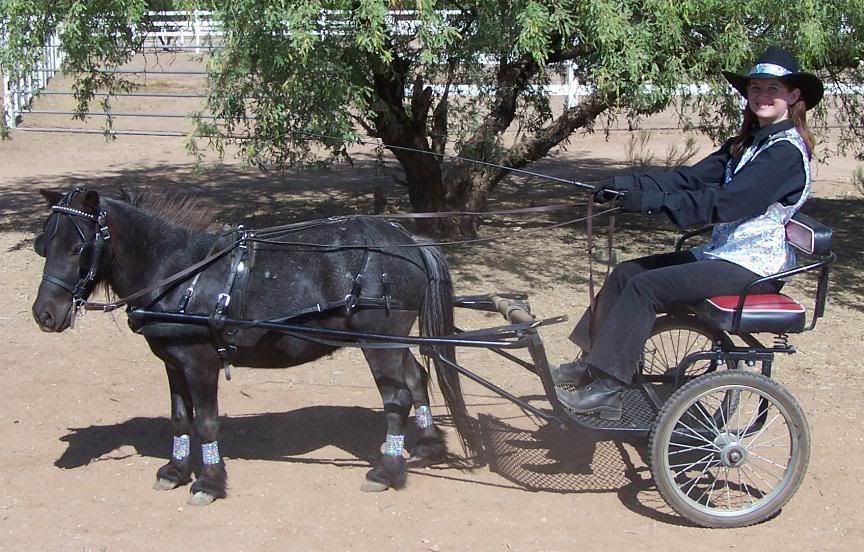 Hubby and his horse Concho, same thing as Midnight except the second photo he has his Eazy Ryder cart.
And Harley with his Smuckers harness and Dartmoor carriage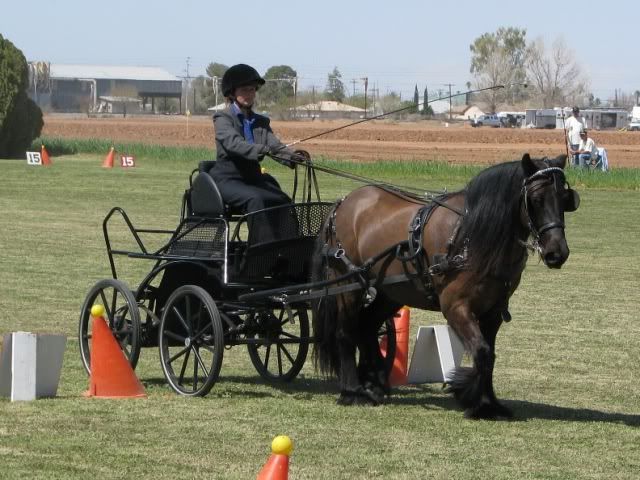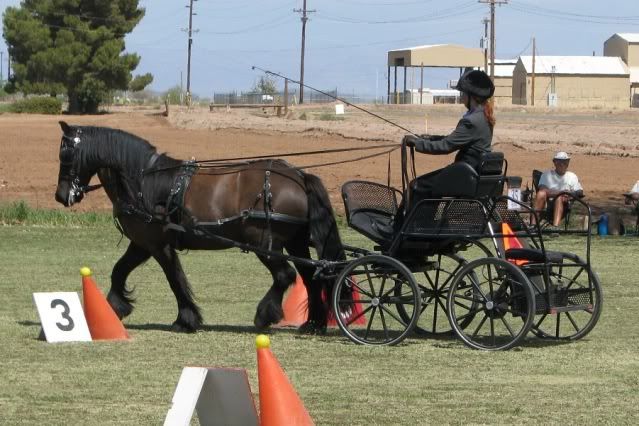 Oh here's a gelding I used to own, Sheik, in the full Zimmermans harness. When I got the Smuckers I took the best parts of both and made that Midnight's harness. THen when Craig got Concho, he got the other parts of the two ;)