Fleece covered gullet or tree (middle of the under side) usually equals a cheap imported saddle. They're hiding the low quality tree from inspection
. I'd say real value would be $175 (ebay) to $300 (private sale).
It's a no-name brand, obviously an import. Retail value might be around $450-599, but no more than that. It looks a bit like those Royal King or King Series saddles, which are made in Asia on bad trees.
Quote:
i cant imagine getting anything lower then 650 for that. It is a nice looking saddle,
This saddle "looks" nice, but it's a $390 made in Aisa POS that I wouldn't use if you gave it to me and paid me to!
More "nice looking" cheap Asian imports that I wouldn't touch with a 10' pole!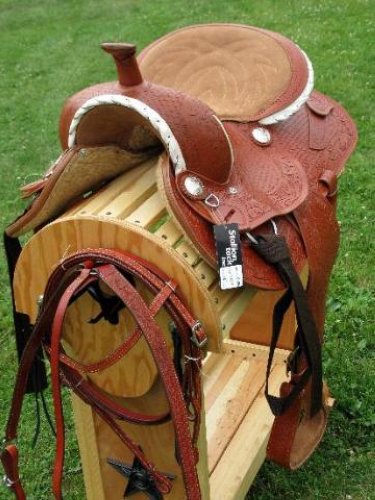 If someone can't afford expensive new saddles, then you can always go used
. All of mine were bought used.
When you try to sell it, don't advertise it as a roping saddle. Even though it does have the big saddle horn and the cheyenne roll tall cantle, no roping saddle would ever have anything less than heavy duty D-rings for the back cinch. Yours looks more like a custom trail or cheap show saddle. I have no idea what it would sell for but it won't sell as a roping saddle.