High Horse Eldorado Saddle by Circle Y
---
I just bought this saddle off ebay. Very nice saddle, very well made. It is cordura and leather saddle. Lightweight and seems to fit my narrow TWH great. The seat is super comfy and the stirrups are endurance type trail stirrups which are also very comfortable! Can't wait to go on a trail ride in it, only rode around my place for a few minutes. Very happy with it so far, will give an update after I ride in it a little more!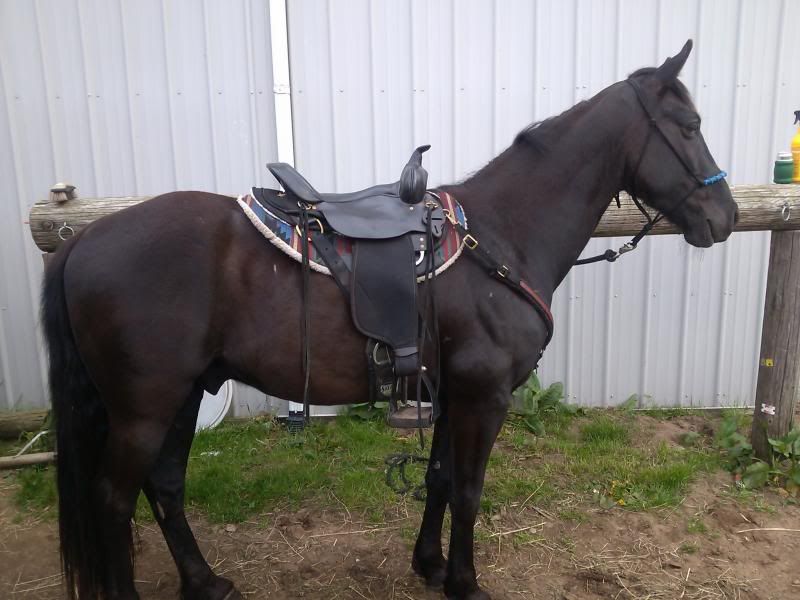 Okay, update. Rode in it today for about an hour going up and down hills and also walking and gaiting and I LOVE IT!!! The seat is padded, but you sink down into it instead filling like you are sitting on a pillow. My horse seemed to like it and it stayed in place. When I took it off I had a nice, even sweat pattern without any dry spots!! So happy!!
It looks great on him and love the color!!!
Hi, I wanted to order one of these myself but am concerned that my horse is too narrow. Can you please describe your horse's back?

Many thanks!
Thanks everyone! I am still really liking this saddle! I have been trail riding in it a lot and it still fits him great!
jwescher- My horse's back is very narrow with high withers. He has plenty of room in the gullet for his withers! I think they make this in regular and wide, just make sure you get regular. Good luck if you do get one... hope it fits your horse as well as mine!
If it's not a lot of trouble would you mind posting a straight on photo of the front of the saddle? I appreciate your help so much and have some excitement back that this saddle might work.
Yes, I can try to get a pic of it and post on here. I am going out of town tomorrow so I will try to get it on here before then!!