Aging horses by Teeth
---
Hey guys, so I'm just wondering what you have to say about my boy and what age you think he may be due to the teeth he's lost.
In August, I got his teeth floated and the vet told me he would've just turned 2 when I got him (which was end of May). And today, I got some pics of him pulling some funny faces and I realized that he's lost 2 front teeth (which are already growing in again). So I figured I'd look stuff up online to see what age it says a horse is depending on the teeth they have growing in. And I'm getting a little confused lol.
One part said if they loose 1 incisor, it's around the 2.5 year old mark. But if they lost their 2nd incisor, then they're more like 3.5 years old. And Jack has lost 2 at the same time. If the vet is correct, he should be turning 3 in May which is a little under 4 months away. So he's on track for losing 1 incisor, but not 2 by the info I was finding online.
What do you guys think of this? What age would you guess he is? And are there exceptions to horses losing more teeth earlier than the average horse? And if it helps at all, when I got him, he was around 14 hh or slightly under that, but is currently an inch or so away from being 14.1 hh. So in nearly a year, he's grown close to a hand. He's also filled out a lot more and is looking a lot more stocky.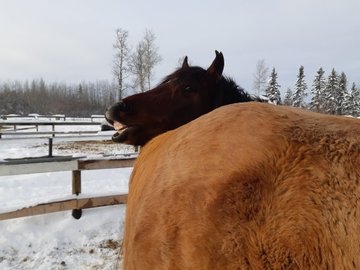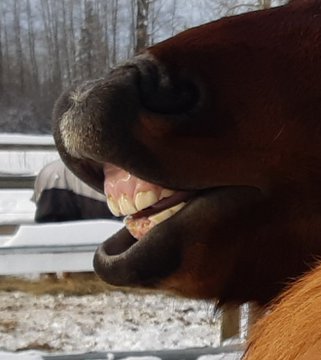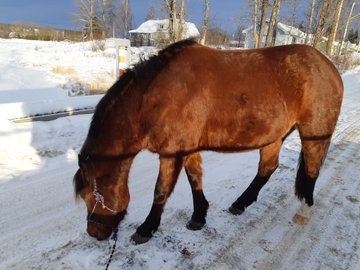 I do not know what site you were on but, they loose their four central teeth, two top and two bottom around 2.5 years, the laterals, two top and two bottom, at 3.5 and the four corners at 4.5 all incisor teeth that come into wear (fully grown) at five.


If they only lost one in incisor at a time they would be over eight before they had all their permanent teeth.
Mine have lost in that pattern with those teeth falling out within days of each other typically. The central tops and bottoms on some at the same time (top or bottom not all 4).
---
Some horse people change their horse, they change their tack and discipline, they change their instructor; they never change themselves.