Started
Join Date: Aug 2009
Location: In the barn whenever possible.
Posts: 1,910
• Horses:
2
Duns, Buckskins and roans...a few questions.
---
Ok..this might sound stupid, since I know what a Dun is and I know what a roan is. But what's the difference between a dun, buckskin and roan? (besides the dorsal stripe and the white hairs?) Alot of duns and buckskins and roans have black legs and black manes and tales. (I know some duns don't..which is why I said alot and not all)
Can grullas be roans?
Guess I get confused since I have them around the farm..or maybe I'm just overthinking it.
My duns
(sold Lillie in June)
My blue roan:
My buckskin:
And my bay: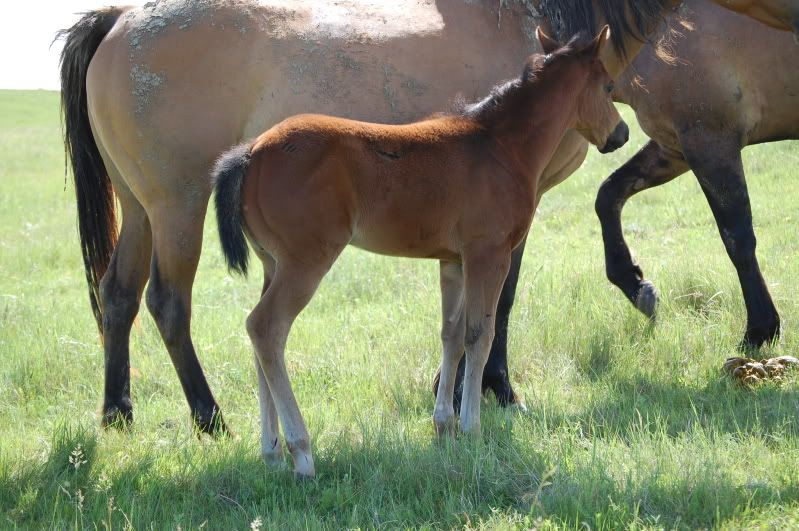 Maybe it's the black legs, mane and tails that get me confused.
---
"Riding a horse is not a gentle hobby, to be picked up and laid down like a game of solitaire. It is a grand passion. It seizes a person whole and, once it has done so, he will have to accept that his life will be radically changed." -Ralph Waldo Emerson
It's different genes that creat each one, one horse can be buckskin dun roan! And yes grullas can also be roan (can also carry the cream gene, but you can't see it because cream hides in black).

The cream gene makes buckskin, it is also the gene that makes palomino. A buckskin or palomino can also be roan and/or dun! A single cream gene delutes the coat, making sorrel/chestnut palomino and bay buckskin, two cream genes turn these into cremello and perlino.

The dun gene makes dun, red dun, grulla, etc. it does the same in single or double, you can look at a horse and tell if they are homozygous for dun (unlike cream), dun also delutes the coat, but gives primative markings such as dorsal, leg bars, etc.

Roan leaves the head and legs solid, but leaves white hairs scattered through the rest of the body, I have 'heard' roan in homozygous form is lethal (embryos are reabsorbed), meaning all roans are heterozygous, but don't know if that is true. Roan can be on any color, but is most commonly on red (red roan), black (blue roan), or bay (bay roan).

Hope that helps.