My baby's coming home!!!!!
---
YAY!! I AM SOOO HAPPY RIGHT NOW!!!
On the 16th march 2008 my dreams of owning a horse came true!!
i had as my first horse a 17 year old 16.3hh black tb gelding, his name is jet:)
i learnt everything from him! i had only ever been lead on a horse 3 times before i got him.
i ahve so many good memories! first trail ride, going to the dam and splashing in the water, all these memories have stayed with me and will always stay with me!
but then the descision was been made to move him onto a special someone, who would have time for him as i was wanting to compete.
i leased another hrose for competition for about 2 months, then that fell through.
i no longer had a horse to ride, but was blessed with a beautiful 2 year old standy filly, mahjik el layie, aka ellie for inhand showing.
i have had her a month and while i have been blessed with her presence, cheeky games, beautiful whinnys, warm cuddles and special moments, with her soft silky mussle, there was still part of me missing, that was my heart which is still deep in the eyes of jet.
2 days ago i was chatting to jets owner who has had some changed circumstances, and needed to find him a home.
SO!!!! straight away i offered to buy him back
i will be leasing him for 6 months, and during that time i will be paying him off.
thursday will be the best day fo my life!!! my baby is coming home and he will never leave me again!!! I LOVE YOU JET BABY!!!!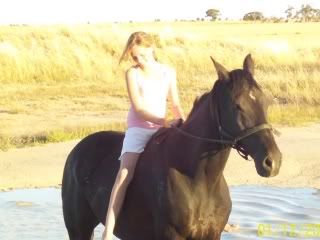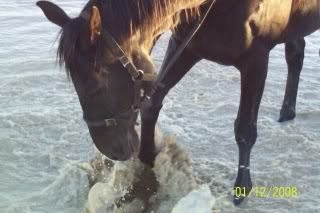 Congats! I met Nijinsky at age 2 and owned him when he was 3 after a racing injury ended his career and made the very bad decision to sell him at age 4. I followed him around the country and through owner changes and a claim and finally got him back at age 6. 6 Weeks later he saved my life by getting between me and a pitbull who was attacking me. I knew I would never let him go again but that day cemented it! I promised him that he had more than earned his keep and I would make sure he had a home and was taken care of for life. I hope Jet arrives safely and you have many more wonderful years together. You won't regret it! :)
---
Last edited by nijinsky3; 02-10-2009 at

12:46 AM

.
thats so great that you're getting your old horse back!