So it turns out my new TB has a lip tattoo after all.
---
I got him from a couple I know; the wife had told me he didn't have a tattoo, but when the husband dropped him off today, he said he did - and sure enough....
The problem is I haven't been able to read all the numbers yet. He's not particularly pleased with me lifting his upper lip long enough for me to figure out what the numbers are. They are really hard for me to make out. There is definitely a 4 a 0 and a 5 but I'll have to try again later to figure out the rest.
Gus (or Super Sonic as my four year old wants to call him
) was given to us (I bought him for a buck
), and the more I learn about him, the more lax the previous owners seem in his care.
His feet need to be done, his teeth need floating, his sheath needs cleaning, he hasn't been dewormed in over 6 months, he needs shots, and they think he came to them last August with the case of rainrot still on his back (assuming they are even right about it being rainrot), he has some little cuts on his legs, plus his mane and tail look like they may have not been brushed since they got him.
He did have lots of fun kicking up his heels once he got into his living space (he's been stalled for several months now
, so he probably had lots of pent up energy).
Bonus points for making it through my rant....Now the reward - Pictures of my new boy
.
Getting up after a good role
.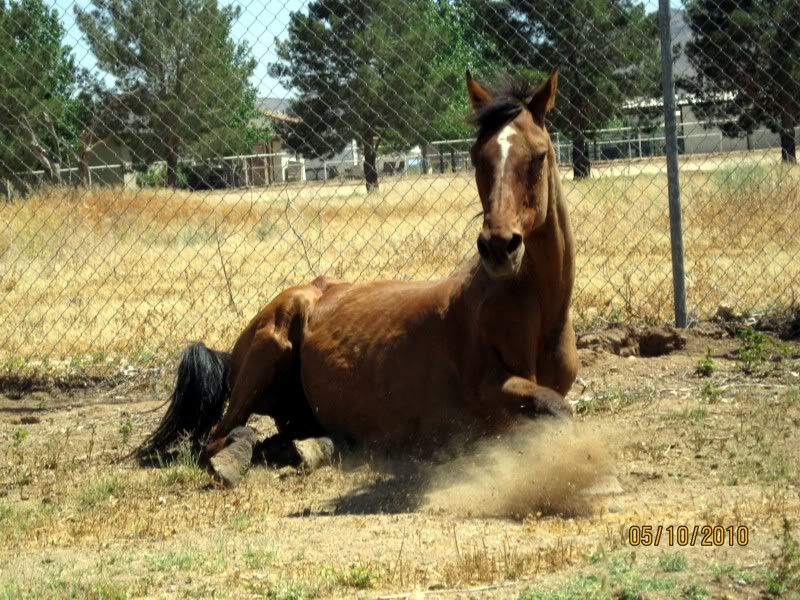 Making the rounds - I hope he cuts down on the pacing once he settles in or he's going to be harder to get weight back on than I thought.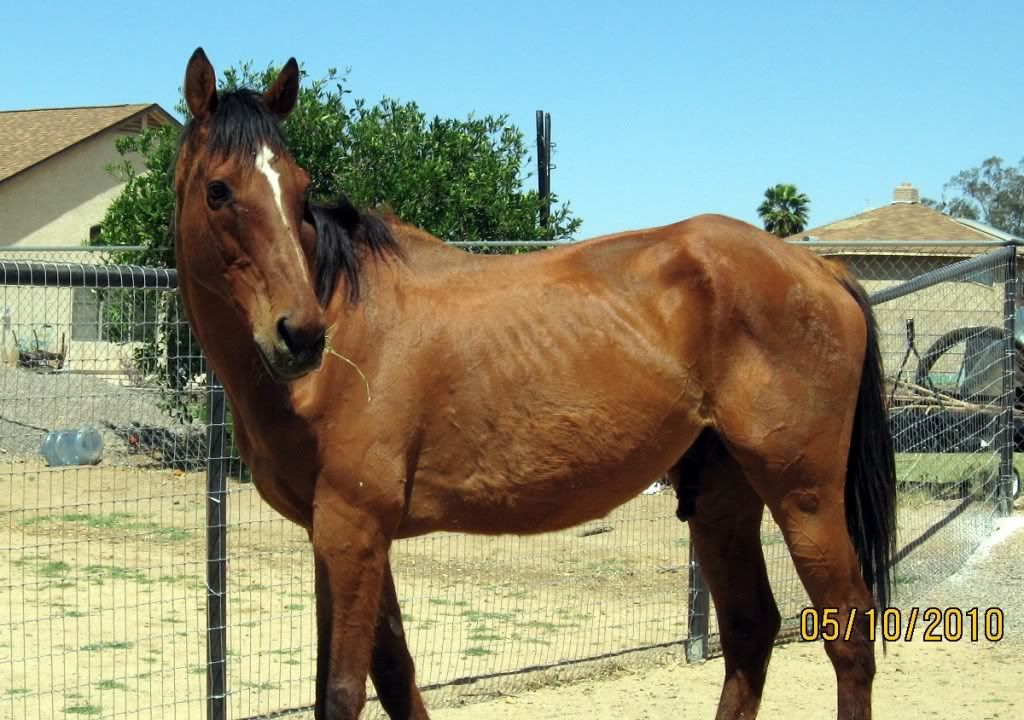 If you take pictures of the tattoo, you can send it to the jockey club and they'll decode it for you for free.
Cool, thanks for the info
. Now I've got to figure out how to get him to hold still long enough to get a decent picture
.
You can now do searches with partial tattoos on the jockey club website - all you'll need is what you can read of the tattoo, the gender and basic color/marking info. It will give you a list of possible matches that you can then narrow down using the specific marking info for each tattoo listed.
Also, try having a second set of hands help you so they can "flip" the lip while you do the reading. Take the horse into a dark place (stall, for example) and use a light (a blacklight works great - you can get little handheld flashlight style ones in the sporting good section of WalMart). Also, it can be helpful to not try to read the tattoo on the lip. If you take pictures you won't have to hold their lip up nearly as long and you can study the photograph(s) as long as you need to make out the letter and numbers as well as zoom in/out on the photo
Thanks for the extra info! We have a blacklight, and my husband can hold him for me tonight after dark :).

Now I'm off to check out the jockey website......
If your gelding doesn't like having his lips handled, let him sniff something stinky, like a cut onion or a towel that has been sprayed with windex (don't let him eat it or anything though). Often times, this will cause the horse to lift their lips in the flehman response. Maybe that would help you read his tattoo?

He is one handsome boy by the way! :)
Thanks! I did manage to get some pictures while my daughter was grooming him (he was surprisingly cooperative, but I think he was just very relaxed because of the grooming). I need better ones, though, so I'm waiting patiently (or not so patiently) for it to be dark enough to try the black light idea.
He has a very nice face, he looks regal, even when underweight. I can't wait to see before and after shots. I got a horse a couple months ago that was underweight, not as much as gus, and he looks great now. Good job on giving him a good home!
I love his face marking! He's going to be a looker once he's got some weight on him.
---
Proud owner of ~Mana: 6yo Arabian gelding~Pearl 13yo Arabian~Danzer 14yo Arabian mare~ Tiny mini filly