TD, that's interesting : the overlapping cinch is what the Chilean saddles use. There's a normal one at about 7/8, and then there's a surcingle girth that goes over the seat and overlaps the cinch underneath. Actually I have to say it kind of annoys me, there's a lump of latigo underneath the knee, or two buckles : either way, it's right where you don't really want it. But you get used to it.
The double cinch that is on Minina, I see that it's something the Canadian packers use a lot. I think it's adapted to the configuration of your horse - if s/he's got a nice hay belly (which is what I want in my trip horses) then it'll hold on just fine. There's a strap between the two to stop the rear cinch slipping back into her groin. Canelo (the draft cross) doesn't like the double cinch - see my story about the buck-fest
. I still want him to be able to do it, though, so we're working on lots of desensitisation. But Minina, with sacking out and lots of preparation accepts that more readily than she likes having a tight cinch. She takes a load with it and it doesn't bother her. So I just went with what they seemed to prefer.
RSS, the cavesson with a ring on it is interesting. I was also wondering about rigging a 'triangle' of either rope or bungee cord between the two side rings of the headcollar so that the lead rope attaches to the point of the triangle. That way the headcollar doesn't twist round according to what side the horse is on - but if they're not leaning on the halter, that doesn't happen anyway. Hohum. Your cavesson idea is neater.
It's funny, because I was thinking about trying the Micklem bridle on that riding horse that I was talking about, and there's a ring on the cavesson for lunging purposes...
Re. the rig, we'll have to see for the stability. We tried both saddles on both horses, and although Canelo looks longer than Minina, the purchased saddle bridged between the back of his shoulder and his ribs, so was an automatic no-go. Whereas the other saddle bars fit him almost as though they were made for him... I'll let you know!
---
Four horses, two people. 4000km in to the South American leg of our trip,and now in Brazil. Drop us a line on
The Great Horse Trip
Hate to resurrect an old thread, but I am very curious how things are going for everyone here! I am looking into investing in some packing gear soon, if only for training.

So, hows the packing?!
Posted via Mobile Device
---
I have said what I have said. I have not said what I have not said.
I teach packing at clinics and at the college, what do you want to know ?

Andy
---
Last edited by SouthernTrails; 01-18-2013 at

10:38 PM

.
Going well, RSS.
After we had to postpone the trip because two horses were pregnant - neither caried to term - we´ve been back in Chile since October and should be leaving on the trip-proper on December 27th, touch wood.
We´ve been doing increasingly long training trips, culminating in a four-day, 85-mile round last week (following on from two three-day ones back to back with one day off in between each).
Canelo and Minina are excellent, now carrying around 40 kgs each (which is everything we have plus either 6 days total autonomy for the horses (hay and grain) or a longer period of just grain. They pony well in their rope halters with nothing extra although Canelo does have a draw halter with fleece lining for his weird delicate roany skin. I switch them so that he doesn´t rub too much and depending on where we´re walking (the draw halter was pretty useful when we crossed three miles of green oats
). Minna drifts out to the left a little if she´s asked to walk immediately behind rather than to the right, so we´re still watching that, but Canelo follows like a dream - apart from when he nibbles Luna´s tail for fun.
No problems with sore backs or sore points for the two packers, although we´re still working on fixing all the padding layers so that the bottom one doesn´t work its way out. However, we always unsaddle and re-do things if we see something is going awry. Both saddles are working well with no probs about stability: we pack low, though, and don´t exceed more than 20% of the total weight on top, if that, which probably helps. The double girth system that Minina uses has not had any ill-effects.
We haven´t been so happy with our soft packs which have taken a beating and needed repairs / reinforcement already, but our home-made slings which pack using drysacks slung inside are brilliant. We have also had to make some alterations to Canelo´s harness to avoid friction points.
The riding horses are super entertaining because they have learned the position the packhorses are supposed to be in and get very shirty with the packers if they drift out. Quillay can get Minina back in line with just an ear-flick, but Luna as the natural bottom of the four has to work harder to get Canelo to pay attention, going as far as baring her teeth or getting a little kick in.
Some pics :
Canelo and his slings. He can carry up to 50kg grain, 25kg on each side in a drysack.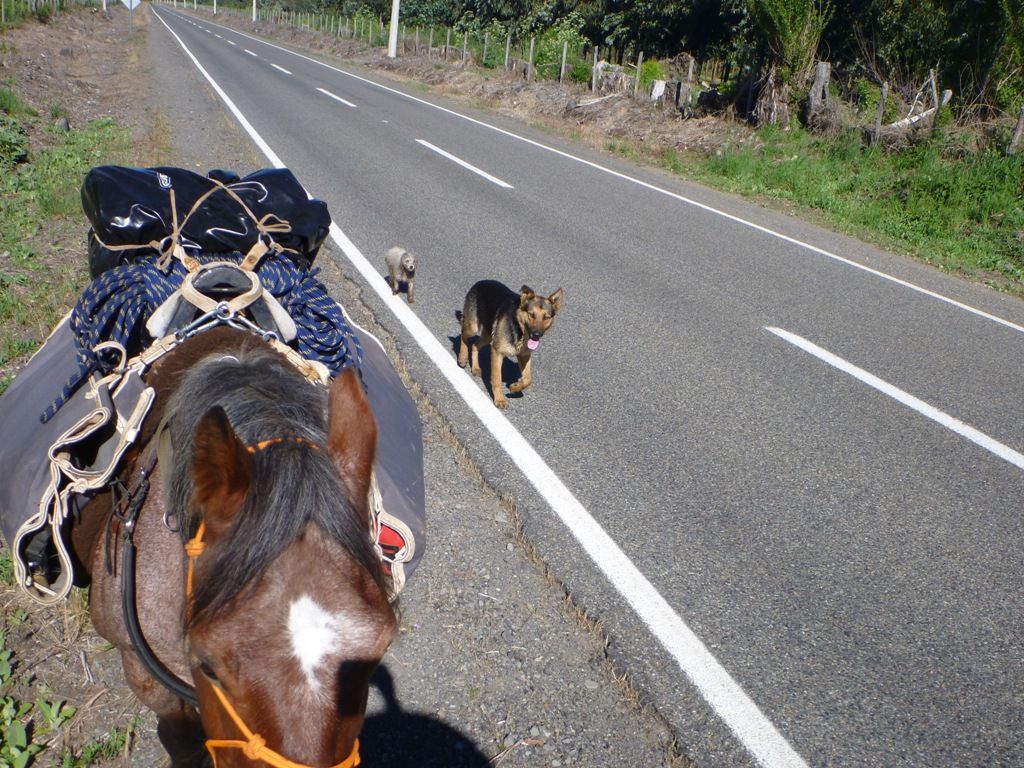 Minina packs our equipment and clothes, etc. As Canelo´s charge decreases (cos the horses are eating it), we swap out bits of equipment with Minina so that she´s not always carrying loads.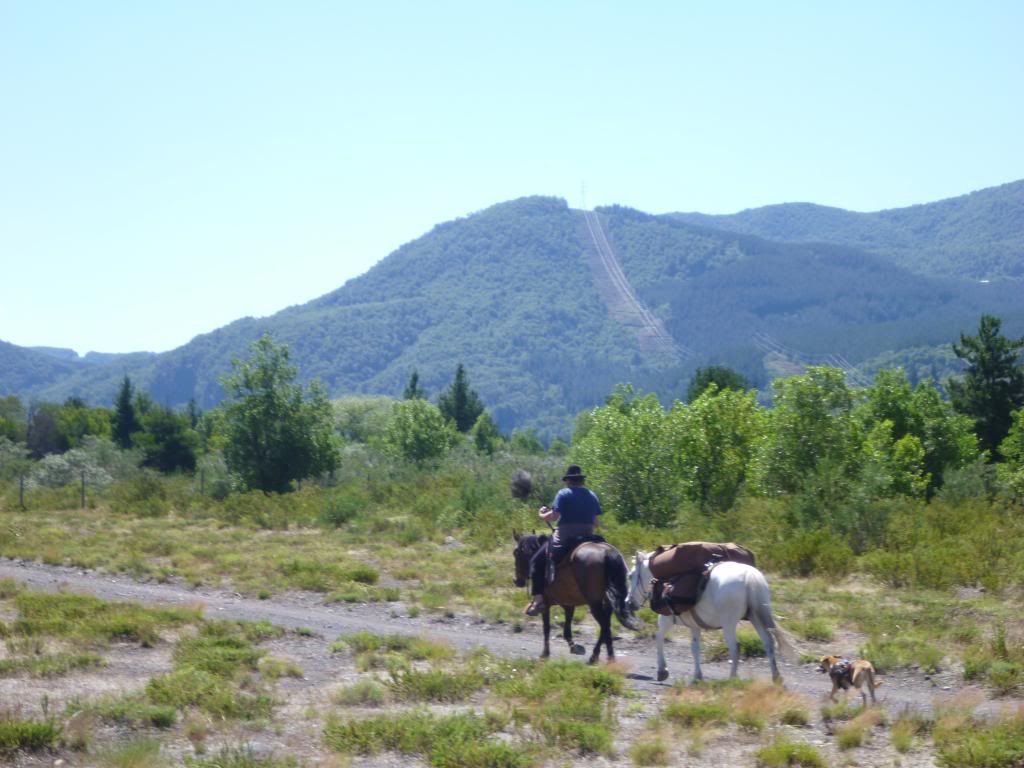 This is the first of four river crossings and the shallowest (we are glad we have drysacks!)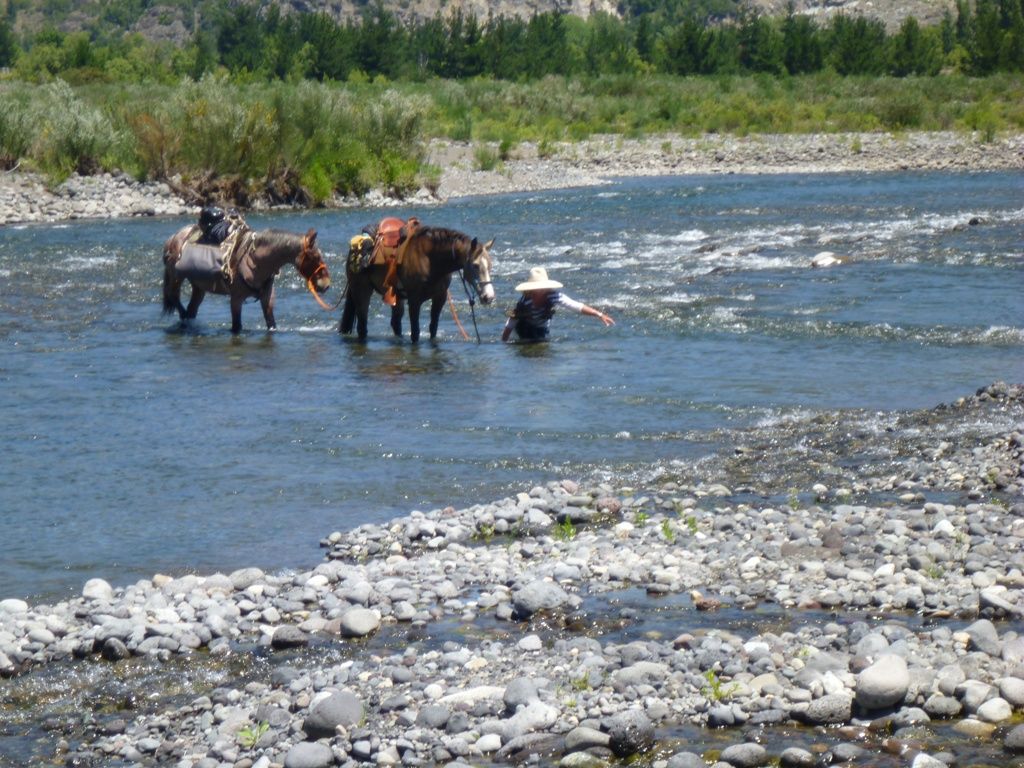 There are more photos on the facebook page in my sig. Hope to have some of your news and see how the rest of you are going!
---
Four horses, two people. 4000km in to the South American leg of our trip,and now in Brazil. Drop us a line on
The Great Horse Trip
I've worked with, and trained, pack horses for years. All of our horses are packed before they are ridden. I think it's fantastic for them - learning to tolerate a potentially noisy pack, having trees bang off the side of boxes, learning to pony anywhere etc etc. One downside.. if you have a bucker. They can almost always throw the boxes, which can teach bad habits for sure.
---
Last edited by SnowCowgirl; 12-19-2012 at

10:53 PM

.
Quote:

Does anyone wrap/use boots on the legs of your pack horse? Seems a good shock absorber could be useful on long haul packs. ?

Cheers,
RSS
Be interesting to see if anyone says differently, but I think that due to constantly going through mud, water, sand, etc that boots would be more detrimental than good.
Plus, like I just said, I've used pack horses in the bush my entire life and know many people who do too, and I've never seen someone use boots or wraps.
AnnaHalford, just curious, why did you get off and wade the river?
---
Last edited by SnowCowgirl; 12-19-2012 at

11:03 PM

.