Mia took years before she'd stand still when tied. But you could do anything with her with the lead rope tucked into your back pocket. Hole? To someone who valued tying, yes. I didn't give a rat's rear and who is someone else to tell me it is bad?
After 12 years, I'm working on getting my horses ready to trailer. They have all trailered at some point in the past, but I didn't (and still don't) have a good trailer, nor a truck rated to haul a 2-horse trailer (with horses). If I had a 3 horse stock trailer, I think all three would be fine. My trailer, however, is short enough that Bandit can reach food at the very far edge without bringing his hind feet inside...so I'm a bit stymied at the moment.
I guess I'd call that a hole, but I'm pretty sure Bandit just thinks I need to get a bigger trailer....
A friend of mine bought and trained horses for 50 years. People who had one told me they were awesome horses. Desert trail horses. Only bit ever put in their mouths' was a solid, low port curb: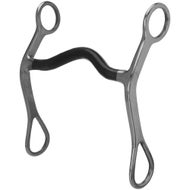 People rode them the rest of their lives, off trail in the Sonoran Desert, using that bit alone. Hole? Why? Horses and riders were happy. I'm told they were "Go anywhere, Do anything horses" - IF YOU RODE IN THE DESERT. Of course, they'd suck at a Dressage test. Unless someone took the time to teach them the skills for that.
From my perspective, Bandit is a horse I trust to ride without a helmet. He sometimes likes some light contact but would resent it if it was all the time. He's sensible and sane. Like Mia, he cannot sidepass in an arena. Like her, if there is a reason to do it, he'll do it at a tiny nudge. Seems to me what is important is that he likes people and is pretty willing to do things they ask. As long as a different rider didn't bully him, he'd take that
cooperation ethic
with him into dressage training, or polo training, or jump training, or reining.
PS: I stink at basketball and can't stay upright on ice skates. I have "holes" in my athletic training. I'm just....devastated.🤣
PSS: My horses don't come when called. They've trained me to go to them....