Discussion Starter
•
#1
•
Okay, a little background on my son's pony mare. The people I bought her from got her at auction, and knew no background on her whatsoever, save that she had a little bay weanling colt at her side when she was brought in that was sold separately. When the people I got her from put her up for sale, they advertised her as a haflinger, which to me she clearly isn't. I don't know my pony breeds well, but I am pretty familiar with haflingers, they are popular around here and she looks nothing like one save she is ALSO palomino.
She's a little thing - 11.2 hands. Not taped her for weight but I'd be surprised if she made much over 400 lbs. She's also very dainty, you can't really tell from these pictures because she has her winter fuzzies on but she's pretty light-boned. Her mane and tail are much thinner and shorter now than when she got here thanks to my cocklebur problem. And excuse her silly looking poof of a forelock in this picture - I combed out a mass of cockleburs yesterday and it's turned into a goofy looking thing, it used to be halfway down her face
She normally has very, very thick, profuse mane and tail.
I've just kind of tagged her as a shetland/welsh cross because as I said, I really don't know my pony breeds well, so I thought I would see if anyone else has a better educated guess.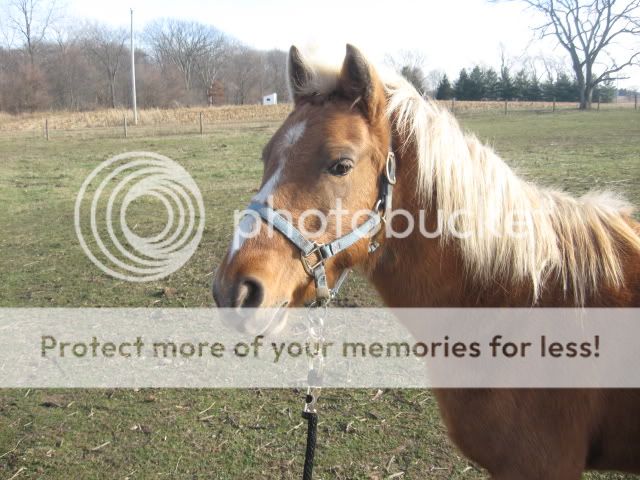 There is a heavy Amish population in my area, and they sell a lot at auction. I don't know if Misty is trained to drive, but I'm inclined to think so. Also she will NOT break into a canter. She'll do a lovely high stepping trot, and can do it remarably fast, but she will not canter with a rider no matter how much my son gets into her. She'll canter just fine in the pasture, but not with anyone on her back.