Discussion Starter
•
#1
•
Here's the story;
I want to experiment a little and see if I can ride Freddy in a snaffle bit. I ride dressage, and have very soft, almost independent hands (most of the time, I still have my bad days).
Freddy is currently schooled by me (and only me, everybody else who rides him schools jumpers and rides him in his rubber-mouth hackabit) in a pelham. It's a simple jointed pelham with slightly longer than average shanks.
Picture from 20/12/09;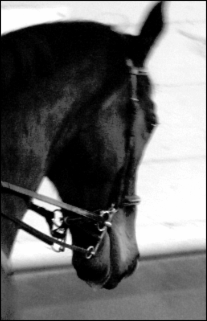 I want to take him into some dressage shows this year, but the problem is this: Pelhams are illegal in the dressage ring. For what reason, I don't know. I think it's a wonderful bit, but that's besides the point.
I used to think it wouldn't be tangible to ride him in a snaffle. But I'm starting to think we could do this.
A month ago, I started experimenting with the curb rein, and have found it really doesn't have any other effect on Freddy besides asking for more elevation of his head (leverage) and a speck more of stopping power. So, I've been weaning him off of it, using it less and less, and letting the rein out more. I've also been working on riding more off my leg and seat.
I did my research on legal bits in dressage, and came upon the
Baucher Snaffle Bit
. I'm pretty sure it's still legal.
It looks quite similar to the snaffle portion of a pelham bit.
For comparision (I'm not looking to try this
exact
style);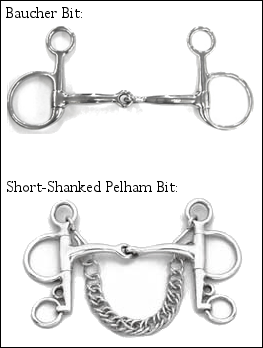 It works like a regular snaffle (depending on the rings, I'm leaning towards eggbutt.) with poll pressure. Freddy is one of those horses that really "gets" poll pressure, and he already goes so nicely in his Pelham, on which the snaffle portion works in the same way.
My trainer says she might have on lying around somewhere, so we might try it out soon.
So, is there anyone here who uses or has used one? What do you think of it? Any horror stories of it being used incorrectly? Examples of riders who use one? Tell me anything you can about Baucher Snaffle Bits! ~