Discussion Starter
·
#1
·
Hello all!
For those who haven't followed along with my journal thread, I've started riding Brandy, a roughly 10 yr old mare (possibly quarter horse, we don't know her origins sadly) who is very sensitive and smart on her feet, just a touch barn sour.
I've tried a simple O-ring snaffle and a curb bit on her, both with identical two-piece broken mouthpieces, and I think the broken mouthpiece is giving her a lot of trouble. She tosses her head and gapes at times if I have to apply even a tiny amount of pressure (not often since we neck rein, and I've only ridden her once thus far). These were just bits we had laying around the barn. I was only able to find two bits with solid mouths and rotating shanks within my price range. I really liked some of the Myler bits I saw, but considering how many other basic supplies I have to purchase for her as well, they're not in the budget just yet.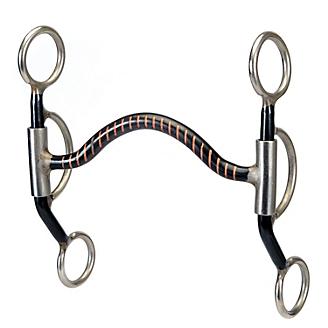 Which do you believe would be the better option? One has a low port with a roller and the other appears to be a Mullen mouth though it's also labeled as a low port. She's very responsive, so I'm just looking for a nice softer bit that takes some of that pressure off her tongue. I have taken lessons for a total of three years and always used the same type of bit in my schooling, so I'm not very familiar with tack shopping yet
thank you!