Discussion Starter
•
#1
•
This is Honey my upcoming 6yr old, NZ Standardbred mare. The last time I posted a critique was when she first came to me and she was incredibly thin and still in an awkward stage.
She is a late developer... so I've noticed she has had a couple of growth spurts over the last year. Her half brother was the same and didn't really stop growing until he was 6.
Things to take into account...
- I know she's obese. She hasn't been in work since March because I fell off her and shattered my leg in a freak accident. We didn't expect to have such a brilliant spring growth this year, so she came out of winter a tubby horse... and despite being on nothing at the moment she's still a porker! She'll be off for re-training soon so she'll lose it with regular exercise. So please, I don't need to hear how much of a porker she is, it's well known! :lol:
- I hope the uneven ground isn't TOO bad to critique from ... I don't have a concrete area.
- She has had seedy toe in both front feet, hence why the farrier cut it out. Her feet were just done last Friday.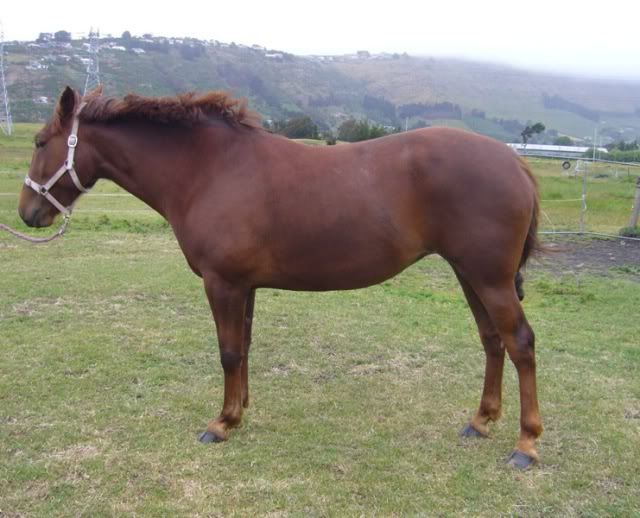 Sorry I couldn't get her square in behind... every time I walked off to take the photos, she'd move away from my friend to try and follow me. :roll:
Thanks for stopping in. I know a few of her faults (heavy on the forehand, straight backed, toes out, etc) but would like to see how she is in the eyes of someone who ISN'T heavily biased :lol:
x