So, if you've read some of my posts around here you've probably realized i have a problem mare. She is a problem in that she can be very moody, and we've tried *everything* from trainers to mutliple vets to taking her to specialists. We've come to the conclusion that she is extremely hormonal.
Now she's getting up there in age, she's approximately 15. She has calmed down considerably on the ground, but i still do not trust her at all. During the course of time that i had her, she's had two foals. One she was pregnant with when i got her. I could never figure out how, once her foal was weaned, she turned into a completely different horse. She was downright mean and dangerous. We sent her away for training, spent a good amount of money trying to figure out her problem. Saddle fitting, teeth specialist, chiropractic, 3 different trainers, one came here and coached us, i took her to a lesson once a week at another barn when that didn't work out, and then i finally sent her away.
Nothing really worked. She was still very unpredictable, but i was able to take her to a few small shows. I did a little bit of jumping with her and she was in good form, but with her acting the way she did it wasn't really safe to pursue it further. Then she ended up getting pregnant thanks to the negligence of the barn i was boarding at. As soon as she became pregnant, she did a 180. Was calm. Wasn't bullheaded. She still didn't want to be around me but she grudgingly put up with me. Baby was born, she was still fabulous.
Now... the above mentioned foal is 2 years old. We are about to sell her. SINCE the day she got pregnant with her she's been a completely different horse. I still watch myself around her, but she's totally different. The foal is no longer nursing, so the hormone thing doesn't really make since.
I rode her for the first time since last spring a few days ago. I just tossed a western bridle with a soft bit in her mouth and hopped on. She's still a little iffy about neck reining, and she tested me a few times, but she was an angel.
Her filly may be leaving in two weeks. I'm afraid when she does, my horse is gonna turn into a lunatic again.
Okay if you've read all that, now onto what i need some advice with. For the last two years, since she got pregnant and had the baby, i've probably ridden her 5 times. She behaved beautiful when i was riding her with the foal by her side, but she was kind of nervous (which was the foals fault, if she got too far away or got excited, so did Mom).
My biggest problem right now is that i had an injury and have been unable to ride horses at more than a walk. My ankle is very weak, and my doctor wanted me to slowly introduce myself back into jumping and even posting. I had planned to get back to working her English and doing some flat work, a little dressage to get us both back into shape. But then i sprained my ankle simply walking down the steps, so i've been kinda set back.
So 1) I haven't ridden English in forever and have only ridden western. and 2) Not only am i out of the loop, so is my horse. 3) We are both extremely out of shape.
I was interested in buying a TB gelding from a lady who gives lessons, and i got to talking to her on the phone and entertained the idea of taking a few lessons to get myself back into the swing of things before attempting to see how long my horses good mood is going to last.
What do you think? I could start some lunge work with her, and maybe start taking a lesson a week until i'm sure my ankle is strong enough (it's currently still slightly sprained, ugh! This is what the doctor says will likely keep happening).
Basically i feel like, when i look at posts here, i can critique riders and know what i'm looking at. But i don't feel that confident in myself anymore. It's been SO long since i've been on a horse and done more than pleasure riding. I went on a few trail rides last year on other peoples horses, where i was kinda forced into trotting and canter, but i was riding western and it was all much more relaxed than Tina tends to be.
I tried to explain to my doctor that even when you post,it's not in your ankle but your legs. He wasn't having none of that though. And i'm not certain i'm strong enough in my leg to not rely on my ankle at this time.
I also do not have an arena...
This post is all over the place, isn't it?
What do you guys think? Ideally, i could take Tina to the lessons with me. But i don't have a trailer at this time. Here are the only pictures i have of me riding her after our long "off time" - in September of 2008!!! I can only imagine what we're like now... i shudder when i think about it lol. She had her foal in July, so she was extremely fat and so was I (thankfully i've lost a ton of weight since then!) It was a last minute ride i decided to take, hence why i'm in my work clothes still! Be brutal, i need it because i'm probably worse now!
And yes, in 99% of these pictures she was throwing a fit trying to go back to the barn.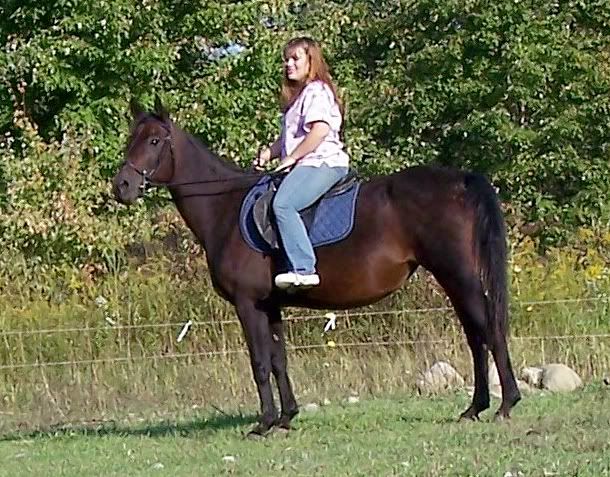 Here she is fighting me: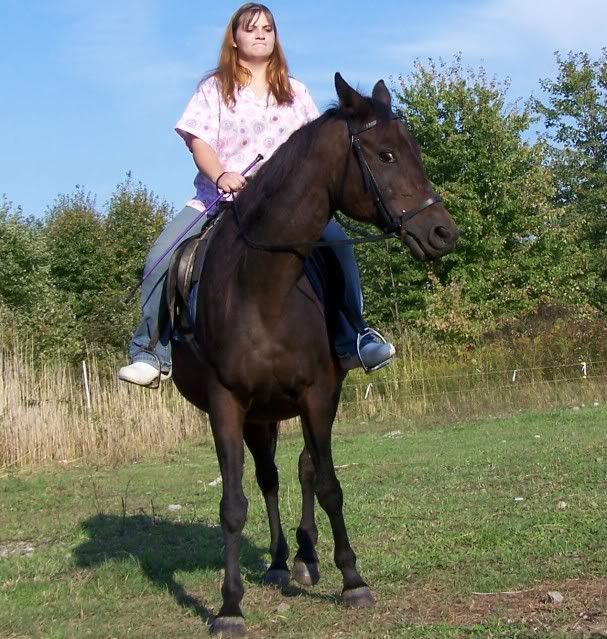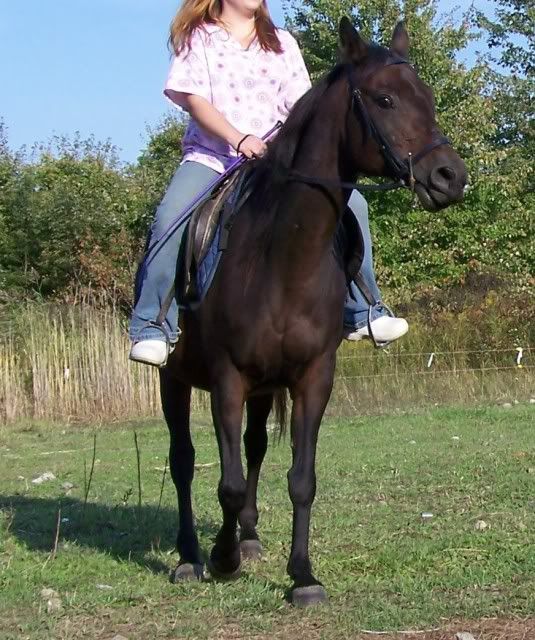 And after her fits were over: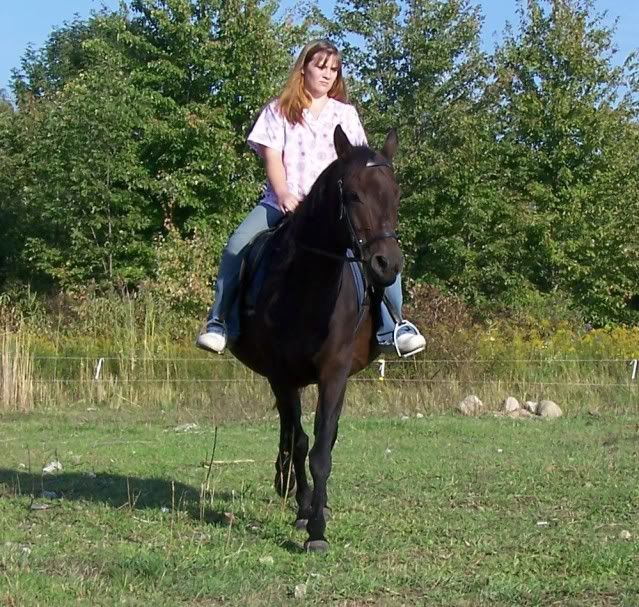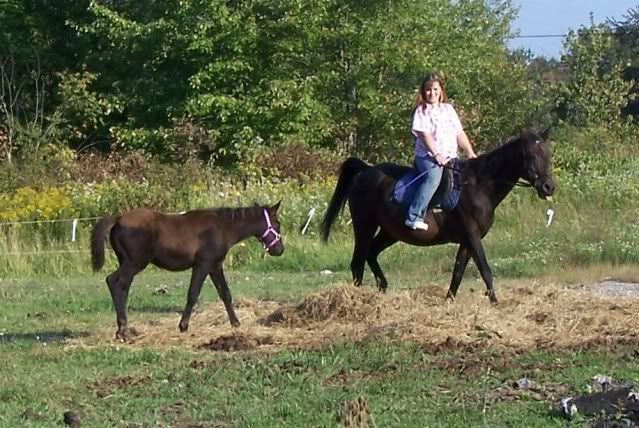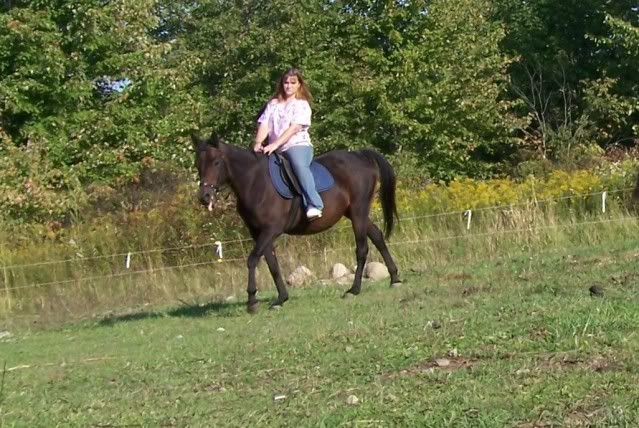 I was forbidden to do more than walk by the doctor, and you can see my left ankle is always goofy - it was painful at that time to really do much but let it hang in the stirrup. So excuse that. And also it wasn't my normal saddle, it was the only one that fit her with her giganticness from the foal. I did trot a little, but not because i really wanted to.. lol
Should i just go for broke? I'm afraid i'm not gonna have the confidence to deal with her if she goes back to being her loony self, but at the same time, once i start working it may all just come back to me and fall into place.
Money is kind of an issue with Floyd and all his issues we're dealing with right now, otherwise i wouldn't hesitate to go take a few lessons to refresh myself.