Discussion Starter
·
#1
·
I'm quite new to driving, but my mare was trained to drive back in May, and I took lessons from the man that trained her, so I feel comfortable enough driving in an arena. Until I have more practice though, and until she has more exposure to different environments, I refuse to leave the arena. The last thing I want is to get in an accident! I did start taking lessons from a driving instructor, which is why I'm posting this thread.
Immediately after my mare came home from training, I bought a Meadowbrook cart (in very good condition, except for the end of one shaft), and the leather harness that came with the cart. The cart was $800, and the harness was only $150. Yes, it is real leather, not beta, and it is in excellent condition. The owner just wanted to get rid of it, really, as his wife was no longer interested in driving, and their mare was too old. I got the impression that both of these people took good care of their equipment, yet didn't use it very often. I got incredibly lucky, and it fits my mare very well. It doesn't rub anywhere, and she's never had a problem with it. The only problem I've had is that my mare has an odd-shaped head, so the bridle doesn't fit as well as it should. I'm going to commission a new one soon.
I was told by a friend (who has been driving for over 10 years at least) that a Meadowbrook would be a good first cart for me. I have attached pictures of my cart. The previous owner also gave me an extra pair of new shafts (unpainted and not yet drilled) and an extra pair of new fenders.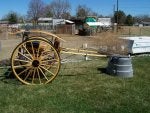 The issues with my choice in cart and harness only arose when I started taking lessons from a driving instructor. She participates in many shows, and I wanted to use her driving instruction as a precursor to my horse's dressage training. I explained that I didn't really have the money to show (for dressage or driving), so it wasn't in my plans. When I showed the instructor pictures of my cart and harness, she was very negative about using that type of cart, and basically told me I needed to trash the harness altogether. It turns out I didn't have the harness adjusted right in some places, but after a few pointers, it is now fitted as it should be. She didn't like the fact that my cart had a hydraulic brake, although I explained I only planned on using it to save my horse some energy if I had to stop on a hill during a parade or something like that. She told me that none of it would work, and that I needed to invest money in something better, like the smaller, metal body type of cart that she had (sorry, I'm still not good at identifying cart types!). I came away from the lesson feeling very disappointed, and started looking around, but I do not have the money to buy a new cart or harness at this time.
Does the instructor have a point, or am I just dealing with someone who's really "posh" in the driving world?