I am selling jewelry I have left over from this summer's fund raisers for The Four
Corners Equine Rescue. These bracelets are
ready made
being sold as pictured.
All Prices in USD
Pay Pal is my preference, $5 US shipping and I do ship internationally for $8.
If you are interested in having custom jewelry made from your own horse's hair please visit my web site:
Sandstorm Designs in Horse Hair
Where you will find directions on collecting your horsehair and ordering.
Most of the hair used in making these bracelets came from the horses being housed at the Four Corners Equine Rescue, for a link to the rescue's web site visit my home page:
Sandstorm Designs in Horse Hair
A percentage of every sale goes to help care for the horses awaiting adoption at FCER.
If you have any questions that you think will be of general interest please feel free to post them here and I will try to answer them for you.
For any other questions please contact me by email:
[email protected]
and I will do my best to help you in any way I can.
These are the "Sultan" design bracelets
$20 each
#1 multi/brown&sorrel criss crossed with black horsehair
#2 black & palomino braids
#3 multi/brown&sorrel criss crossed with white horsehair
​
3 Classic Braid Bracelets
$15 each
2 multi/grey&black
1 multi/sorrel&brown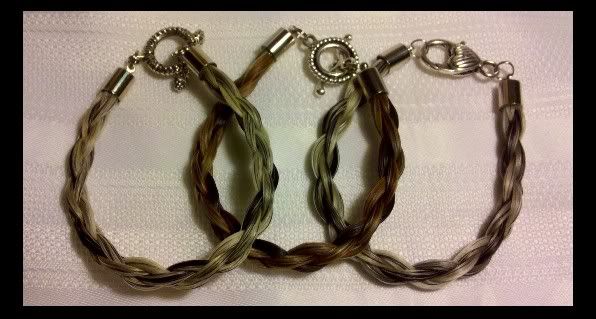 2 "Durango" Bracelets
$18
1 black horsehair w/snowflake obsidian
1 sorrel&black horsehair w/lapis stones
1 "Indi" Bracelet
$18
palomino&sorrel horsehair w/floral silver tone beads and rhodonite stones
1 multi/sorrel horsehair w/tiger eye and grass turquoise stones
$18

1 black horsehair w/turquoise stones
$15
​