A while back, after adding a few photos to a thread here in the horseforum.com Jumping Forum of a pair of jump standards that I made, VelvetsAB asked me to post instructions for how to make them. That sounded like a good idea, so my initial thought was to cut and paste some ideas that I found on the www and add some other comments. That plan changed quickly -- after looking around the internet, I didn't find any suitable instructions for making anything beyond basic schooling standards that you didn't have to pay for, so I then decided to write down my way of putting together standards when I made another set.
Apologies for any excessive commentary. I've tried to be thorough regarding sourcing materials, assembly steps, and adding comments that may save time and money, while still describing how to put together a good looking set of standards.
Below are some links to web pages that have instructions for building basic schooling jump standards. They are all good designs and the materials needed to make a set are not expensive. You could even mix and match some of the steps and base designs on these pages to make a set. To get some jumps up quickly these are the best way to solve that problem and practice some of the skills needed to build anything more extravagant for your jumping arena if that is your goal.…..
http://www.horsechannel.com/horse-exclusives/building-jump-standards.aspx
http://lorienstable.com/articles/jumping/900-building_jumps/
http://www.wikihow.com/Build-a-Horse-Jump-1-Pair-Schooling-Standard
http://www.ehow.com/how_2270396_build-schooling-jump.html
NOTE -- When drilling jump cup holes I use a sample jump cup that will be used on the standards to help mark where the holes are drilled. You may be using more than one design of jump cups on your standards, and if you drill straight through the center of the post, some holes on the flanges of some jump cups may not line up with the holes in the post for a good fit. I usually offset the line of holes to be drilled on the 4x4 just a bit towards the side where the jump cup and pole/rail will be.
For drilling the holes, I use a ½" wood drill bit (wood drill bits look like a paddle on one end). I mark a line around the stem of the bit that will mark the place where the tip of the bit exits the other side of the post. I stop at that mark for all of the holes and then turn the post over and finish the holes from the other side. Doing this makes the hole edges cleaner, as drilling straight through tears up the wood around the edges of the holes on the exit side.
Over the past few years I've made some jump standards and fillers, and the standards design that I will build in this thread I can manufacture for a cost of approximately $130 for a pair of standards. It is not cheap, but it is much less expensive than buying something similar from a vendor. That cost is materials only. There are plenty of hours invested in them as well, but they are sturdy and they get good reviews from people who use and see them.
Some finished sets of standards with this design that I've made previously are shown below. To create the horse design, and considering art isn't my specialty, I handed a couple photos I printed off of standard designs I found on the www to a friend who can draw and asked him to sketch a horse design that was shorter than 4' tall, less than 2' wide, and not have any sharp points facing outward. He came up with the ears-up and five-tipped mane design. We later altered the ears and mane a bit and that provides a little different look for the head and neck (and the three-tipped mane is easier to cut with a jigsaw).
GENERAL INFO
I save photos of jump designs I like that I find on the internet, and when I go to a different jumping stable or a show I usually take pictures of any standards that catch my eye. The photos help me to remember what materials were used and how to construct the standards.
Every jumping arena has it's own tolerances regarding what are good jumps for it. For the stable I am at, the jumps in the arena can't be too big or heavy because they get moved every couple of weeks when the jump course gets changed, or when the arena gets a thorough dragging. The girls often reposition the standards or move them in/out of the arena so I am conscious about not making the standards and fillers too heavy to move around, and I attach handles to them when possible. Also, the arena is on the narrow side, so big, wide standards take up a lot of course space.
Below, I reference Home Depot occasionally, as that is the store where I usually acquire the wood, paint and hardware for the jump standards I make. Bunnings Warehouse and Mitre 10 in Australia and New Zealand; B&Q and Homebase in the United Kingdom and Ireland; OBI in Continental Europe; Rona, Menards, and Lowes in North America are other big box retailers that have similar products and services. Smaller retailers with these supplies and services are good sources as well.
JUMP BUILDING RULES
RULE #1 -- IF NEEDED, REPAIR AND PAINT YOUR CURRENT JUMP STANDARDS AND RAILS FIRST! If they become unusable while you are working on your new standards, your jump course isn't going to get bigger. Some metal brackets might easily strengthen any weak connections. Screws or carriage bolts will hold parts together better than nails (Nails shouldn't be used--they are not as safe because they could loosen and fall out more easily than screws or bolts and become a hazard). Paint protects the wood from the weather.
RULE #2 -- IT TAKES A LOT OF SMALL TASKS TO GET THESE BUILT, SO GETTING HELP TO MAKE THEM IS A GOOD IDEA. If possible, share the cost of materials among jumpers at your stable. Since there is plenty of painting to be done (and primer coats don't have to be the same color), a number of riders at your stable can share in the painting jobs. If you know an artist you can recruit them for design help. Relatives and friends you know with the necessary tools might be on your jump building team--they just don't know it yet.
RULE #3 -- BE CAREFUL USING POWER TOOLS. IF YOU ARE A MINOR DO NOT USE POWER TOOLS WITHOUT ADULT SUPERVISION. Always wear eye protection and use safe methods. If you aren't comfortable using power tools then ask someone else to do those tasks for you.
COST
Approximate cost of materials for a pair of standards that I make. (Costs are in US $)
WOOD - $60 HARDWARE - $45 PAINT & PAINTER'S TAPE - $25 Total -- $130
MATERIALS
Jump Standard Parts and Hardware
WOOD:
THE QUANTITIES LISTED BELOW ARE FOR ONE STANDARD. YOU WILL HAVE TO DOUBLE THE QUANTITIES LISTED FOR A SET OF STANDARDS.
Included are the measurements that I use. Feel free to adjust dimensions as necessary for your project.
1 - 4ft x 2ft x .708661" (18mm) piece of cabinet grade plywood
1 - 4x4 5'6"
1 - 4x4 2'
1 - 4x4 14.5"
4 - 2x6 2'
2 - 2x2 30"
2 - 2x2 11"
Wood Notes ---
Design Cutout
1 - 4' x 2'x .708661" (18mm) Design Cutout
I use cabinet grade (smooth on each side) plywood for the cutout as it is easier to paint. You can use regular plywood which is less expensive but one side is rough, will likely have knot holes, and it can range from being difficult to a nightmare to paint later on. I use this thickness of plywood because it is less likely to warp after being exposed to the weather. Part number at Home Depot is # 175171. I buy a full sheet for about $25-$27.
You will need two pieces for one set of standards -- this is a half sheet of plywood so good luck buying just half a sheet. You will likely have to buy a 8ft x 4ft sheet which will provide four pieces for this size design. Options for the extra pieces include: 1) make two sets of jumps; 2) use another set of the design cutout mounted on a board and staked into the ground as driveway, barn or arena guardians; 3) sell a couple pieces to a jumping friend, because they will want some too after they see yours; 4) the design you create could even work well as stage props for a theater production.
Your favorite lumber retailer can likely cut a full sheet to the 4'x2' size for you and they will be much easier to transport.
Another option is to buy a couple of pre-cut plywood pieces. Item # 300969 at Home Depot is a ¾" x 4' x 2' piece of plywood that costs about $16 each.
(I make a couple or more sets of these a year so I have my designs on thin sheets of plywood and use those as templates to draw the design onto the pieces of plywood. You may want to trace your design onto some paper or another piece of wood to save your design for later use. Using a thin piece of plywood as a sketch board might even work better than paper--just cut out the design you come up with and you have an easy to use template.)
Cut out your design with a electric jigsaw. Light sanding on the edges with sandpaper or a wood file will remove any burrs.
NOTE -- When cutting your design out of the plywood sheets, you will want to save a couple of the scrap corner pieces. They will be used later on when attaching the cutout design to the frame.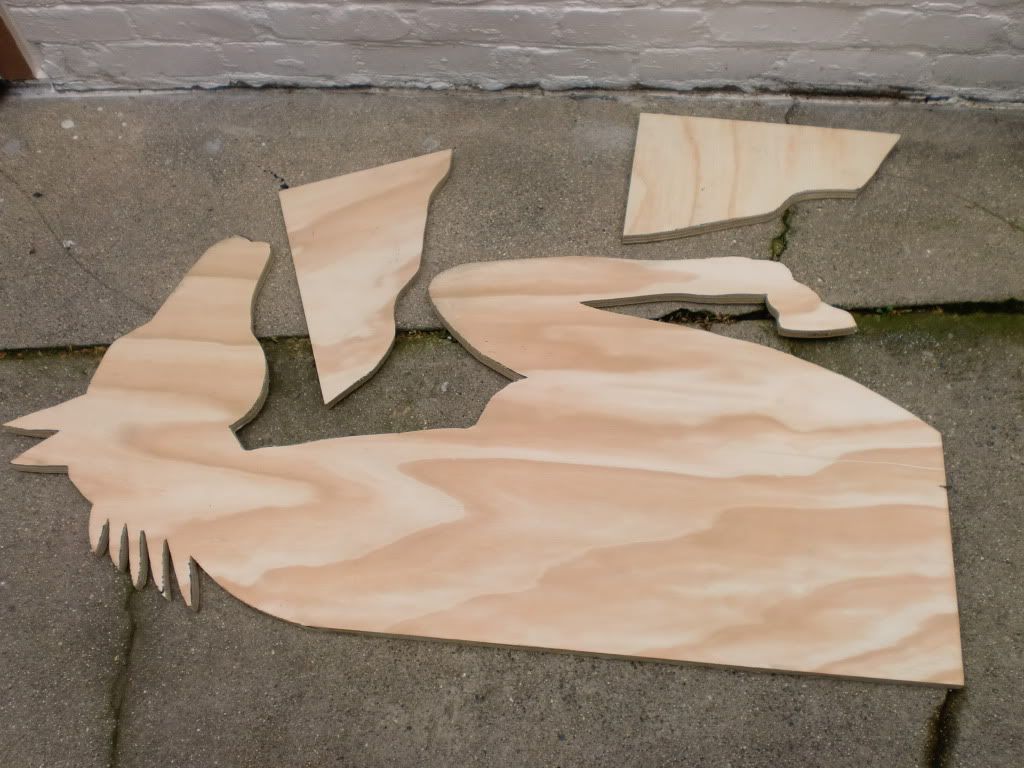 4"x4" jump standard frame -- pressure treated wood
1 - 5'6" POST
1 - 2' CROSS
1 - 14-½" LEG
Dimensions add up to over 8ft, and 10ft posts are expensive, so I usually buy a 8 foot long post and get it cut into the POST and the 2 foot size CROSS at the store, then I find a piece of cut wood at the stable or Home Depot (some locations sell inexpensive cut wood pieces in a rack near their big cutting saws in the lumber department) for the LEG piece.
(If your cutout size is wider, then you should have a longer cross piece to fit underneath it. I like to have the cross piece just a little longer than the width of the cutout.)
If drilling holes for your jump cups, it is best to measure and drill the holes after painting the POST with primer. The marks you'll make for drilling the holes will be easier to see on the primer than on the dark colored treated wood. Drill holes with ½" wood drill bit. After drilling the holes, some light sanding and some more primer paint around the hole edges may be necessary before painting with the main paint color.
When constructed, it may be best to have the post of the standard a little bit taller than the top of the cutout design. If the standard gets knocked over or falls in blustery winds, the top of the post will likely hit the ground first and absorb most of the impact. With the post a little taller than the top of the cutout design, fragile cutout areas like the ears of this design will not break off as easily.
If attaching keyhole tracks to the post for jump cups, do so after attaching the foot pieces.
2"x6" board -- pressure treated wood
2 - 2' FOOT I get one eight foot long board and have it cut into four 2' pieces at the place I buy it.
Trim off the upper corners of the foot pieces so they don't have sharp corners. I measure 5" across the length from the corners and 2.5"down the edge, draw some lines from mark to mark, cut the corners off, and then file or sand the cut edges down.
2"x8" boards work great as well for the feet. They are a bit heavier and add more stability.
Cutout Frame
2 - 30"x2"x2" Cutout frame upright
2 - 11"x2"x2" Cutout frame bottom
These parts support and hold the cutout design to the standard. This wood is redwood baluster posts (made for stairway rails) with smooth corners. At Home Depot I buy 3ea. 2"x2"x36" square end item # 105037, or 2ea. 48" x 1-19-50" beveled end item # 694043.
They are cut to fit along the length and width of the design cutout. The sizes for these pieces will vary depending on the dimensions of your design. I cut the longer one so that it falls short of where the neck of the horse design moves away from the POST when assembled.
It is possible to buy and use balusters that have beveled ends so they meet together at the POST/CROSS connection like on a picture frame, but they may not fit together great at that connection (because of the actual angles of the beveled cuts and if the POST/CROSS angle is actually 90 degrees). I did it that way on the first set I made, but since then I just place the short piece against the taller one. Placing one flush against the other, I don't have to worry about the beveled cuts on the frame pieces fitting together well.
If your cutout size is wider or taller, then your cutout frame pieces should be longer to fit along each side of the base and upright edges of the cutout.
Note – Instead of using the 2"x2" pieces, metal brackets could be used to attach the cutout design to the post and the cross of the standard. I use the 2"x2" wood pieces because the cutout is supported better and is less likely to become loose if it tips over and hits the ground.
(Continued below....)