Discussion Starter
·
#1
·
I've got another bit of a question for you guys. This time it involves working with a trainer/riding instructor.
I have a riding instructor that I've been working with August and I literally have barely improved. So I'd just like a bit of an outside opinion on this since I've been thinking about it lately and just how much I really want to move forward.
Basically, since August, I've made exceedingly little progress in my riding. Now, I know this is due to a few things.
1 - the mare I had constantly tossed out her back and hips and didn't enjoy work so she was retired. So little riding ever happened with her.
2 - new gelding. Managed to ride him a decent amount in September when I got him, but then he lost a lot of weight when it started to get colder to the point for October to November, I couldn't ride because of how much weight he'd dropped.
3 - Once he gained weight, I managed to get in 2 rides before I got so sick I couldn't really leave home and a nasty cough that lasted a few weeks.
4 - had a family get sick and pass away 10 hours away so spent a week away to deal with that
5 - Got better, managed to have another 3 ish rides before we got -50C weather and it was waaay too cold for me or Sam to go for a ride.
So there have been a few road blocks that have made it hard to work on riding. However, I have managed to get in a few sessions of free lunging, ground work, and just generally hanging out with the horses.
But on the other hand, every time I have a lesson with my riding instructor, there's nothing new. Just lots of walking and trotting and doing the exact same turning and such every single time. Like, it's basically that there's nothing new going on. It's the exact same lesson each time.
I understand wanting to nail these things down before moving too much forward, but I don't even get tips of things to necessarily work on in between lessons. If I ask, I'm just given vague responses. Example, I asked how to help his muscling and topline, and she says walk and trot and poles. But no suggestion or recommendation of how to set up the poles or how to build it up as he gets in better shape or if I should ride straight or do lots of circles and turns when riding at the walk or trot. I've had to look things up myself or ask people on FB or here for answers, because I don't get much from her.
On the other hand, she has taught me a lot outside of the riding aspect, such as which feeds to give my TB so that he would gain weight. She's helping with finding a saddle that fits my guy properly. She's taught me how to use my leg and seat for steering a bit more and some basic stuff like that.
But that's it. It's been basically 6 -7 months of lessons with her, and I've made 0 improvement since the first lesson. I even made a side comment to her about how it felt like I wasn't improving at all (not quite outright, but easy enough to comment on if she wanted) and while she didn't say much and the way the topic change said it loud and clear that she pretty much agrees that there's been 0 progress.
One reason this frustrates me is because there's another guy around here that I've had 3 lessons with in the past. First lesson, we did walking and trotting and I did learn a bit more about using my seat and such. Second lesson, I learnt a bit more about posting on the correct diagonal and even started to work on cantering. By lesson 3, we did a warm up in the arena before heading out on a trail ride and even cantering while out there and he said I'd improved quite a bit since the second lessons canter session and I'd had no way to ride between lessons.
With him, I improved! I was making progress and it was exciting.
Then things happened and he got busy and incredibly hard to get a hold of, so I went onto to use the lady I have now, and in comparison, in the last 6-7 months, I've made thousands of times less progress than I did in the 3 simple lessons I got from the other guy. She also tends to "take over" when it comes to saddling up versus just letting me do it myself or telling me what I need to do better or fix. But when I was with the other guy, first day he did himself to show me how it's done and such (I already knew but it was also a way for him to refresh me an such) but then the next 2 times, it up to me to catch the horse he had for me to ride, to groom it, and tack it up all on my own but would give out pointers if I did actually need them.
It honestly feels like right now, with my TB, I've gotten so little help in figuring out how to condition him or to improve things, that I've taken up watching youtube videos and seeking advice on here (which I'm forever grateful for) to figure out how to retrain my boy, than to seek out her help. I've been working my boy consistently this last week to work on his lunging skills, ground work, and when I do ride, sticking ONLY to the walk cause he's being bratty and needs a refresher on what the correct answer is. And I'm finally starting to see some progress which is only AFTER I decide to figure these things out myself and not getting any real tips from my instructor. What I'm doing with my boy now, she never told me to do other than walking and trotting and poles help with topline. That's it. I've taken it a step further to literally go back to ground work with him and only now am I seeing things get better.
I don't know. Am I at all justified in being so frustrated in my lessons with lady? Or am I missing something?
I mean, I know part of the lack of progress is my fault since I haven't been able to ride as consistently as I wanted to through the winter, but it still feels like I should've made at least a fraction of more progress instead of being stuck or even going in reverse. I mean, 3 lessons with the guy with 2 -3 weeks in between lessons without having a way to ride in between them, I made decent improvement! But months with this lady and more riding than before, and I've not cantered once and have gone waay back in my skills and even feel a little like my confidence in the saddle has dropped.
With that said, what are your guys thoughts on all this?
And if you actually read all that, I appreciate it lol. I've been working on changing my life (losing weight, working out, and more consistent work with horses) and now that I'm becoming more proactive in my own life, I'm just getting fed up with feeling like no matter how hard I try to improve, I get no where and keep getting knocked down a little more. For the first time ever, I actually even a small shot of anxiety when I went to hop on Sam which has NEVER happened before. In fact, one reason why I got him was because he calmed my nerves and I never got anxiety when it went to hopping on him. But after the last "lesson" I had, I actually got minor anxiety when I went to hop on Sam and I don't want that to happen. I don't want to go back to getting anxiety so bad that I physically shake just thinking about riding a good 10 mins before I even go to the barn. That's not fun and I don't want to go back to it.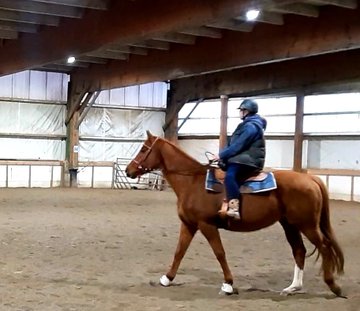 Another minor example is the fact that in this pic, it's fairly obvious my feet are too far forward. My current instructor never told me about this. I only noticed it once I saw the pics/watched the video I recorded of my ride.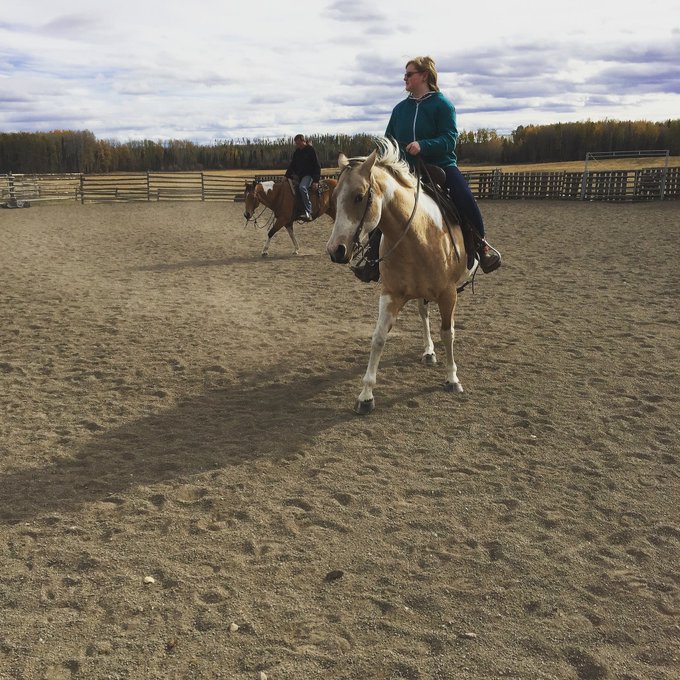 And this is a pic of when I had lessons with that other guy where I actually felt confident and actually was having fun riding where is the fun in riding has almost been zapped out of me now.