Discussion Starter
·
#1
·
Joe turned 21 on the 10th and I just thought I would share some of the fun. He threw a hissy fit becasue I kept taking pictures of him...hehehe I don't drink, so most of the beginning of the day we spent together doing all the corny bday stuff. I bought him an awesome ice cream cake from DQ, took him out to dinner and had the mexican waiter sing to him and smash whipped cream in his face, then we went to the gun range for a while, then the festivities began!! No pics of the party, I went to moms... Bought him a punching bag and laptop for his bday/ our 2nd anniversary.
Truffle Cake!!
His inner kid.:lol:
Blowin out the candles.
Being grumpy thinking I was plottong to embarrass him:twisted:
His bark is worse than his bite with a face full of whipped cream!:lol::lol: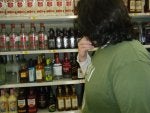 HMMM, so many options!
Jack anyone?
His favorite beers.
Arent they too cute??(NOTE, we went to the range BEFORE anyone drank)
Our mess.....
To be Continued!