Discussion Starter
•
#1
•
I just need somewhere to rant about this..not really looking for help or pity or anything really, I just need to whine and complain.
for the hell of it, why not write out the full story?
here goes:
background
I used to own a really great pony named Rocky who I mostly trained myself. basically he had 90 days and then really light riding here and there throughout his life of 9 years before I came fully into the picture. I rode him all over the place and taught him everything I could. a lot of the time I was learning and teaching at the same time! he was very willing and trainable and it was a ton of fun. first I taught him not to bite because he had an awful habit of it. then I taught him to neck rein and to collect, to be lunged and to be ridden bareback and brideless, basic reining maneuvers and basic dressage maneuvers, barrel racing, pole bending, jumping, standing still while I stood in the saddle, the closest thing I could get to cutting cows (cutting people), and so many other things. we learned a ton, and I taught him his own unique system of cues (since any formal lessons I've had were when I was too young to remember and he was my first official horse) and overall, it's just a blast to ride him, and almost just as fun just to hang out and groom him, which I've spent countless hours of my life doing. at least double the amount I've spent in the saddle, really.
but in the end, he was 13.3 with a history of back problems, and I grew to be 5'6, and while technically I never will hit his real weight maximum, I just felt that it was time I got a full-sized horse, and since I was increasingly interested in the english world (I had only just started this with Rocky), particularly jumping at the time, I began looking at thoroughbreds.
scooby doo
found a place just down the road with a few horses that looked like they would suit my needs. there was a beautiful chestnut I was very interested in, and I was thinking he would be it, but when I laid eyes on the first horse they pulled out something hit me. when I saw him he looked just awful. he was covered in a thick layer of filth and he was just skin and bones, but with a round wormy belly. everything about him was just..caved in. his face looked crooked, his body was sharp angles followed by sharp angles, of bones sticking out of his skin. he wasn't in the worst condition I've seen, but I've seen some horrible cases. he was really pretty bad. he just looked sickly and..sad. he had kind of a defeated look in his eyes, a look not unlike that of an innocent man in jail. when we brought him out and worked with him, it was dead clear that he was a very experienced horse with solid, natural training on him. how he ended up at that horse dealer I just don't know. I know there's a demand for this kind of horse. and the dealer sure knew it, too, because the price was a little steep for a horse in his condition. but he was worth it. I rode him around and he was amazing. at the time I was recovering from a very long-term injury that kept me out of the saddle for about 6 months, so I was pretty out of shape and out of practice, but he carried me around and he was extremely careful.
at the time his name was scooby doo. I just hated that name. I knew from the second I heard it that I would change it.
I know this isn't a smart move, but we bought him the same day we came out. normally I'd never do that, but even my trainer subtley incouraged it. he was a really, really great horse. that was clear.
kainne
so with that he was trailered to legacy (where we board) and left with me in a halter that matched his condition pretty appropriately. I walked him around the ranch and talked to him, deciding if he would fit the name I was hoping to give him, my favourite name. as soon as they drove away, I pulled out a shiny, brand new navy blue hamilton halter, and as I buckled it on he left the ugly, unhealthy old scoobie doo behind and began his transformation into kainne, the beautiful horse I knew he could be.
health, I need somebody
fast forward about 6 months. I pulled Kainne's two front shoes, which caused him to go lame and later to founder, and I had no experience with founder, and the farrier I was working with for some reason didn't recognize it (yeah, I don't use him anymore) but eventually we went to our current farrier and he pointed it out. we had the vet out, who put him out of work until it all goes down. he has shoes back on and is recovering. I should be able to start riding him soon, but I am just feeling SO impatient. I definitely won't let it influence my decisions about how soon he can start working again, but it's still driving me crazy. in the short time before we pulled the shoes, I had started working towards my goals only to fall and seriously injure my sacrum, keeping me out of the saddle for quite some time. when I recovered, I had some slight injury-related fear issues to recover from that I was only just beginning to fully recover from when he went lame. I've done pretty well being patient, but I'm thinking it will be safe to begin lightly riding within the week, and the closer I get to it the more impatient I am. I've gotten to know him so well in these six months, I can't wait to start really working with him. I just want to get to that point where there are goals coming into reach and such. I'm so excited! it's hard to wait.
anyway, time to shut up. I know, it's a novel. I'm good at that.
if anyone actually reads all of this, they are an absolute saint.
here is kainne before and after:
6/13/09- day he arrived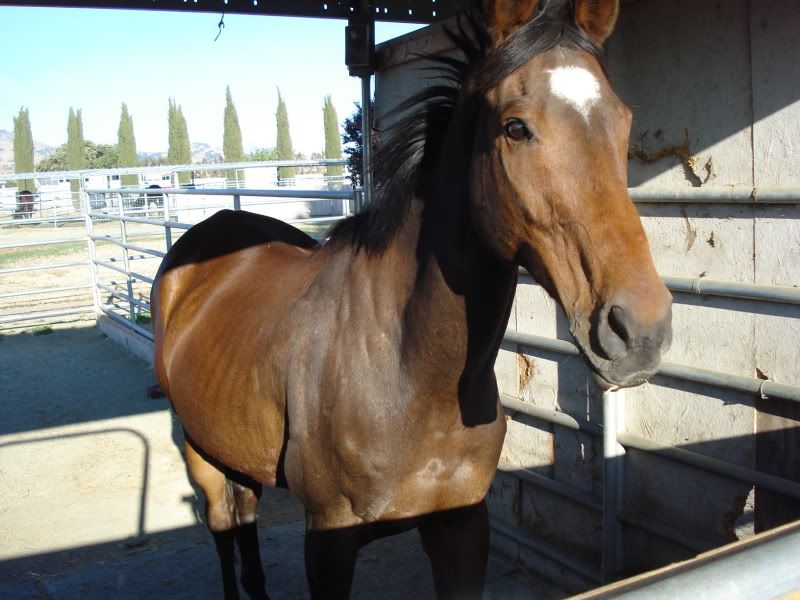 kainne now