Hehe so i have been a member here for a while, but never really got into posting until this past week. So....i thought, why not introduce you all to my two special boys!
sorry if i write a whole lot ;P
First of all is Orlando (Story Teller), my first horse (literally ;D). I got him on the 21st of december 2009 for christmas (although a few days early ;D). For the first 3 months with him, it was very limited how much riding we could get in due to that time being wet season, so i didn't get much riding time with him. In the beginning of April, Orlando came up lame after a stumble whilst riding. Had x-rays done and vet said it was deep flexor tendonitus and to keep him off work for about 6 months or so. In october 2010 i slowly brought him back into work. At the end of october he came up lame again when we moved him to his new boarding (he was sound when i was doing light work with him). We had the vets have another check of his x-rays. Turns out it was never tendonitus but actually bone spurs in his pastern joint. He was to either be put down, semi-retired and used for light trail, or retired completely...Or we could get the nerve cut which would mean he would be numb from his fetlock down (not something we could manage properly without regular check-ups and equipment).
He went out to paddock on the 18th of december 2010 into semi-retirement and i would ride him once a week on a trail (still do). It has almost been a whole year and he has been sound the whole time, with a few owie signs in the beginning when it came to his hooves getting trimmed (he would get achy standing on his bad leg and try and hop away), but that was only in january, february, but since then he hasn't shown any signs of lameness. Things that used to make him come up lame no longer affect him. We will be getting x-rays done again soon to check if there has been any improvements. I only found out this year what his registered name was. His ASB registered name is Story Teller, he never raced. Unfortunately FB has deleted a lot of my earlier albums :/ so i will only be posting pics from since he has been in semi-retirement (apart from one). Please understand he is in paddock condition. He cannot be properly worked to put on muscle and he is only on grass, no feed. (He keeps his condition very well)
This was him before semi-retirement:
Huge step for him! Didn't even think twice about the tarp
Never thought i would ever accomplish this on him. Please do not critique about helmet. It is my decision, and it is my way of expressing the trust i have in him.
Rory (Ultimate Affair) is my second horse. He is the horse i used to ride whilst Orlando was off for 6 months with his leg. Rory is a horse i just clicked with straight away, as many people might know what i mean? I stopped riding Rory when i was bringing Orlando slowly back into work and didn't see him for a fair few months. After hearing news about Orlando needing to be retired, shortly after we found out Rory had come up for sale. After discussing it with the parents and organising agistment etc, we bought Rory. We picked him up on the 18th of December, and he was in quite poor condition to my surprise. He was quite skinny, was sunbleached, had sores from his windsucking collar, his hooves hadn't seen a farrier for a fair while and was overall a mess, never the less, we still got him. He has come a very long way from the day i got him and we have been competing in dressage and jumping this year and will begin eventing next year. I do not know Rory's registered name or breeding etc, but he goes by Ultimate Affair in the show ring.
You can find more info on these boys in 'horses' in my profile ;D
This was him the day i got him: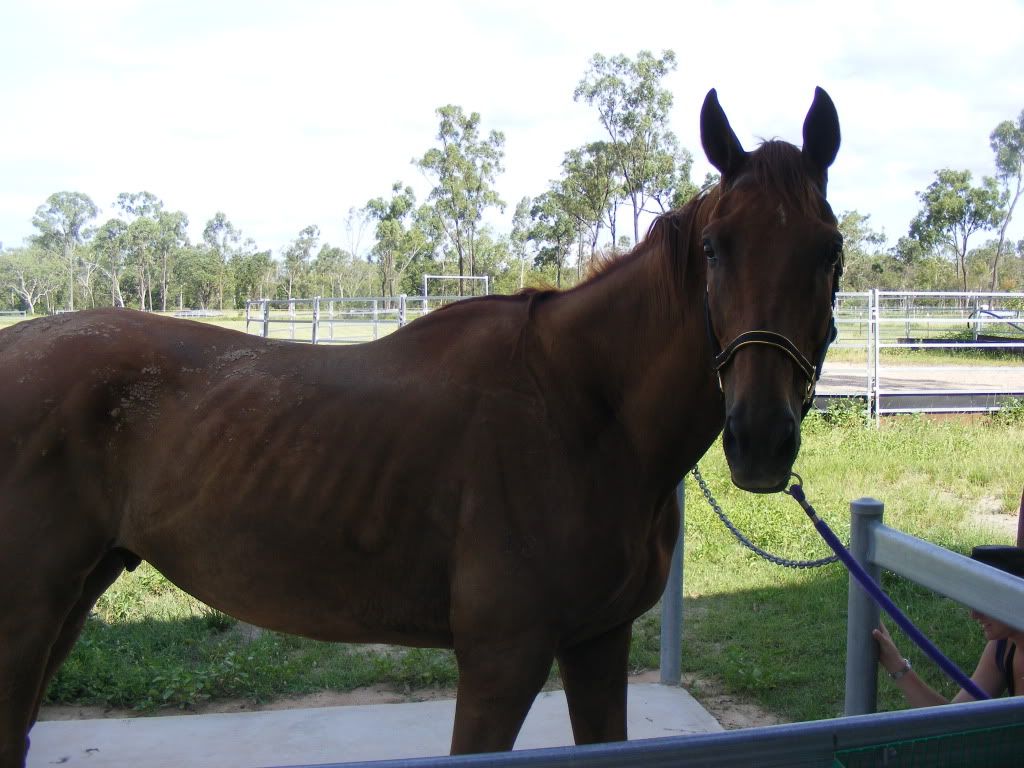 This is him recently
You can also view a video i put together of his progress over the whole year
https://www.youtube.com/watch?v=OhuKBXRCU9U&list=UUtvFoEZDARzwKb0wRlpWuvQ&feature=plcp
anyways, enjoy